Daniel Cormier to the UFC: Pay Demetrious Johnson $1 million for T.J. Dillashaw fight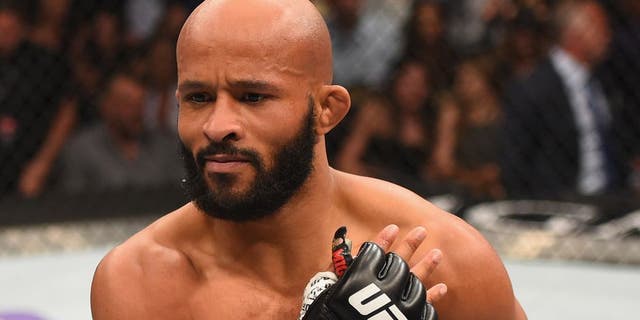 NEWYou can now listen to Fox News articles!
Just about everybody has an opinion on Demetrious Johnson's recent statement where he took aim at the UFC for what he called "despicable" mistreatment and "bullying" while the promotion attempted to put him in a fight against former bantamweight champion T.J. Dillashaw.
Among Johnson's complaints was a lack of promotion from the UFC to build him into a star as he approaches a landmark moment in his next fight where he could potentially break the record for the most title defenses in history.
UFC light heavyweight champion Daniel Cormier weighed in during the latest episode of "UFC Tonight" where he admitted that it might be harder to market a smaller fighter like Johnson but also defends the champion as doing his part to push the agenda throughout his career.
"I feel like he does take the fights that they tell him to fight. I feel like he's the guy that's there whenever they call on him. DJ's by far the most active champion in the UFC. Now you have to have 'it'," Cormier explained. "There's more to just being good and getting pay-per-view [points] and everything else. I think the responsibility for everything can be shared between Demetrious and the UFC. The UFC doesn't really understand how to market him because they have to get creative. He's smaller, he's not the biggest guy, he's dominant.
"Even when Anderson Silva was the guy that was running through the division, his points weren't very high. So they have to get creative. I don't know that they've gotten creative but I do believe DJ has done his part so he does have valid points."
Johnson also complained about the UFC attempting to force him into a fight with Dillashaw, who would be moving down from 135-pounds to challenge him in his history making performance.
Johnson expressed worry that Dillashaw wouldnt make weight while also raising concerns that the former champion hadn't done enough to earn a shot at him without having a single fight in the flyweight division.
Cormier believes Johnson should run towards a fight with Dillashaw because not only does it give him the biggest opportunity for a higher payday on pay-per-view but it also gives him a legitimate challenge and that's something he's sorely lacked lately.
Through all the issues that Johnson raised during his statement, Cormier believes it all boils down to dollars and cents as the flyweight king is looking to raise his profile while being paid championship money.
Johnson has long advocated for the champions in the UFC to be paid at a higher scale because they are the best fighters in the world regardless of how much they might sell in television ratings or on pay-per-view.
Cormier knows that star power plays a part in paychecks as much as wearing a gold belt around your waist, but he'd like to see the UFC put up the cash to make Johnson happy so they can finally make the super fight with Dillashaw a reality rather than a rumor.
As of now, Dillashaw says he's still in training and cutting weight for the bout with Johnson although the UFC has still come to no agreement with the flyweight champion to make the fight official.