Daniel Cormier sends a message to Jon Jones about proposed fight at UFC 214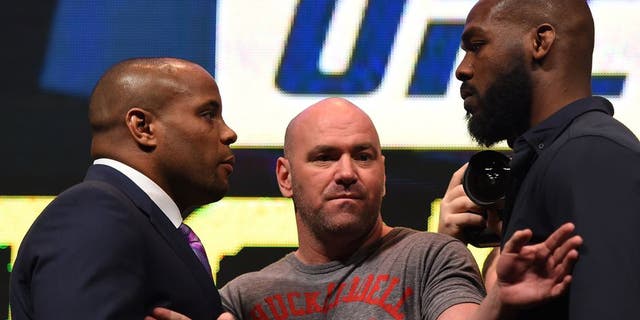 Daniel Cormier is getting tired of waiting on Jon Jones to accept a fight with him on July 29 at UFC 214.
The light heavyweight title bout has been proposed by UFC president Dana White with Jones being offered the chance to face Cormier following the end of his one-year suspension after he tested positive for a banned substance in 2016.
If Jones doesn't accept the matchup and prefers a tune-up fight instead, Cormier would then face heavy-handed striker Jimi Manuwa on the card taking place in Anaheim, Calif.
Cormier is fighting at UFC 214 one way or another but it's clear he would rather face Jones, who is the only fighter to hold a win over him during his professional fighting career.
Now Cormier is flat out telling Jones to accept the fight or risk continuing to sit on the sidelines waiting for a title shot while the champion continues to face other contenders in the division.
"I stand on take the fight with me, Jon Jones. There's no tune up fights in the UFC," Cormier said during "UFC Tonight" on Wednesday. "If you're a guy that has dominated the division as he has, why not come back and try to get your title? Come meet your boy, D.C., come get this money. Let's get money together and give the people in Anaheim a show. No tune up for Jon Jones. He gets to come and get beat by me this time.
"We're fighting right now or he doesn't get to fight me. It's my rules, I'm the champ now."
Jeff Bottari/Zuffa LLC/Zuffa LLC via Getty Images
The concern for Jones is the ring rust he could have collected while sitting out for over a year since his last fight against Ovince Saint-Preux in April 2016.
On that night, Jones won a lopsided decision after once again returning following more than a year away from the sport. Despite the dominant win, Jones didn't seem to look like himself in that fight and received criticism for his performance against Saint-Preux, who accepted the bout on very short notice but still made it five rounds with the former champion.
While time off and ring rust may have played a factor, Cormier points to a more nefarious conspiracy theory as to why Jones didn't look up to par that night and why he doesn't expect anything different when he returns to action this time either.
"The person that we saw against Ovince Saint-Preux is the new USADA (United States Anti-Doping Agency) regulated Jon Jones," Cormier said. "He's always going to look like that. Yes, I will beat him up on July 29."
Whether Jones will respond to Cormier's ultimatum remains to be seen, but the champion promises that the former champion will regret it if he doesn't accept the challenge for UFC 214 on July 29.
"I'm the champ now," Cormier said. "He plays by my rules."
Zuffa LLC via Getty Images | Zuffa LLC