Daniel Cormier believes USADA will level the playing field with Jon Jones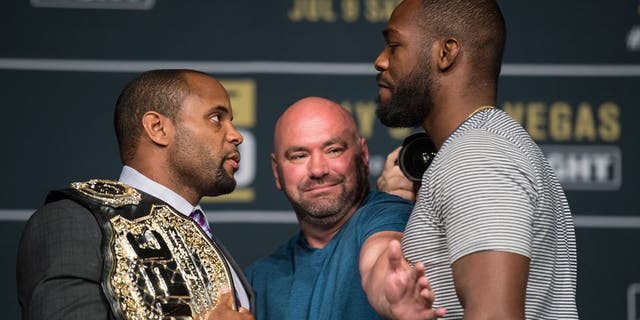 NEWYou can now listen to Fox News articles!
Daniel Cormier is anxiously awaiting Jon Jones' response to his challenge to meet at UFC 214 on July 29 in Anaheim as he looks to avenge the only loss of his professional mixed martial arts career.
Jones will be eligible to fight again in July following a one-year suspension after he tested positive for a banned substance that forced him out of his previously scheduled bout with Cormier in 2016 at UFC 200.
While Jones has maintained his innocence in the matter after taking an off-market sexual enhancement medication that was tainted with the illegal substances as confirmed by his USADA sanction, Cormier has never quite bought that excuse.
In fact, the reigning light heavyweight champion believes Jones may have been competing at an advantage for much of his career, especially after what Cormier witnessed the last time his rival stepped into the Octagon.
"Last time -- I'm a truth teller -- the first fight when me and Jon fought there were stories about him hiding from USADA or some [expletive] like that. Then when he finally did get his test, he tested positive for cocaine and his body levels were all just completely out of whack as if he had just finished doing some illegal stuff," Cormier explained when speaking to FOX Sports.
"Then after he got himself into that trouble, he came back and he fought Ovince Saint-Preux. He was big and he was strong and he looked fantastic and it was his first fight under USADA and he fought like [expletive]. So then at UFC 200, he probably said 'I can't really do this the way I want to do it without my help.' So he said 'I'm just going to try it again' and he tested positive again."
Zuffa LLC via Getty Images/Jeff Bottari/Zuffa LLC
Cormier, who has been drug tested for nearly all of his adult life through the NCAA as a wrestler in college and then again during two separate runs at the Olympics, doesn't want to point his finger at Jones as a cheater, but he believes the evidence is there to support his claim.
It's part of the reason why Cormier feels that Jones may be interested in a tune-up fight rather than facing him on July 29.
"He may want to try to learn how to do this the correct way before he fights me. I hate saying a guy used steroids, but all signs point to him doing something wrong," Cormier said. "Let's be honest. From the test levels from before the first time we fought and then his test results didn't become available until after the fight. So there's smoke there obviously.
"Against Ovince Saint-Preux, first fight under USADA, he looked very slow, uncoordinated, unsure of himself. Then at UFC 200, you got popped for everything that you would take coming off of a steroid cycle. I mean come on. He's really got to learn how to do this the correct way. So he may want to fight somebody else."
Between the improvements he's made in his own game along with his suspicions about Jones, Cormier believes a rematch with the former champion will go much differently than their first fight, which he lost by unanimous decision in 2015.
"I do [believe it will be different] because I know he didn't out train me but somehow he was able to maintain my pace and not only withstand it but actually extended it over five rounds as I could only do three. He didn't outwork me. I know for a fact he did not outwork me," Cormier said. "We'll see.
"I think [with USADA] it will be a completely different fight."
Cormier also knows the danger in taking a warm-up fight because he feels Jones could be primed for an upset coming back to action after more than a year away from the sport.
There's nothing Cormier wants more than to avenge his loss to Jones, and he doesn't see why that shouldn't happen now rather than later.
"That's why I'm trying to fight him right now," Cormier said about Jones. "I'm not sure he's going to beat the rest of those guys in the way that he fought against Ovince Saint-Preux."