Dana White shoots down Amanda Nunes moving to featherweight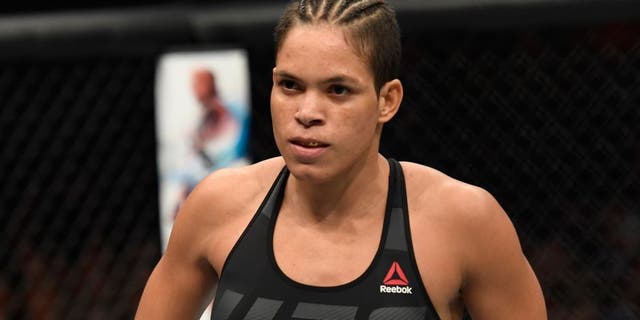 Following her blistering 48 second knockout over Ronda Rousey at UFC 207, Amanda Nunes declared that she wanted to tackle a second division by moving up for her next fight to take on the winner of the inaugural featherweight championship bout between Holly Holm and Germaine De Randamie.
Nunes stated numerous times that she wanted to make history just like Conor McGregor when he became the first fighter in UFC history to hold two belts in two different divisions simultaneously after defeating lightweight champion Eddie Alvarez this past November.
Unfortunately it appears UFC president Dana White has denied Nunes the chance to move up to a new division as he looks to book her against Valentina Shevchenko instead following her second round submission win over Julianna Pena on Saturday night.
"Pump the brakes, pump the brakes, let's defend the title first. Let her defend her title," White said at the FOX UFC Fight Night post fight press conference. "She hasn't defended her title. Everybody wants to jump around these days.
"We've got to start pumping the brakes around here."
Nunes has actually defended her title already when she defeated Rousey back in December, but it appears White still has other plans for her at bantamweight before she could potentially change divisions.
The featherweight division will already debut with a bit of a dark cloud hanging over top of it as Holm enters the title bout on a two fight losing streak while De Randamie hasn't really established herself as a top bantamweight in the UFC much less as a true 145-pound threat.
Add to that, the looming specter of Cris "Cyborg" Justino will be a big topic of conversation ahead of UFC 208 because she is universally ranked as the best women's featherweight fighter on the planet.
Unfortunately for Cyborg and the UFC, she recently tested positive for a banned substance and is under provisional suspension by USADA (United States Anti-Doping Agency). Until that situation is resolved, Cyborg will be unable to compete in any fight, much less going for the featherweight title.
Adding Nunes to the mix would only make for an even bigger mess so White is keeping the women's bantamweight champion right where she's at for now.
"She wins a few in a row and she wants (to move up) and what's going on with Cyborg right now. This whole time I didn't want to do it, I did it, and now here we are in this position," White said. "So we'll see what happens."