CUP: Top 10 Stories – No. 1, Keselowski Delivers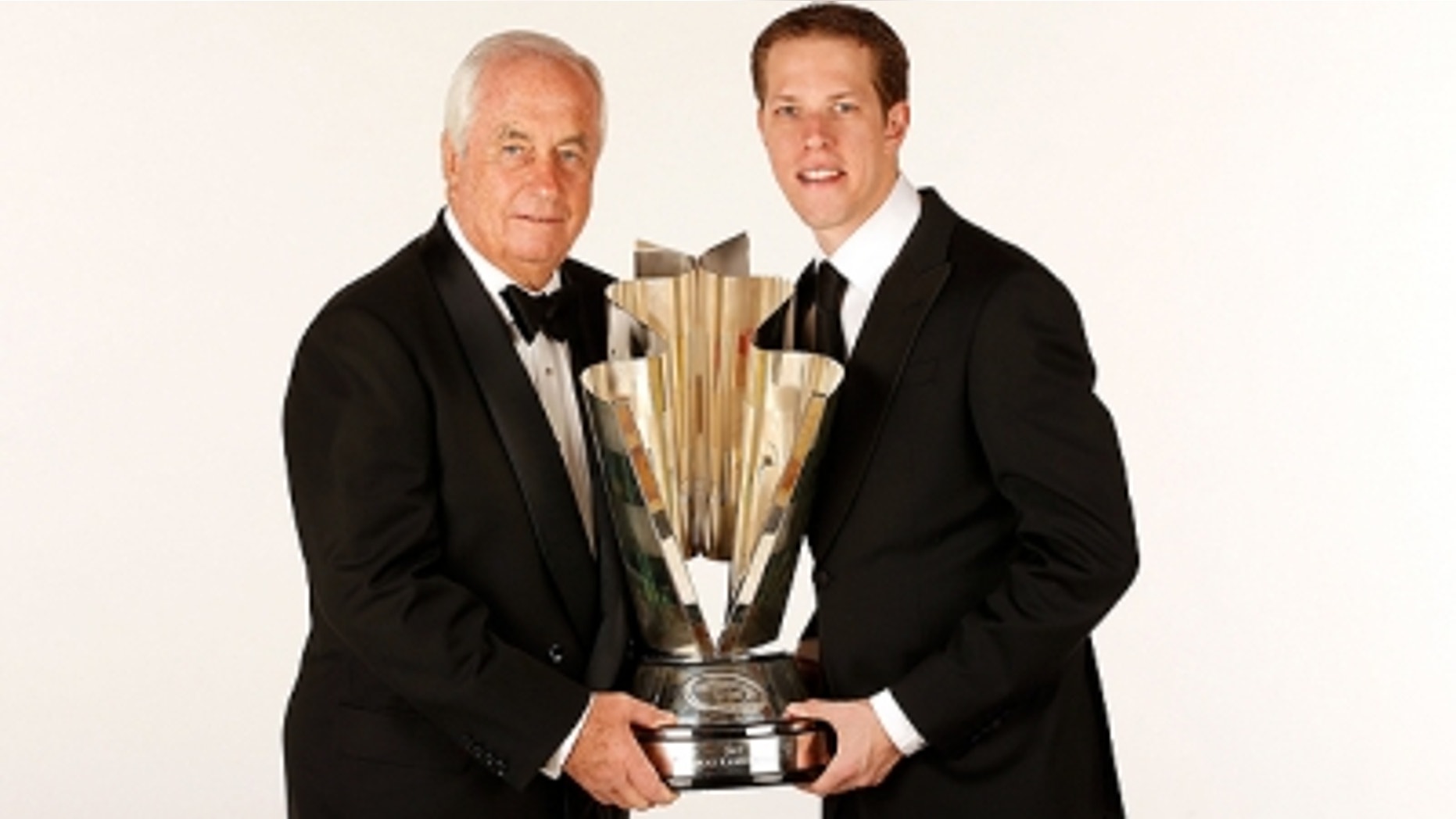 Brad Keselowski and Roger Penske make an odd couple, no question about it. But in NASCAR, they are the Power Couple of 2012.
Keselowski, 28, is a brash, cocky, blue-collar Michigan racer with a penchant for pissing off other drivers and a thumb on the pulse of social media. Penske, 75, is a billionaire Titan of industry, known for his stiff white shirts and a demeanor so businesslike that he makes Rick Hendrick look like Ted Nugent.
Yet together with crew chief Paul Wolfe, the crew of the No. 2 Penske Racing "Blue Deuce," and the entire organization, Keselowski and Penske dominated the NASCAR Sprint Cup Series this year.
Trailing Jimmie Johnson with two races to go, Keselowski came back to win the Sprint Cup championship by the largest margin in the Chase era. In the process, he became only the third driver in the last 28 years to win his first Cup championship before the age of 30 — Jeff Gordon and Kurt Busch were the other two — and he gave Penske his first Sprint Cup championship 40 years after The Captain's first race in the series.
Sure, Penske had 23 open-wheel and sports-car series championships and 15 Indianapolis 500 victories prior to this season, but he'd never captured a Cup title until this season.
In fact, Penske Racing failed to win any titles in NASCAR until 2010, when Keselowski raced his way to a NASCAR Nationwide Series championship.
"Roger Penske is an unbelievable owner and person, and what's surprising is he hasn't won more championships, multiple championships," NASCAR chairman Brian France said prior to the final race of the campaign.
This year, though, it all came good in NASCAR's top division, with Keselowski and crew chief Paul Wolfe forming a dynamic duo. Keselowski and Wolfe are so strong because they combine the driver's brashness and aggression with the crew chief's cool, strategic approach to racing. When the dust settled, Keselowski had five race victories and his first championship in just his third full season in Sprint Cup racing.
The significance of the title was not lost on Keselowski.
"Winning it for Roger is much sweeter … because I know this is an accomplishment nobody else has ever done," Keselowski said.
And Penske finally earned the title he coveted so much and worked so hard to get.
"I feel amazing that I've been able to achieve this in racing," said Penske after Keselowski clinched at Homestead-Miami Speedway. "I've lauded the people that have been on that stage for so many years in Las Vegas and New York, and to be able to join this elite group and say that I'm a champion in NASCAR means a lot."
Given that it took 40 years since Penske ran its first Sprint Cup race — an AMC Matador for Mark Donohue at Riverside in 1972 — to finally seal the deal, winning was a huge achievement for the team owner.
"I think it took the guts for me to stay in the sport," Penske said. "We could have thought, 'Well, we won the Indy 500 15 times and we're a big deal,' but I'll tell you one thing: Until you get here and you compete at the top and win it, you really know what's happened, and I think I just woke up here tonight, and it's a big thrill."
Keselowski is a firm believer in his boss and his brilliant young crew chief.
"I feel like this team with these two people (Penske and Wolfe) sitting next to me that we can do anything we set our mind to if we work together like we have over the last few years," said Keselowski after winning the championship at Homestead. "I really do. And I just feel so fortunate to be where I'm at right now in life and with racing, to have guys like this around me because you're a product of who you surround yourself by, and I'm surrounded by the best.
"That's as sweet as life gets, to know that you have people around you that can make up for you when you make mistakes, because we all make mistakes, and I make a ton of them. But I know that when I make them, I've got people that got my back. So thank you, guys."
Truth is, though, Keselowski and Wolfe made few mistakes in 2012. Over the course of 36 races, Keselowski won five times, posting 13 top-five and 23 top-10 finishes.
More to the point, Keselowski was fast virtually everywhere he went. This year, he won on a superspeedway, a short track, a one-mile track and two 1.5-mile circuits, as well as finishing second on the Watkins Glen road course. Over the final 29 races of the season, Keselowski finished outside the top 15 only twice.
Truly, the No. 2 team had no weak links in its game in 2012, something Penske recognized and appreciated.
"It's not how much money you put into your race team, it's all about the people and the human capital, and I guess Brad is right at the top," Penske said. "When he came in and said, 'Look, I want to help you build a championship team,' he looked me in the eye and shook my hand, and that's how we started, and there's no question that he's delivered way above what both of us probably thought was possible when you look at the competition and what we have to deal with."
Top Ten Stories of 2012:
No. 10, 'Dinger Busted
No. 9, Silly Season
No. 8, RCR Slumps
No. 7, Danica's Year Of Hard Knocks
No. 6, Montoya Flames Out
No. 5, Kurt Busch The Outlaw
No. 4, Bowyer Vs. Gordon
No. 3, MWR's Big Year
No. 2, Junior Achievement
Tom Jensen is the Editor in Chief of SPEED.com, Senior NASCAR Editor at RACER and a contributing Editor for TruckSeries.com. You can follow him online at twitter.com/tomjensen100.