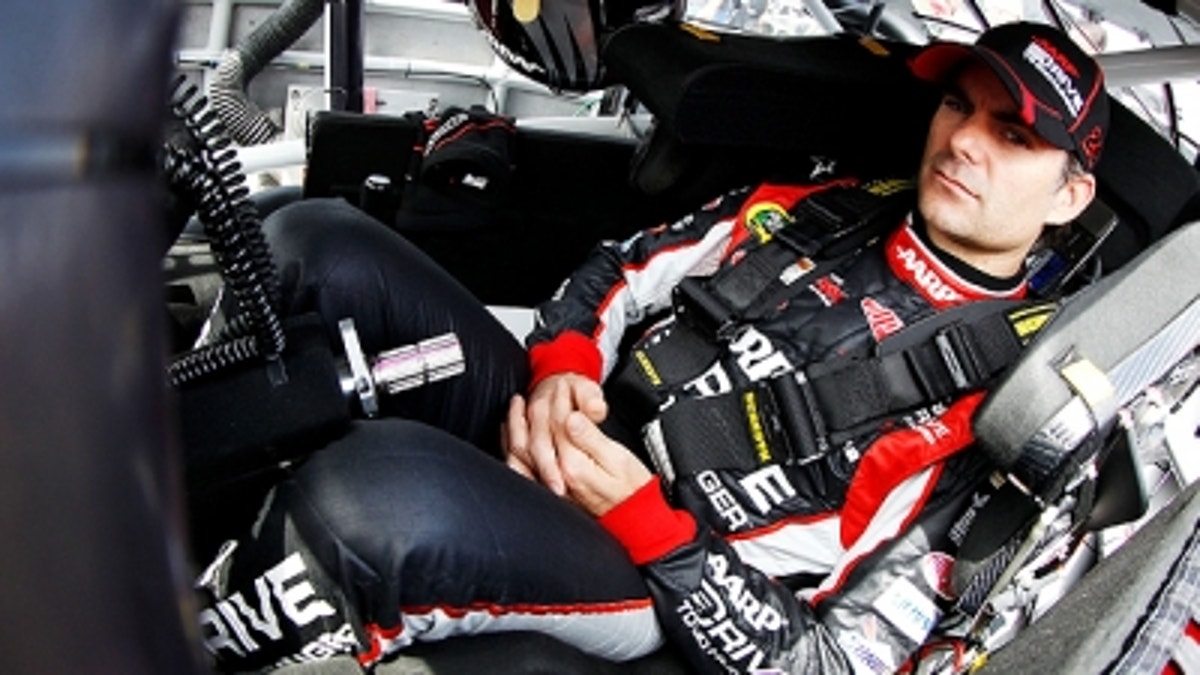 Can Jeff Gordon, who hasn't won a Sprint Cup championship since 2001, make an unlikely title scenario work?
Eleven races into the season, after a 35th-place finish at Darlington Raceway, a track where he owns seven victories, Gordon was a dismal 24th in points and winless since last September at Atlanta.
He had good cars but bad luck.
As the season rolled into summer, Gordon's chances of making the Chase and pursuing a fifth championship looked grim. He scored better finishes – two straight sixths and a fifth in June – but made little headway in pushing toward the top 10 in points. And victories still eluded him.
Then came Pocono Raceway, one of the tracks that has been kind to Gordon over his 20-year career. On a wild Sunday that seemed to hold another good-run-but-not-good-enough finish for Gordon, the seas parted (as he put it) on the final restart, and he charged from sixth to first. Weather ended the race early, and Gordon, amazingly, had gone from nowhere to Chase contention in one Sunday.
With five races remaining to the Chase cutoff, Gordon holds one of the two wild-card entries into the playoffs. Of course, there is no certainty that he can stay in that position and, in September, launch a run for his first title in the Chase era, but – stay tuned.
"I always felt like we could do it," said crew chief Alan Gustafson. "I can remember here – our garage stall was on the very end, 25th or 26th in points. When you're in that position with Jeff Gordon as a driver, it's not a good feeling.
"But I knew, and I've said this a lot, I think the performance of our car as far as sheer speed, this may be one of the best years of my career. The speeds of the cars have been fantastic, and Jeff has been great. I knew the key ingredients were there.
"I just felt we had to get it right. When we do get it right, we'll have a chance to win a lot of races.
"I think we've really competed to win every race I can think of the last five, six weeks. They haven't been 1‑2‑3 finishes like we'd like, but I felt like we've been in position. We just needed something to go our way."
Team owner Rick Hendrick said in the preseason that he wanted to put all four of his teams in the Chase. If things stay as they are in the standings and in the wild-card race, that will happen.
"The last several weeks, we've had something to build on," Gordon said. "When you do that, you do a better job of getting yourself in position for something like what happened today to happen. We knew how badly we needed a win, and we got it. But that's half the battle.
"Now, in my opinion, this only puts more pressure on us over these next several weeks, but we're ready for the challenge. I think with all we've been through this year, I said this also, if we can get to victory lane and get some things to go our way, this team, because of what we've been through, that we've stayed together, haven't pointed fingers, it will make you stronger.
"This is a great moment for our team because I think we're really fired up for next week's race, and the coming weeks, to legitimately have a come-from-behind season and get ourselves in there, live up to the 'pressure' of our boss."
Gordon's chances aren't hurt by the fact that he owns multiple wins at the five tracks between here and Chase qualifying. He was won four times at Watkins Glen, twice at Michigan, five times at Bristol and Atlanta and twice at Richmond.
"We just got to keep fighting," Gordon said.
Mike Hembree is NASCAR Editor for SPEED.com and has been covering motorsports for 30 years. He is a six-time winner of the National Motorsports Press Association Writer of the Year Award.