CUP: Stewart Riding Fine Line Again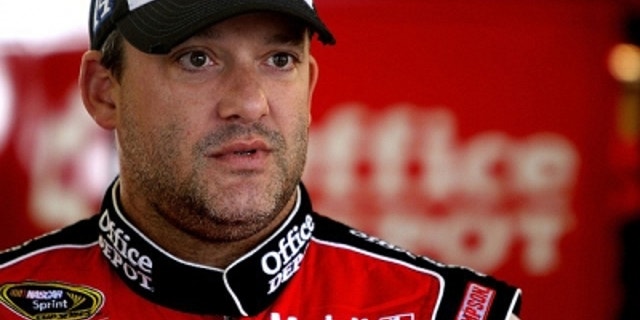 Tony Stewart is taking it to the edge again.
Stewart barely made the Chase for the Sprint Cup last season, then put together a run for the ages during the 10-race playoff, winning five races and nipping Carl Edwards for the championship in the final race.
It was an unlikely season. In summer, Stewart had publicly dismissed any chance of success, and, as late as the start of the Chase, laughed off his chances of winning.
A year later, Stewart sits 10th in Sprint Cup points entering Sunday night's AdvoCare 500 at Atlanta Motor Speedway. He was in the same spot last season.
There's a significant difference this year, however. Even if Stewart has bad races this weekend in Atlanta and next weekend in Richmond, he's virtually locked into the Chase because of his three seasonal victories. But there is a down side to Stewart's somewhat precarious perch – if he does fall out of the top 10, he loses the three-points-per-victory bonus, extra points that could prove very valuable in a tight Chase.
Is Stewart worried about sinking below the top 10?
"Well, we're still going to be in the Chase," he said. "It won't be advantageous to drop out of the top 10, but it wouldn't be the end of the world, either. We didn't have those bonus points last year, and we were able to come back. It would be nice to have them, though. It's nine points that we'd have if we stay in the top 10, so we're going to do everything we can to keep those.
"Last year we ran well at some tracks and couldn't capitalize on it. I think it was worse last year because we just hadn't won a race all season. If it wasn't the longest drought we had, it was close to it. So to go that long without a win was pretty heartbreaking up to that point.
"We've got two really good tracks coming up before the Chase – Atlanta and Richmond – so I think it's a lot different feeling than it was last year at this time."
Stewart rolls into Atlanta coming off one of his most visible weekends of the season. His famous temper erupted at Bristol Motor Speedway last Saturday night, as he threw his helmet at Matt Kenseth's car after they crashed while racing for the lead.
Stewart promised to retaliate against Kenseth "at every chance," but, by Tuesday, had cooled down enough to back away from that guarantee, saying the situation he and Kenseth shared at Bristol was typical for drivers chasing the same thing.
Stewart has won three times at Atlanta, most recently in 2010 when he dominated, leading 176 laps.
Sunday's race will be a day-to-night affair, adding to the challenge for drivers and crew chiefs.
"Just understanding what you're going to have at the beginning of the race isn't what you're going to have at the end of the night," Stewart said. "You have to be patient until it gets dark and until that temperature cools down, and once it starts settling into the nighttime hours, you can kind of get a better idea on what you're going to have for the rest of the race."
Mike Hembree is NASCAR Editor for SPEED.com and has been covering motorsports for 30 years. He is a six-time winner of the National Motorsports Press Association Writer of the Year Award.