CUP: SHR Drivers On Short End At Bristol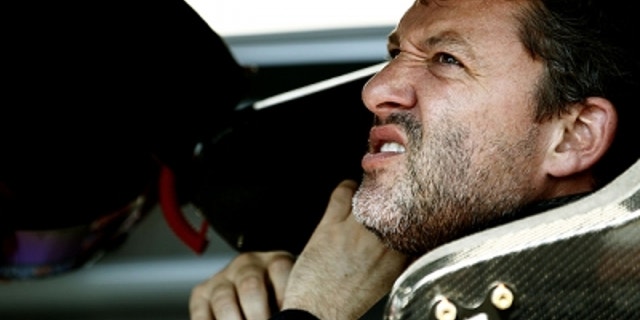 While the debate will rage on for some time about the success or failure of the new Bristol Motor Speedway, you can pretty much figure Stewart-Haas Racing will vote "do not like" after Saturday night's IRWIN Tools Night Race.
It was an ugly and expensive night for the entire team.
Three-time and defending NASCAR Sprint Cup champion Tony Stewart, the team co-owner/driver wrecked on Lap 333, while racing Matt Kenseth for the lead. Stewart finished 27th, best of the three SHR drivers.
Stewart was so ticked off that afterwards he threw his helmet at Kenseth, hitting it squarely on the nose of the No. 17 Roush Fenway Racing Ford.
Ryan Newman lost his lead in the race for the second wild-card spot when he got turned by Juan Pablo Montoya on Lap 189, en route to a 36th-place finish.
And Danica Patrick, who had run extremely well on the night, ended up 29th after contact with Regan Smith on Lap 434.
Needless to say, it was not the night the team was looking for. And while Newman left without comment, Stewart and Patrick had plenty to say.
"I checked-up twice to not run over him, and I learned my lesson there," said Stewart of Kenseth. "I'm going to run over him every chance I've got from now 'til the end of the year — every chance I've got. We ran on the restart faster than him each lap, so we just learned our lesson that next time — just drive through him, not even be patient by him. We're not going to give him that chance again."
"He's already had two (races) in this series he's pretty much taken us out of and I told him after Indy I was gonna race him the way he raced me and I did the exact same thing down there that he did down there — the exact same thing, except he didn't give it to me," countered Kenseth, who finished 25th. "I guess he just wanted to do all the taking, so that's where we ended up."
Patrick qualified 43rd, but was running in the top 20 when she got turned by Smith.
"I haven't seen the replay," said Patrick. "We're all racing hard. This is Bristol, and this is why people love this track is because you see a lot of that, and you see tempers flare. It's usually part of the broadcast and when they describe what's going to happen. It was just a bummer because I really felt like the GoDaddy Chevrolet was going to get a solid, maybe a top-20, finish and on the lead lap. And that wouldn't have been something that I thought would happen tonight. The team did a great job, and everything was running really smoothly. So it's a shame that we lost that. But you know, Bristol is a place where you find out who's playing fair and who's not."
Afterwards, Smith apologized.
"It was my fault, no excuses on my end," said Smith about the incident with Patrick. "After I made contact with Danica's car I radioed my spotter to relay a message to her spotter that I was sorry and know the apology doesn't make it any better. She was running a great race and I don't blame her for being madder than a hornet because I was in the same position a week ago in Michigan. I was just as frustrated in Michigan as she is right now."
Crew chief Greg Zipadelli said Patrick did a good job on the night.
"Every place we've gone – when she gets around people, she really learns what she needs to do, and we're able to adjust on the car and get her better," Zipadelli said. "She gained a lot of speed. I would say by far this is her best effort."
SHR will need to rebound over the final two races of the NASCAR Sprint Cup regular season. Stewart is now 10th in points, just 16 markers ahead of 11th-place Kasey Kahne. Newman, meanwhile, is 19 points behind Kyle Busch in the race for the second and final wild-card spot.
Tom Jensen is the Editor in Chief of SPEED.com, Senior NASCAR Editor at RACER and a contributing Editor for TruckSeries.com. You can follow him online at twitter.com/tomjensen100.