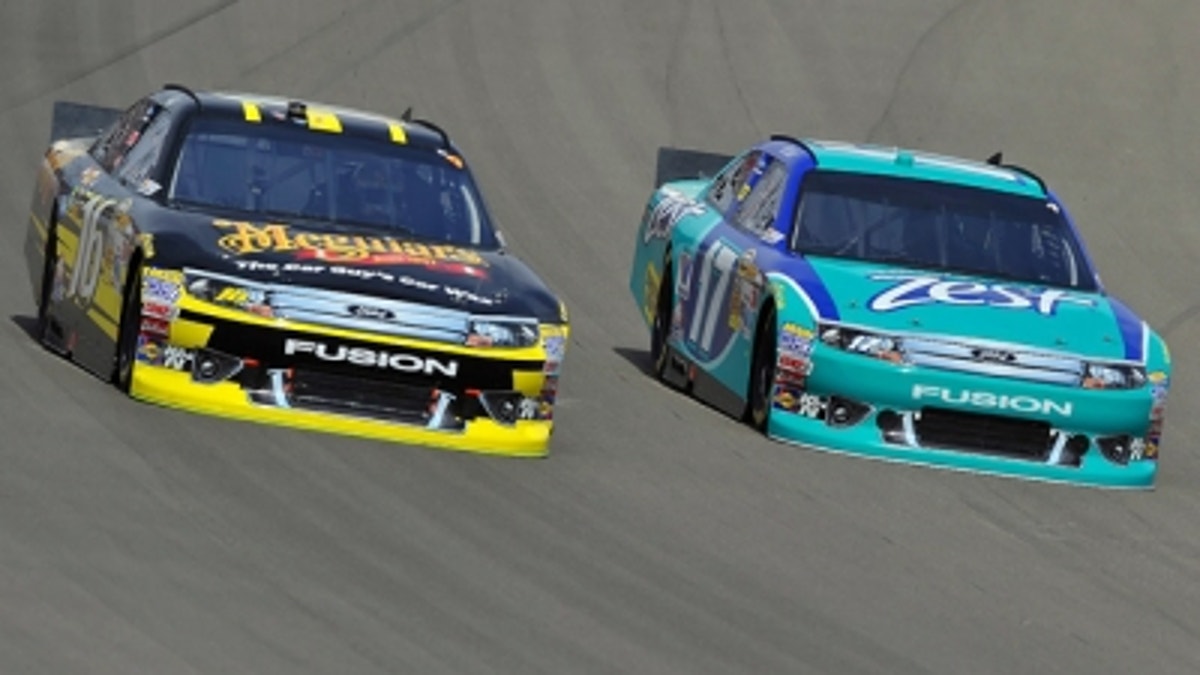 Perhaps the oddest thing about the Sprint Cup season to date – well, other than that jet drier deal at Daytona – is the fact that defending champion Tony Stewart has visited victory lane and it's only March.
Stewart typically starts burning his way through the series in the summer. Last year, he waited particularly late to make his move, winning five of the 10 Chase races to nab the championship.
Stewart's Las Vegas win was his earliest ever and his first with new crew chief Steve Addington, and the fact that the duo is clicking early could be bad news for the competition.
Much more will be known about the general quality of the sport's top teams after Sunday's Food City 500 at Bristol Motor Speedway. It's Race Four on the 36-race schedule, and, at its finish, drivers will have competed on a restrictor-plate track (Daytona), a "short" big track (Phoenix), an intermediate track (Las Vegas) and a half-mile (Bristol).
It's a wild and varied start, testing teams' talents across a spectrum of tracks.
As drivers move toward Bristol, here's a look at how the top teams stand:
ROUSH FENWAY RACING – The Fords currently command the catbird seat(s). Greg Biffle has finished third in all three races and is first in points. Matt Kenseth won the Daytona 500 and is fifth in points, and Carl Edwards is one spot back in sixth.
JOE GIBBS RACING – Gibbs has three drivers in the top 12 and a win (by Denny Hamlin at Phoenix). Perhaps most surprising is Joey Logano's early-season strength (he's ninth in points).
RICHARD CHILDRESS RACING – RCR's best hits so far have come from the dependable and maddeningly consistent Kevin Harvick, who sits a solid second in points. For the second straight season, Paul Menard has put together a strong start.
HENDRICK MOTORSPORTS – Three races into the season and no wins and only one driver in the top 10 in points? Not to mention a tough appeals battle with the NASCAR hierarchy today? Not the kind of late winter the Hendrick folks expected.
PENSKE RACING – Penske's final season with Dodge has had a mediocre start, with Brad Keselowski 21st in points and newcomer AJ Allmendinger 30th. Apparent fuel-pressure problems were a menace at Las Vegas.
STEWART-HAAS RACING – Last year's championship team has top dog Tony Stewart seventh in points and Ryan Newman 13th. Danica Patrick? That saga continues.
MICHAEL WALTRIP RACING – The MWR Toyotas have been steady-as-she-goes so far, with Martin Truex Jr. eighth in points, part-timer Mark Martin 10th (and, no, he won't change his mind and run for points) and Clint Bowyer 14th. Elliott Sadler? He was an MWR driver for about 15 minutes.
Mike Hembree is NASCAR Editor for SPEED.com and has been covering motorsports for 30 years. He is a six-time winner of the National Motorsports Press Association Writer of the Year Award.