CUP: Respect, Hunger Drive Johnson, Keselowski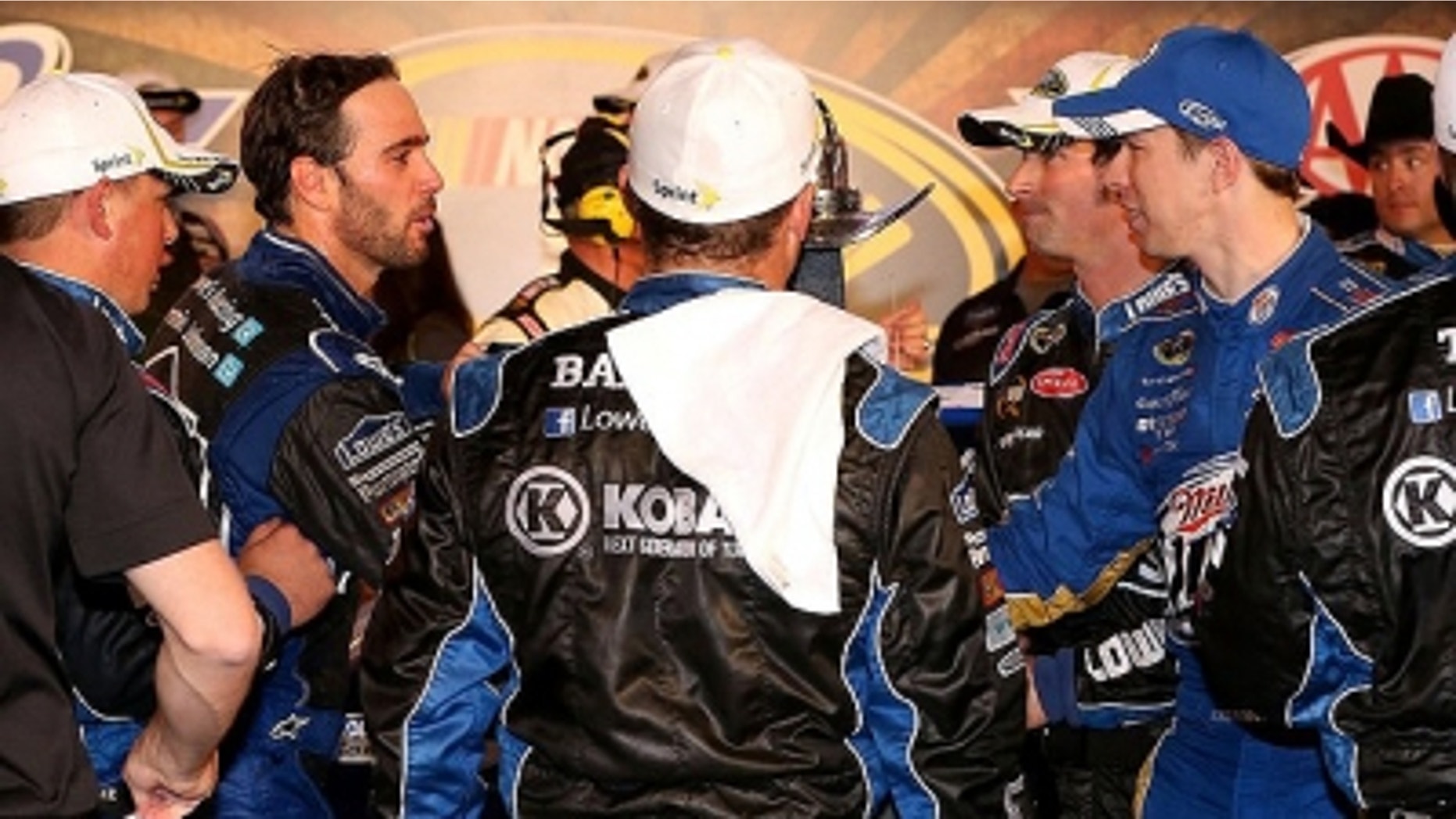 When Jimmie Johnson won at Texas Motor Speedway last Sunday, the only driver to come to Victory Lane to congratulate him was Brad Keselowski, his closest rival for the 2012 NASCAR Sprint Cup championship.
There's a reason for that.
When Keselowski had his horrifying head-on crash into a concrete abutment during a test at Road Atlanta in August 2011, the driver who pulled him out of his destroyed race car and tended to him while waiting for medical personnel to arrive was Johnson.
"I'm not going to say if it wasn't for that moment I wouldn't respect him, how about that?" Keselowski said of Johnson and his actions at Road Atlanta. "But I think that was just another piece of the pie, how about that? A big piece."
In all the garage, there are few drivers who respect each other more than Johnson and Keselowski.
And there are few who race each other harder, either.
Last week at Texas, the two made contact twice on the final restart, when the race was on the line. So aggressive was Keselowski at the 1.5-mile oval that Tony Stewart said he thought Keselowski had a "death wish."
Johnson and Keselowski didn't see it as a problem.
"I really feel like he was extremely aggressive and had that mindset of going for broke," Johnson said of Keselowski.
Then Johnson added, "I've always raced him with a clear mind and not worry. Sure, racing stuff happens and you make mistakes, everybody does. I make plenty myself, but it never crossed my mind that he would make an intentional move to dump me."
"Obviously he did try to, you know, run me tight and all those things, and I ran him hard back," Keselowski said. "I think that's good, hard racing. But he never did anything to deserve to be wrecked, that's for sure. I'm not in the habit of just wrecking people just to wreck 'em. Now obviously if somebody does something to push me around, that's a little different."
So far, the two championship combatants have posted remarkably similar statistics over the first eight races in the Chase for the Sprint Cup: Johnson's average finish is 4.875; Keselowski's is 5.250. Each man has won two Chase races and finished outside the top 10 just once.
Sunday at Phoenix International Raceway, expect Johnson and Keselowski to go all out, no holds barred, just as they did at Texas last week. Keselowski will start 14th; Johnson 24th. Do not expect that the mutual respect will translate into cutting each other breaks on the track.
"Yeah, I have a tremendous amount of respect for him and the time that we spent together but I still want to beat him with every inch of my body," said Keselowski. "I'm not going to lay over for someone. There's a difference between respect and laying over for someone. I'm going to push him as hard as I can, and you know what? If he does win it, which — I don't plan on letting that happen — but if he does win it, he's going to look back at this time period and say he never fought any harder than he had to fight me."
"I expect for Brad to be strong here," Johnson countered. "He and I raced real hard for third or fourth position in the closing laps of the spring race. I would assume that we would be right there running nose to tail once again when the checkered flag falls on Sunday. … I have to expect the best out of them, and I've said that through the whole Chase."
Johnson said he appreciates Keselowski and his approach.
"The fact that he is the only driver that came to victory lane to shake my hand after the race in Texas, I just thought that took a lot of class," said Johnson. "It's tough in this moment, we're both racing and trying to achieve our dreams of being a champion in this sport, and for him to put a smile on his face and come to victory lane to shake my hand, I thought was a big move on his behalf."
Game on, gentlemen.
Tom Jensen is the Editor in Chief of SPEED.com, Senior NASCAR Editor at RACER and a contributing Editor for TruckSeries.com. You can follow him online at twitter.com/tomjensen100.