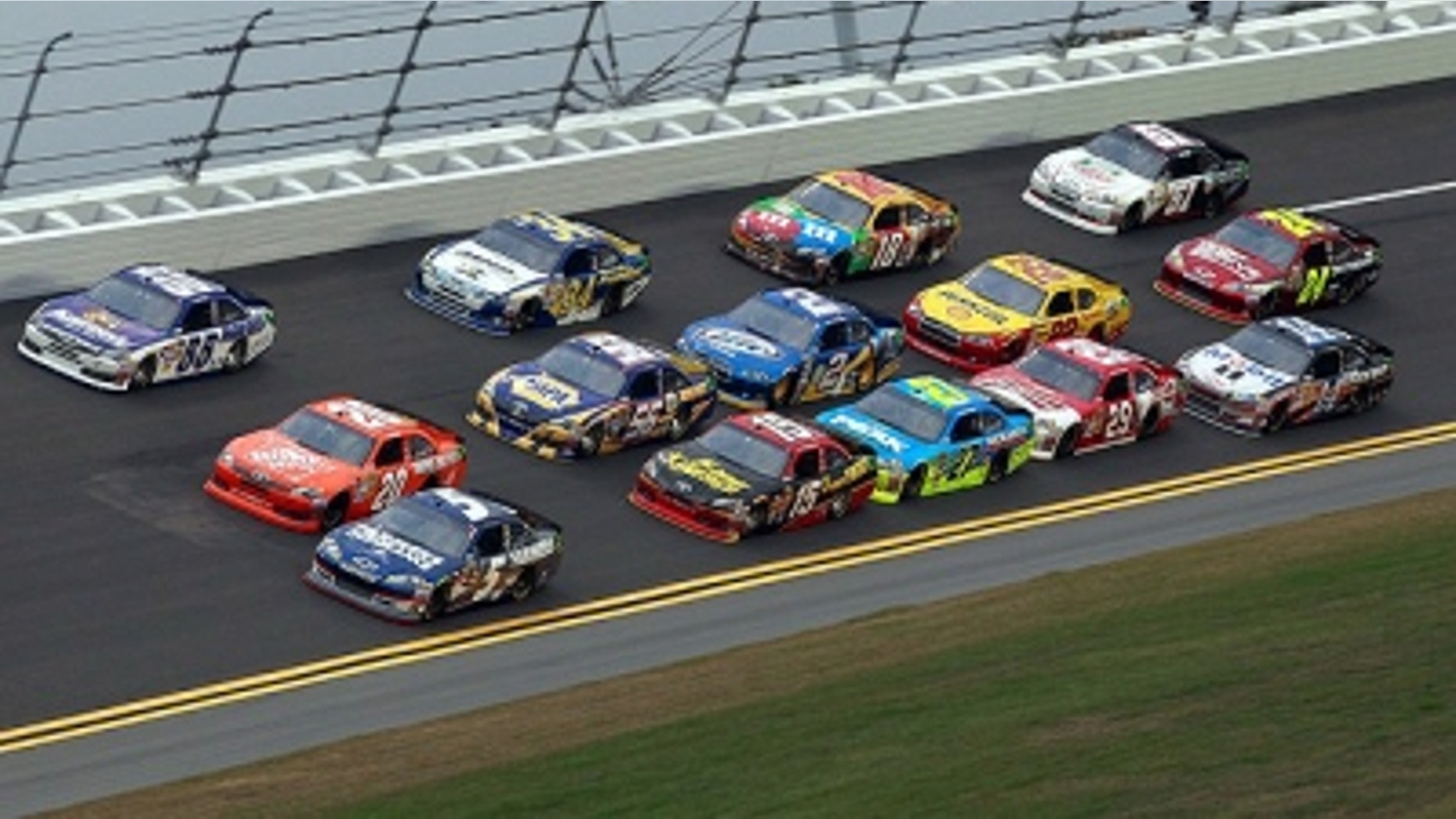 The pack is back and the two-car tango suddenly is less relevant than Newt Gingrich's presidential campaign.
For race fans, that's a good thing.
For the drivers, the jury is still out, but tonight's Budweiser Shootout (FOX, 8 p.m. ET) at Daytona International Speedway should provide some sense of what to expect in the Daytona 500.
NASCAR has gone to extraordinary lengths to break up the two-car tandem drafting, which in the last two years produced some extraordinary finishes, but drew the ire of the vast majority of diehard NASCAR fans.
So far, it looks like NASCAR's plan worked. Which may be a good thing for drivers and may not be.
Based on Friday's on-track activity at DIS — one 45-minute session and another rain-shortened 9-minute round — NASCAR Sprint Cup cars can no longer run nose-to-tail in two-car packs for more than two or three laps at a time.
Instead, they are now back to the old-style, big-pack restrictor-plate racing, with two- and three-wide clusters that stretch from the front of the grid to the back. Aesthetically, that's a much more acceptable solution to fans. But it also opens the door to "The Big One," a huge, multi-car crash caused when one driver makes a slight mistake and triggers a crash that makes cars fall like a row of dominoes.
That much was evident in Shootout practice Friday, when Kurt Busch wiggled a little, Tony Stewart tapped him ever so slightly from behind, and before you knew it, both of them were wrecked, along with both Penkse Racing Dodges of Brad Keselowski and AJ Allmendinger, as well as Kyle Busch's Joe Gibbs Racing Toyota.
It was just one of them racing deals, according to the participants.
"I was pushing the 51 car (Kurt Busch) and he had to move a little bit, but I'm still the one pushing him so I'm responsible for it," said Stewart.
"It was just a deal where Tony was trying to help," said the elder Busch. "And we were just trying to learn the draft and a couple of slow cars were emerging in front of us and I slid up to go around them and I thought it was smooth but I got turned around. So now we'll just bring out the back-up."
While it's tempting to brush the crash off as a case of irrational exuberance — drivers getting too aggressive, too soon after a winter off — in reality, it's the byproduct of the new rules package.
And that means you should expect to see something similar tonight.
Odds are there will be at least one significant multi-car crash in the Bud Shootout and two or more in the Daytona 500.
And that makes handicapping the field for tonight's race a bit of a challenge.
That said, look for the usual suspects to run well in the Bud Shootout: Two-time race winners Kevin Harvick and Dale Earnhardt Jr. ought to be strong; so should Jamie McMurray, Kyle Busch and perhaps Matt Kenseth.
The only certainty? Tonight's race ought to finally give drivers, teams and fans some idea of what to expect in the Daytona 500, when it really matters.
The Budweiser Shootout starting grid:
1. Martin Truex Jr., Michael Waltrip Racing
2. Kyle Busch, Joe Gibbs Racing
3. Brad Keselowski, Penske Racing
4. Jamie McMurray, Earnhardt Ganassi Racing with Felix Sabates
5. David Ragan Front Row Motorsports
6. Kurt Busch, Phoenix Racing
7. Greg Biffle, Roush Fenway Racing
8. Dale Earnhardt Jr., Hendrick Motorsports
9. AJ Allmendinger, Penske Racing
10. Joey Logano, Joe Gibbs Racing
11. Carl Edwards, Roush Fenway Racing
12. Jeff Burton , Richard Childress Racing
13. Ryan Newman, Stewart-Haas Racing
14. Jeff Gordon, Hendrick Motorsports
15. Tony Stewart, Stewart-Haas Racing
16. Denny Hamlin, Joe Gibbs Racing
17. Clint Bowyer, Michael Waltrip Racing
18. Jimmie Johnson, Hendrick Motorsport
19. Kasey Kahne, Hendrick Motorsports
20. Michael Waltrip, Michael Waltrip Racing
21. Marcos Ambrose, Richard Petty Motorsports
22. Kevin Harvick, Richard Childress Racing
23. Matt Kenseth , Roush Fenway Racing
24. Paul Menard, Richard Childress Racing
25. Juan Pablo Montoya, Earnhardt Ganassi Racing with Felix Sabates
Tom Jensen is the Editor in Chief of SPEED.com, Senior NASCAR Editor at RACER and a contributing Editor for TruckSeries.com. You can follow him online at twitter.com/tomjensen100.