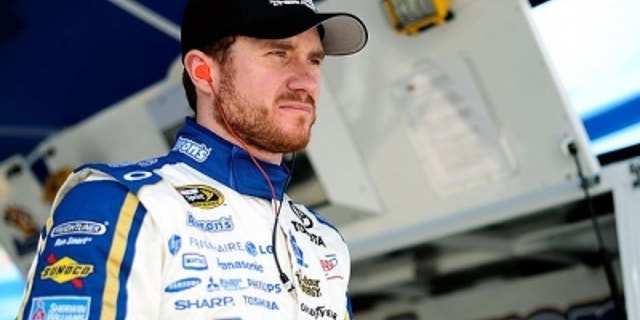 Brian Vickers gets his shot in one of the best cars in Sprint Cup racing – Joe Gibbs Racing's No. 11 – this week at Texas Motor Speedway, and he's more than ready. Vickers, having wrestled with life-threatening blood clots and missing time in his race car, also understands how injured Denny Hamlin feels.
Vickers said he is "obviously excited" about the No. 11 opportunity "but sad how the opportunity came about. I know what it's like to be pulled out of your car for health reasons. I've been in that boat before and wish Denny a speedy recovery. I will do the best job I can for him and FedEx and everyone at Gibbs and Toyota until he returns."
Vickers said he is friends with JGR crew chief Darian Grubb and that they should work well together quickly. They will have extra track time this week at Texas, with NASCAR having scheduled two test sessions at the 1.5-mile track this afternoon.
"Obviously, that team and that car have run good for a long time," he said. "Darian has won championships, and he's a very good crew chief. I've known him for a long time, so I look forward to working with him as well and everyone at FedEx. Again, I reiterate it's very sad how it happened because I've been on the receiving end of this. I'm happy to jump in and do the best I can."
Mark Martin overcame problems to score a 10th-place finish in the Hamlin car last week at Martinsville.
Vickers is running a part-time Sprint Cup schedule for Michael Waltrip Racing and a full-time Nationwide schedule for JGR. There is garage-area talk that he probably will have a full-time Cup ride with one of the teams next season, making his time in the No. 11 car seem like an audition to many.
"I think your performance on the race track every week has a bearing on what happens the following year," Vickers said. "That's not unique to me, by the way. I think that's the situation for every driver on the race track. Your performance week to week, year to year always has a bearing on your future possibilities as an athlete, a pro athlete, as a race car driver or whatever it is you do… .
"Do I think that my performance in the 11 is going to have a bearing? Of course it will. Do I think that means that I have to go win to get a ride next year? No. I want to go win. That's our plan.
"I think that it will have an impact, but it doesn't necessarily mean that it will. What that impact is has yet to be determined, but hopefully it's a positive impact and it will only contribute to other good races in the 55 that we're going to have this year and we've had this year. … I feel very fortunate to have the opportunity to be in two great cars at two great teams."
Mike Hembree is NASCAR Editor for SPEED.com and has been covering motorsports for 31 years. He is a six-time winner of the National Motorsports Press Association Writer of the Year Award.