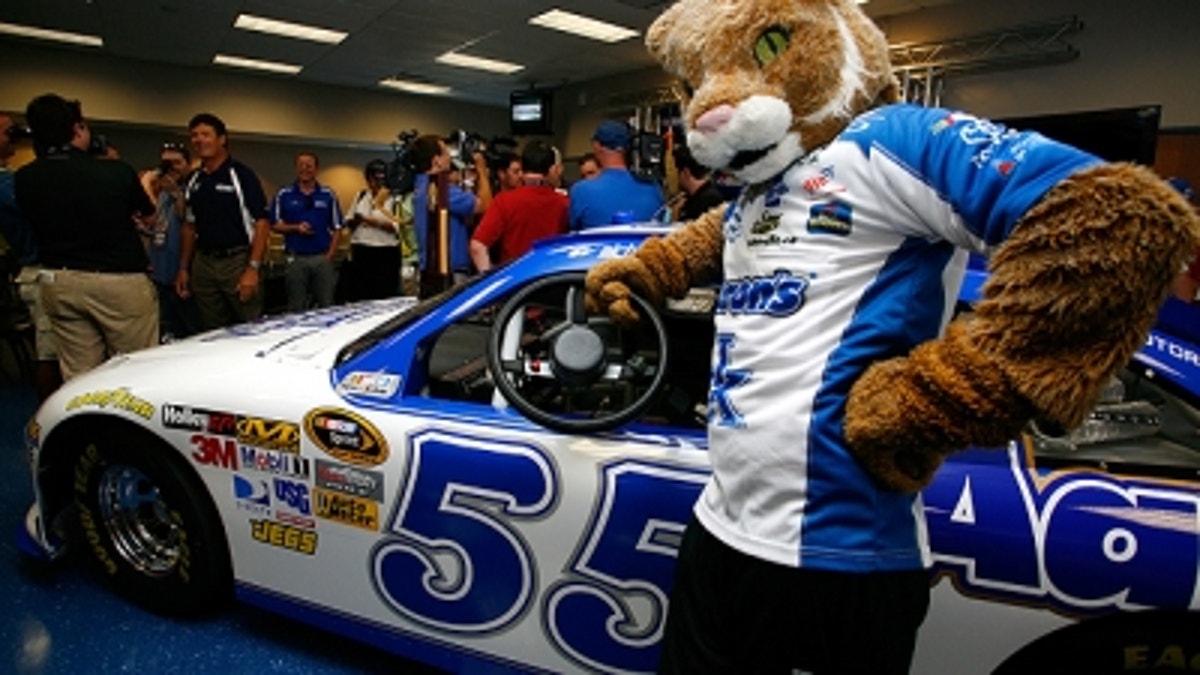 Even as he traveled the world racing cars, Michael Waltrip always had a soft spot for his old Kentucky home.
On Thursday, the two-time Daytona 500 winner unveiled a car honoring his favorite college team.
Waltrip was at Kentucky Speedway, site of this week's NASCAR races, to reveal a new paint motif on the Michael Waltrip Racing No. 55 Toyota that pays homage to the University of Kentucky national champion basketball team.
"When I was a kid growing up, I used to sit in my home in Owensboro, Ky., and watch the replays of the Kentucky games after the 10 o'clock news," Waltrip said. "Mom and Dad would let me stay up late on those nights so I could watch my team play. They've been my team my whole life; I've never cheered for another team. To be able to race this car and honor the program is a real blessing."
UK's mascot and athletic director Mitch Barnhart were on hand as a black cover was pulled off the blue-and-white car to reveal several national championship logos. Like at a movie premiere, dozens of photographers snapped photos.
"To the victors go the spoils, and this is one of the spoils," Barnhart said with a laugh.
No Big Blue players were around, largely because six were expected to be taken Thursday night in the NBA draft.
Waltrip is driving the car this week. He shares the ride with Mark Martin and Brian Vickers.
At Talladega, MWR driver Clint Bowyer's car featured a University of Alabama national football championship paint scheme.
But because of Waltrip's lifelong allegiance to the Wildcats, it was clear that he was thrilled to be behind the wheel of the Kentucky-themed car.
He was asked how big a deal it would be if he could somehow win.
"Dale Junior's pretty big-time and when he won that race in Michigan it was a crazy event," Waltrip said, referring to the popular Earnhardt's win two weeks ago that ended a 143-race winless streak. "You drive this Kentucky car into Victory Lane in Kentucky -- it could possibly top that."
Barnhart said it was enough to just have the Wildcats logo and colors on display.
"We know what this (championship) means to the people of our state. We felt that from the minute we came home and there was 35,000 people lining the streets," he said. "Then you walk into Rupp Arena and there's 20,000 people there. On top of that, we were just walking in here and I saw that championship logo on about a half a dozen shirts."
He said he knew what fans would say as they saw the No. 55 car race around the 1.5-mile oval this weekend.
"There's going to be people saying, `You know what? That's ours,'" he said.