CUP: Las Vegas Key Early-Season Stop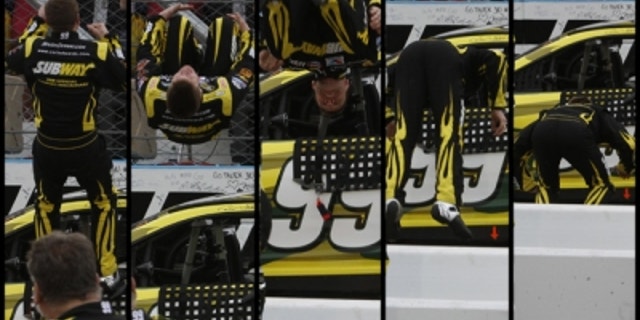 Within the NASCAR community, few recent races have been as anticipated as Sunday's Kobalt Tools 400 at Las Vegas Motor Speedway.
The new Gen-6 race cars have been tested at 1.5-mile tracks, but Sunday's event will mark the first real-time, real-life, real-fast appearance of the model in full-bore competition on the sort of track the circuit visits often.
The Las Vegas track not only will mark a big test for drivers and teams but also will give NASCAR management its first shot at determining how the new car design might perform over the long course of the season in terms of spicing up competition. Improved racing at the tour's intermediate tracks is a big goal this season.
"I think Vegas is a model mile-and-half race track," said Carl Edwards, winner of Sunday's race at Phoenix International Raceway. "It's high-banked. It's fast. It historically has had a couple of grooves.
"If this car and our series go there and put on a really good race, it's going to bode well for the rest of the season and the future of the car. If it doesn't, it's going to be time for all of us to say, 'How can we make this better?' Starting at NASCAR. I think they've said as much. This is a moving target. We're not afraid to change things and make it better."
The Gen-6 cars raced for the first time on a non-restrictor-plate track Sunday at Phoenix. Passing was difficult and there was some mumbling about the car's status in the garage area after the race, but LVMS is expected to provide better information.
"Phoenix is still a newer repaved track," said David Ragan. "It's an odd configuration, unlike any other place we go to. The asphalt is new and not hard on the tires. It's kind of an oddball place. Trends don't necessarily always verify themselves at Phoenix like they would at other places.
"Las Vegas is a track that has aged well. Goodyear has a good tire. It's a mile and a half. It's a fast track. It races a lot like Charlotte. Vegas will be a good test."
Because of the importance of the Las Vegas weekend, NASCAR added a "test" day to the schedule. Teams are scheduled to put their new cars through the testing grinder from 11:30 a.m.-3 p.m. (ET) and 3:30-6 p.m. Thursday before the normal race weekend begins on Friday.