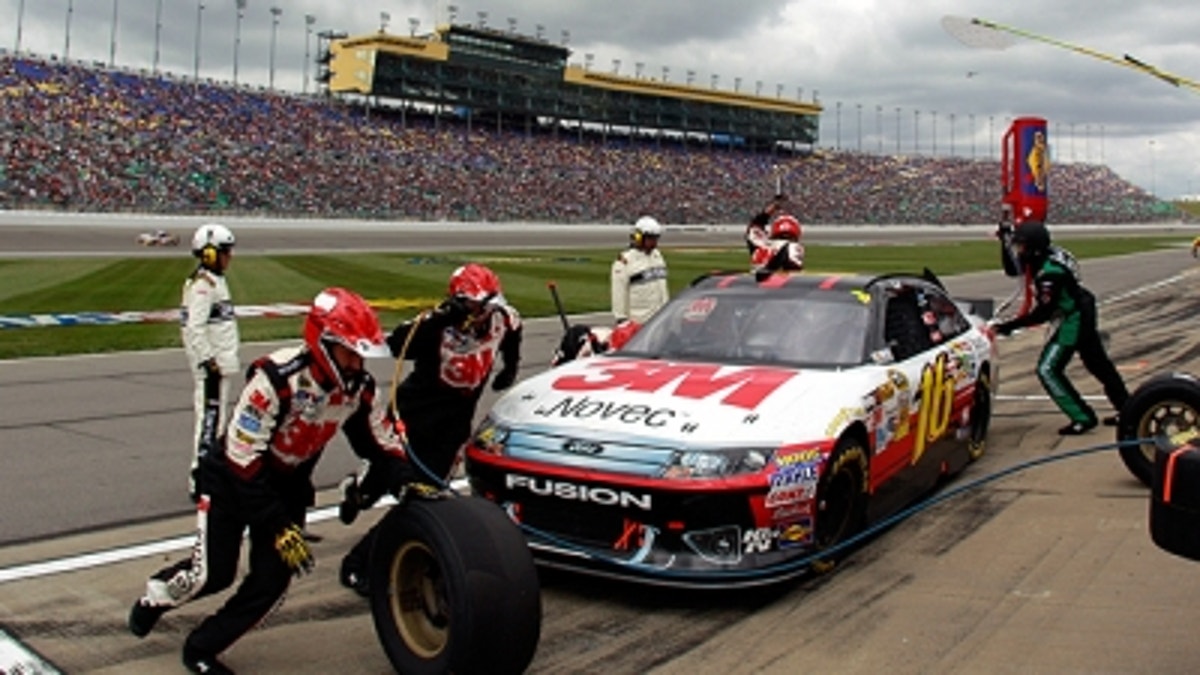 Martin Truex Jr. gave it a whale of a run in the STP 400 at Kansas Speedway, but it was Denny Hamlin who won the race and Greg Biffle who stays atop this week's FOXSports.com/SPEED.com Power Rankings.
This week's list:
1. GREG BIFFLE — With one victory, five top-five and six top-10 finishes in eight races, the Biff looks awfully strong. He was disappointed with how he ran at Kansas, finishing fifth. When fifth is bad, you're running good. Last week: 1st.
2. DENNY HAMLIN — With two race victories already this season, Hamlin is climbing fast in the Power Rankings. And he's clearly the best of the Joe Gibbs Racing trio right now. Last week: 9th.
3. MARTIN TRUEX JR. — Had Truex hung on to win at Kansas, he's have taken the No. 1 spot here, too, but third is nothing to be ashamed of. Last week: 6th.
4. JIMMIE JOHNSON — For the second consecutive race, Johnson finished in the top three. His average finish over the last seven races is 6.0, which is plenty stout. Last week: 2nd.
5. MATT KENSETH — Like Biffle, his Roush Fenway teammate, Kenseth has one victory, five top fives and six top 10s so far. He finished fourth at Kansas. Last week: 3rd.
6. DALE EARNHARDT JR. — Finishing seventh at Kansas wasn't bad for Earnhardt, but he and his team just seem to lack the ability to finish races as strong as they run early on. Last week: 5th.
7. KEVIN HARVICK — Despite running out of gas and losing critical track position mid-race, Harvick made a nice rebound to finish sixth. Last week: 7th.
8. TONY STEWART — Last year, Stewart owned the 1.5-mile tracks. But for the second week in a row, he had a subpar finish at one. Last week: 4th.
9. CARL EDWARDS — Ninth at Kansas, ninth in points equals ninth in the Power Rankings. But Edwards once again brought up the rear among the Roushkateers, not an encouraging sign. Last week: 12th.
10. RYAN NEWMAN — Not a great day for Newman, as he finished 20th. Still, he's having a decent season. Last week: 8th.
11. KYLE BUSCH — The good news? Busch ran better than he usually does at Kansas, finishing 10th. The bad? He wasn't in the same zip code as teammate Hamlin. Last week: 10th.
12. CLINT BOWYER — Fast car plus engine failure equals bad points day for the Kansas native. Last week: 14th.
13. JOEY LOGANO — Finishing 15th after losing an engine at the start of Friday practice was a good recovery for JoLo. Last week: 18th.
14. BRAD KESELOWSKI — An 11th-place finish wasn't what Keselowski was expecting at Kansas, where he won last June. Last week: 15th.
15. KURT BUSCH — After running in the top 10 for most of the race, Busch's motor went away late, but he still had a good run. Last week: 17th.
16. JEFF GORDON — Another disappointing outing for Original Four-Time, who had engine issues and limped home 21st. Last week: 11th.
17. KASEY KAHNE — Although he scored his second consecutive top-10 finish, Kahne is still in a deep points hole. Last week: 16th.
18. PAUL MENARD — An 18th-place finish for Menard at Kansas, as his slide continues. Last week: 20th.
19. JUAN PABLO MONTOYTA — The former F-1 star bounced his Chevy off the wall and he still finished 12th. Impressive. Last week: Unranked.
20. ARIC ALMIROLA — Kansas ended with Almirola 23rd in the final race results. Last week: 19th.
Tom Jensen is the Editor in Chief of SPEED.com, Senior NASCAR Editor at RACER and a contributing Editor for TruckSeries.com. You can follow him online at twitter.com/tomjensen100.