CUP: Kahne Rolls Into Richmond Red Hot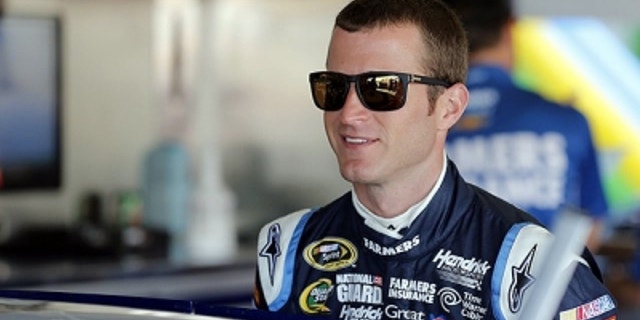 Kasey Kahne has long been admired by many fans for more than his racing talents, but this season his talents on track are racing to the forefront – giving his legions of fans more reason to pull for him.
He's putting together a season that could have him hoisting the NASCAR Sprint Cup Series championship trophy in Homestead and being the toast of Las Vegas seven months from now, but first he has to get past Saturday night's Toyota Owners 400 at Richmond International Raceway (7:30 p.m. ET, FOX).
Kahne and his No. 5 Hendrick Motorsports team roll into Richmond fresh off a runner-up performance in Kansas. It was his third top-two finish of the season, and it boosted him to second in the points standings, 37 points behind five-time champion and teammate Jimmie Johnson.
Since the third race of the season Kahne has been on somewhat of a tear, finishing no worse than 11th and posting four top-five and five top-10 finishes in the last six races.
Although, historically, Richmond has not been one of his best tracks – he has one win, four top fives and seven top 10s in 18 starts – his performances at short tracks so far this year have been near perfect. In the first short-track race of the season at Bristol Motor Speedway, Kahne led 109 laps and left the "World's Fastest Half Mile" with a victory in hand. Two races later, he finished a respectable fourth at Martinsville Speedway.
His success isn't mere coincidence. Kahne is driving for a championship-contending team and surrounded by personnel and partners who only make his life easier.
"My team is doing an awesome job," said Kahne. "It has been a lot of fun driving the cars and thanks to Farmers and Hendrick Motorsports for the great cars and the preparation each week."
Kahne's only win at the 0.75-mile track came in the spring of 2005 where he led 242 of 400 laps to beat Tony Stewart to the checkered flag by more than 1.5 seconds. It was Kahne's first win in the NASCAR Sprint Cup Series and his sole victory that season.
The victory came in only his third start at the short track. His previous two visits resulted in 24th- and 28th-place finishes.
In last spring's Richmond race, Kahne placed fifth behind race winner Kyle Busch. It was Kahne's sixth of seven consecutive top-10 finishes in 2012 – Texas to Charlotte.
If Kahne wants to remain in the title hunt, he needs his performance Saturday night to be more indicative of his 2013 season versus his overall success at Richmond where he has an average finishing position of 18.0 and a driver rating of 87.8, 12th highest among active drivers.
His biggest competition at Richmond might be his very own teammates in the Hendrick Motorsports garage: Johnson, Dale Earnhardt Jr. and Jeff Gordon. Between the three drivers they have eight wins, 30 top fives, 44 top 10s and eight poles at the track.
Kahne, however, isn't the least bit worried.
"I feel like we have a great team and we're in a really good spot right now," he said shortly after his second-place performance at Kansas.