CUP: JGR Carries Big Stick At RIR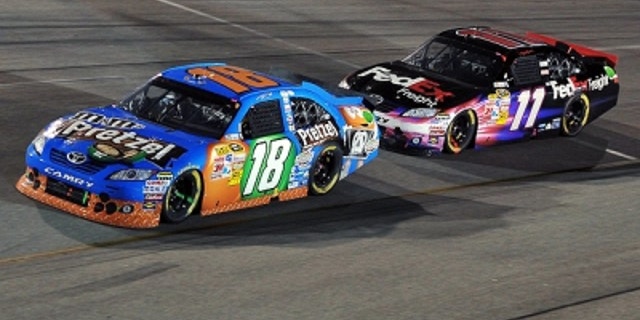 It's race weekend at Richmond International Raceway, and that means it doesn't take long to line up the usual suspects.
Kyle Busch. Denny Hamlin. Joe Gibbs Racing.
That's where things begin and end at RIR, at least if you're playing the percentages.
Busch and Hamlin won the RIR Sprint Cup races in 2009, then repeated the sequence in 2010. Busch won the spring race last year before Kevin Harvick won in the fall. Five wins in six races for JGR drivers.
Before JGR seemingly took control of the track, Jimmie Johnson scored wins in three of the four races in 2007 and 2008 with Clint Bowyer winning the other event.
Is JGR still the king of Richmond, or will some of this season's fast runners pull in front in the Capital City 400 Saturday night?
Series point leader Greg Biffle might be an upset choice.
"Richmond has been a fairly good place for us," Biffle said. "We have had a few mishaps here where we missed a setup a little bit, but we looked at the last race here and we ran in the top five most of the night. We just got too tight at the end and slid back and finished 13th. It was still a decent night overall.
"We've been running good off the truck here, and the lap times are decent. We are trying to get that comfort level in the car. We know there will be long runs. It is really hard to practice here during the day and then turn around and race at night. It makes it difficult. You have to work on your car and get a good balance."
Harvick, whose season has been good but not spectacular, figures to be in the running Saturday night.
"We obviously have had good success here at this race track, so we come here expecting to be in contention to race in the top five for a win," Harvick said. "That's pretty much the expectations or highs. All-in-all, it's been a good solid start to the season. I think we've run better than the results have shown. We've made some mistakes, but I think if we just keep chipping away at it and keep the speed in the cars, everything will be fine."
Although RIR is a short track, speed is of the essence, as Matt Kenseth points out.
"I think it is a great short track, and you have a fair amount of speed," he said. "The track is real wide, and it widens out to where you get a couple grooves of good racing out there.
"I really like the facility and I really like the track. I think it puts on competitive racing. I don't have anything I dislike about the track. I would like to be running a little better here. We have struggled here the last few years. We've had a couple good runs but not running near as good as we would like to."
Mike Hembree is NASCAR Editor for SPEED.com and has been covering motorsports for 30 years. He is a six-time winner of the National Motorsports Press Association Writer of the Year Award.