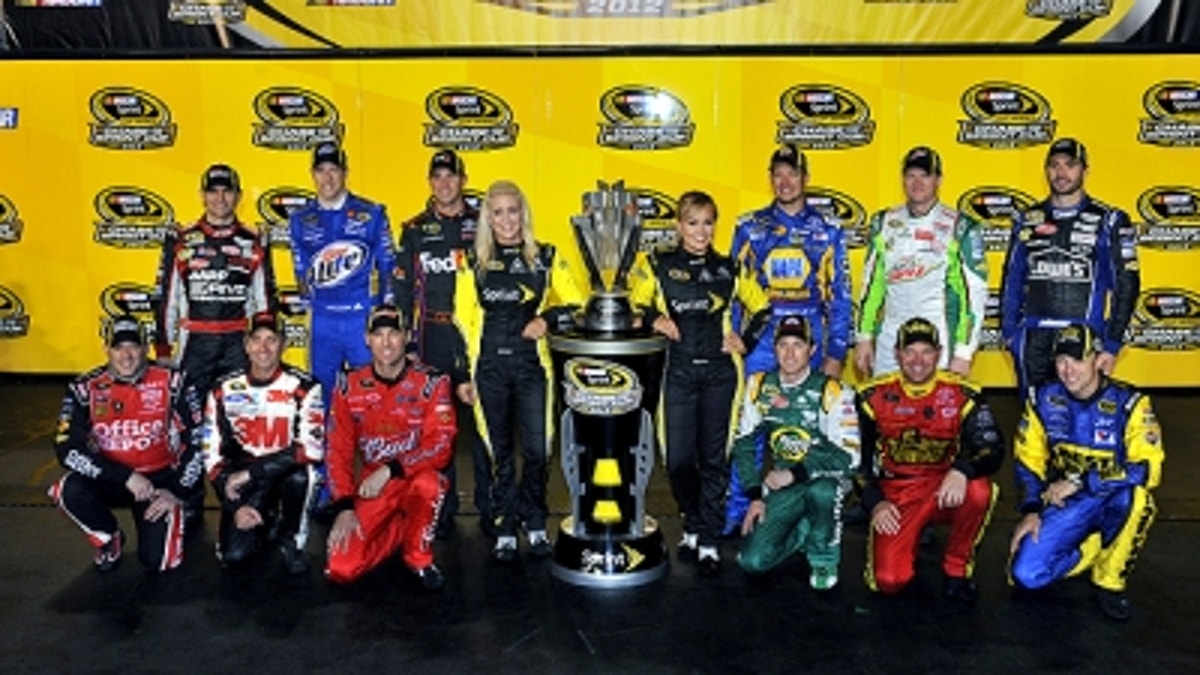 After 26 weeks of sometimes frantic (and often soggy) racing from Daytona to Richmond, the Chase for the Sprint Cup field is set.
Twelve of NASCAR's best drivers – despite the absence of a few notables – will begin pursuit of the world's No. 1 stock car racing championship Sunday in the GEICO 400 at Chicagoland Speedway outside Chicago.
The field includes four former champions – Tony Stewart, Jimmie Johnson, Jeff Gordon and Matt Kenseth, the son (Dale Earnhardt Jr.) of a seven-time champion and two drivers in their first year with new teams (Clint Bowyer and Kasey Kahne).
Absent from the list are two of the series' most spotlighted drivers – Kyle Busch, one of NASCAR's best wheelmen, and Carl Edwards, who challenged Stewart to the final minutes of the season last year but couldn't bring home the championship.
The Chase list is an interesting mix of drivers, and nothing is certain in such a relatively short (10 races) run from mid-September to mid-November. After Stewart roared in from nowhere last year to win five races in the Chase and take the championship, almost anything can happen (although few expect Stewart's dizzying sort of run to become a reality again).
The results of the regular season show trends, however, and it's possible to rank the Chase drivers in performance "groups" as the 10-race run begins.
The "A" group drivers are those who scored the most wins in the 26-race regular season and thus sit highest in the Chase seedings entering Chicago. They are Denny Hamlin, with four wins, and Brad Keselowski, Johnson and Stewart with three each.
Hamlin rolls into the Chase carrying perhaps the biggest bucket of momentum and the highest incentive level. Hamlin closed out the regular season with victories at Bristol and Atlanta and ran well at Richmond Saturday night.
Hamlin came within shouting distance of his first championship in 2010 but faltered in the final race. After an off season last year, he's back in the shadow of the trophy case, with another great shot at a title.
Keselowski and Johnson have had strong, consistent seasons – Keselowski with 15 top 10s and Johnson with 17. In the long run, Johnson, of course, has the advantage, having won five straight championships. Keselowski is in search of his first.
Stewart hasn't had a stellar late summer. He had four finishes of 19th or worse after finishing fifth at Pocono. But it's easy to remember that Stewart wasn't performing at peak levels entering the Chase last year, and he won the championship.
A wise person does not count out Stewart, who will be seeking his fourth championship.
In what might be called the B group in the Chase are Greg Biffle, Matt Kenseth, Clint Bowyer and Dale Earnhardt Jr.
Biffle stands out in the Chase crowd not only because of the solidly consistent season his team has had but also because finally nailing the championship he has raced after for years would make him the first driver to win titles in NASCAR's three national series.
Biffle has won twice and thus will start the Chase fifth in the standings. A steady driver who seldom makes mistakes and usually is around at the finish, Biffle figures to be in the mix down the stretch, but he needs to finally show he can cross the last bridge to the title.
Kenseth is in a unique situation. He's riding out his final days at Roush Fenway Racing, the only organization for which he has driven full-time in Sprint Cup. He'll be moving to Joe Gibbs Racing next year. The lame-duck status doesn't appear to have had a significant impact on his performance, however.
Bowyer has won only twice this year, but his victory Saturday night in Richmond is an excellent booster for the Chase.
And then there's Earnhardt Jr., who finally ended a tortuous winless streak this year and will carry Junior Nation into the battle for what would be his first championship. He hasn't been able to repeat that landmark victory, but, otherwise, the No. 88 team has been rolling along with generally strong performances.
In the C group: Martin Truex Jr., Kevin Harvick, Kasey Kahne and Jeff Gordon.
Truex and Bowyer surprised many in the sport by putting both Michael Waltrip Racing cars in the Chase.
Harvick has had a difficult season and is perhaps fortunate to be in the Chase for another year. He has no wins and only four top-five runs and has worked through two crew-chief changes.
Kahne and Gordon step into the Chase as the two wild cards. Either could make noise in the playoffs. Kahne has been generally consistent this year, and Gordon could pick up momentum from a bold Saturday night charge that earned him the Chase spot.
Mike Hembree is NASCAR Editor for SPEED.com and has been covering motorsports for 30 years. He is a six-time winner of the National Motorsports Press Association Writer of the Year Award.