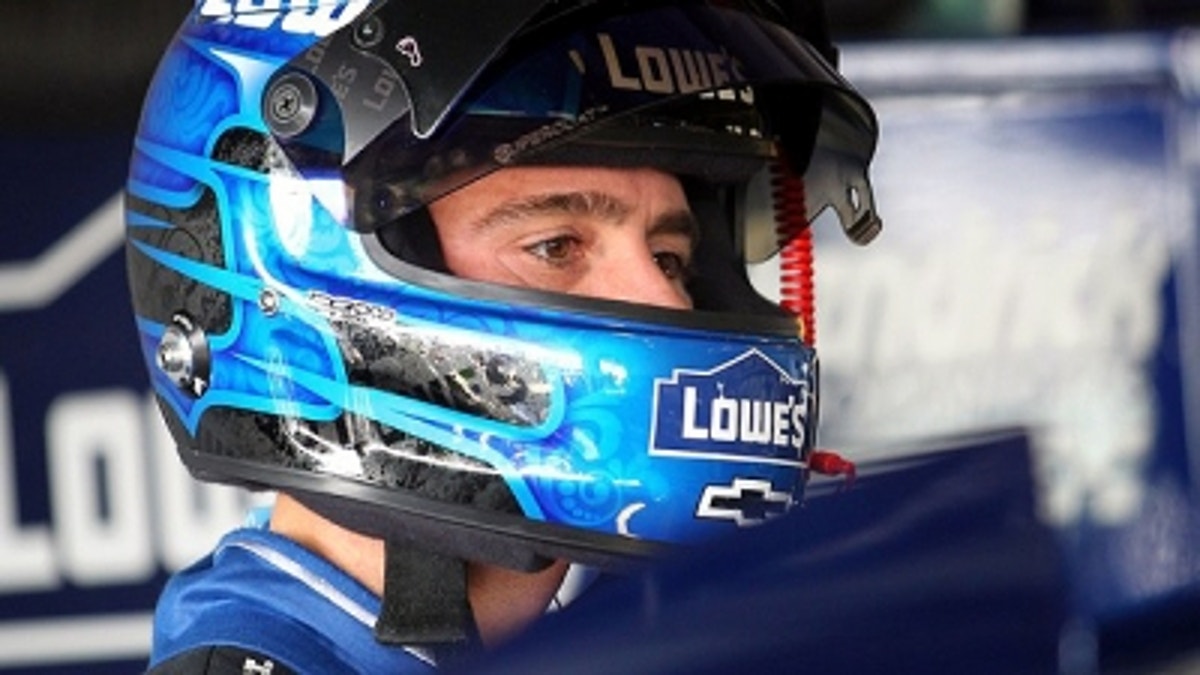 Jimmie Johnson is in a familiar spot at Homestead-Miami Speedway.
And it isn't a good one.
Four times since NASCAR launched the Chase for the Sprint Cup, Johnson has come to Homestead second in points and hunting a championship.
In 2004, Johnson finished third at Homestead and ended the season in second place, just 8 points behind Kurt Busch.
In 2005, Johnson had a flat tire and crashed, dropping all the way to fifth in the final point standings as Tony Stewart won his second title.
Two years ago, Denny Hamlin made an unforced error early on and collided with Greg Biffle, allowing Johnson to come from behind and win his record fifth consecutive championship.
Tomorrow at the 1.5-mile South Florida track, Johnson will attempt to run down points leader Brad Keselowski and win his sixth title.
Almost every piece of empirical data strongly favors Keselowski, who leads by 20 points heading into Sunday's season-ending Ford EcoBoost 400:
• Even if Johnson wins at Homestead, Keselowski will take the title if he finishes 15th or better, without leading a lap; 16th and leads at least one lap; or 17th and leads the most laps.
• Keselowski has finished 15th or better in 26th of the last 28 races.
• Johnson has made up at least 20 points on Keselowski just three times in 35 races this season.
• Keselowski out-qualified Johnson and was faster than Johnson in both practices on Saturday. In fact, Keselowski's been faster than Johnson two weekends in a row.
• Johnson has never won at Homestead, where his average finish is 13.455.
• Keselowski's average finish in the Chase so far is 5.33.
And yet, there is one undeniable truth: Anything can happen on Sunday.
• Keselowski could crash.
• Keselowski could lose an engine in his Penske Dodge.
• Keselowski could get caught speeding on pit road.
• Keselowski could run over a piece of debris and get a flat tire.
The odds strongly favor Keselowski.
But Johnson is keeping the faith, just in case.
"I've got nothing to lose," the five-time champion said after the final Happy Hour practice session Saturday afternoon at Homestead. "We'll see what they do on the other side."
Because pole-sitter Joey Logano crashed in Saturday's first practice, Keselowski will start from the pole, with Marcos Ambrose on the outside of Row 1.
"I hope he (Keselowski) tries really, really, really hard to lead that first lap," said Johnson. "And I know Ambrose next to him is going to try hard, too, so that could be good for me."
Whether that's genuine optimism on Johnson's part, another attempt to get into Keselowski's head — as he did, successfully, with Hamlin two years ago — or some combination of wishful thinking and/or outright desperation remains to be seen.
At the moment, Johnson thinks he has a good car, but not a great one, which makes it even more imperative from his point of view for Keselowski to have major issues on Sunday.
"I think we're a top-five car right now," Johnson said. "Winning? Winning, we'll work on that tonight and put some final touches on it. But I knew coming into this weekend I was going to have a big hill to climb with the 2 car and the points lead that they have.
"They've done their part and been very competitive all weekend long, and we'll just have to see how that race goes tomorrow. But I feel we've made our car a lot better through the course of the weekend. The last two race runs we had were pretty strong and in the mix."
Tom Jensen is the Editor in Chief of SPEED.com, Senior NASCAR Editor at RACER and a contributing Editor for TruckSeries.com. You can follow him online at twitter.com/tomjensen100.