CUP: G-6 Cars Ready For Duel In The Desert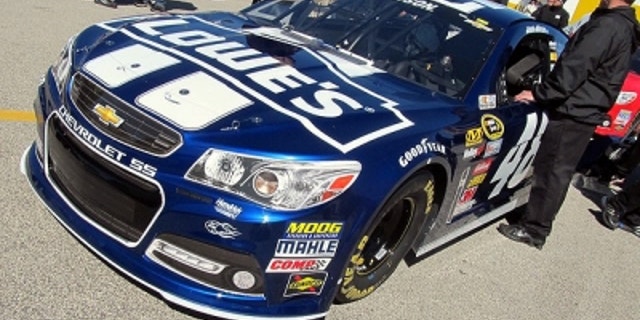 NEWYou can now listen to Fox News articles!
With the Daytona 500 now safely in the books, the real NASCAR season starts. And over the next few weeks, the new Generation-6 Sprint Cup Cars will get broken in at a host of different track lengths and layouts.
While the Daytona 500 is NASCAR's Super Bowl, it is an anomaly. The unique rules package used at Daytona isn't an accurate barometer for what to expect this weekend when NASCAR heads to Phoenix International Raceway for the Subway Fresh Fit 500 (FOX and FOX Deportes, 3 p.m. ET).
"Daytona's just its own animal, especially since it's been repaved," said defending NASCAR Sprint Cup champion Brad Keselowski, who lost a tough fight in the Daytona 500 to the man he beat for the title last year, five-time series champion Jimmie Johnson.
The Sprint Cup season opens with six consecutive different track configurations:
• Daytona International Speedway. 2.5-mile restrictor-plate track;
• PIR, 1-mile, mostly flat oval;
• Las Vegas Motor Speedway, 1.5-mile banked oval;
• Bristol Motor Speedway, 0.533-mile oval;
• Auto Club Speedway, 2-mile oval; and
• Martinsville Speedway, 0.526-mile flat oval.
The myriad different track layouts should give teams a good feel for where they are at relative to each other. Historically, whenever NASCAR makes a big rules change, as they have this year, one or two teams come out of the box with an advantage over the competition.
It remains to be seen if that will happen again this time out. Who will be fast at this weekend's race at PIR? That's anybody's guess right now.
"I think, Phoenix, again, there's going to be an acclimation period for all the teams," said Chad Knaus, crew chief of Johnson's Daytona 500-winning Hendrick Motorsports Chevrolet. "I think you have the potential for somebody to break out there and be really dominant, but you don't know until we get out there. I think it's going to be a good race."
"I think everybody is holding tight to see how the car races at Phoenix, Vegas, Bristol, Fontana, to get back into the type of racing we see on a regular basis," added Johnson. "Driving the car, there's so much grip in it, it's going to promote aggressive driving and aggressive racing."
Phoenix is a challenging track for drivers and crew chiefs alike.
"When you get there and unload, the track has no grip and you have to pace yourself in practice," said Jeff Burton of Richard Childress Racing. "The track gets better throughout the weekend and it changes all weekend long. A lot of the time, the guys who don't look so good in practice are the ones who win the race because the track changes so much. Understanding the way it is going to change is going to be most important. It's hard to know how it is going to change."
One of the promised benefits of the new G-6 cars was better racing, particularly as it pertains to passing. If you read between the lines a bit, that may not happen this week, just as it didn't happen at Daytona last Sunday. But when the teams get to Las Vegas the week after Phoenix, it should be quite a show.
"Phoenix is a newly repaved racetrack," said Johnson. "The groove might be a little narrow to see the side by side racing. I feel when we get to Vegas, we will have a downforce track under our belts, we'll have a chance to see an amazing race at Vegas, great side by side racing that everybody will want to see."
His crew chief agrees.
"Once we get out to Las Vegas, it's going to be fast," said Knaus. "Really, really fast. And we'll start to see some stuff happen then."
Tom Jensen is the Editor in Chief of SPEED.com, Senior NASCAR Editor at RACER and a contributing Editor for TruckSeries.com. You can follow him online at twitter.com/tomjensen100.