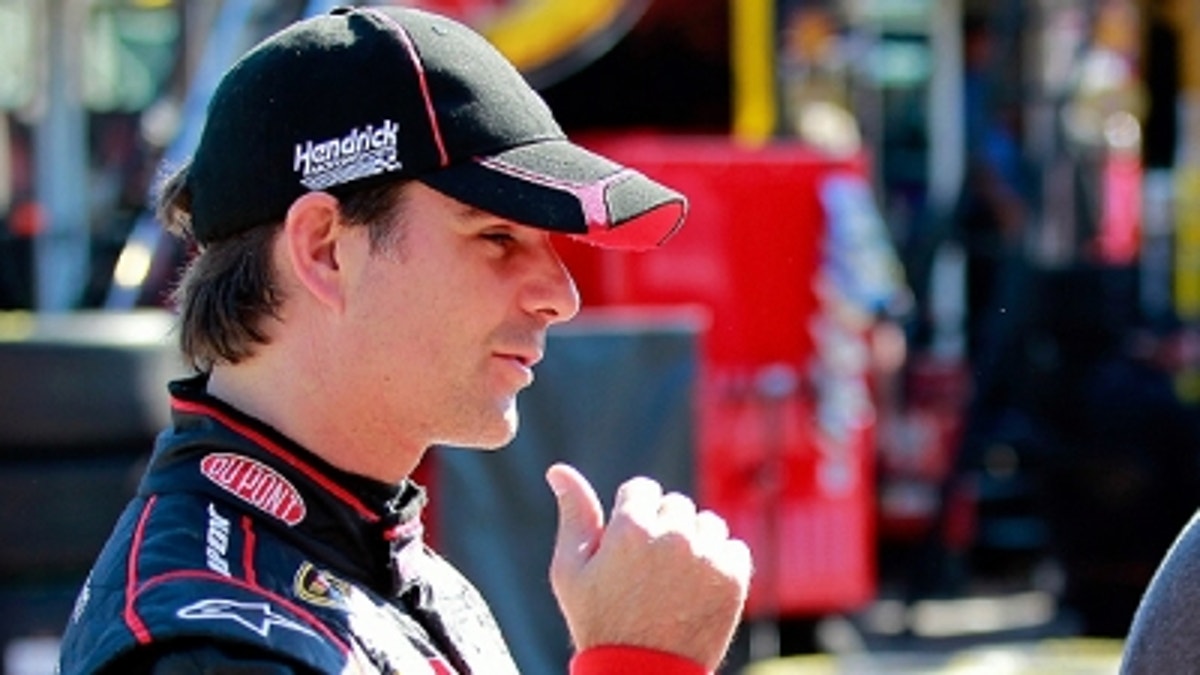 SAFETY FIRST — Michigan International Speedway likely will become the fastest non-restrictor-plate track in NASCAR history once the Quicken Loans 400 qualifying session concludes on Saturday afternoon. Michigan's current track record is 194.232 miles per hour, set by Ryan Newman in 2005. The all-time NASCAR record at a non-plate track is 197.478 mph, set by Geoffrey Bodine at Atlanta Motor Speedway in 1997. Both those marks were set in the first race after the respective tracks were repaved.
MIS has been repaved again, and the results, to say the least, have been speedy. During testing at the 2-mile track on Thursday, nine drivers broke the 200 mph barrier. During Friday's opening round of practice, 10 drivers topped 200 mph.
Although drivers say their cars are smooth and comfortable on the grippy new pavement, there are always some concerns, or at least curiosity, about safety at these high speeds.
"I feel like our sport is extremely safe until something goes wrong," said four-time NASCAR Sprint Cup champion Jeff Gordon. "And it doesn't matter if you're going 220 mph or 150 mph. You don't want to hit anything. There's always that dangerous side of it everywhere we go. And this weekend everything is perfectly safe and fun unless something goes wrong. But at these speeds if it happens at the wrong place you know, there's some unknowns that are out there."
Gordon is hoping that Sunday's race comes off incident free.
"I think it's pretty cool that we're going that fast. The cars feel good," said Gordon. "They're certainly stuck to the race track. But there's no doubt in the back of all of our minds, you don't want anything to go wrong at that speed. And, that's part of racing."
"I don't know what would happen if a car spins out at the end of the frontstretch and you are doing 217 mph," added points leader Matt Kenseth. "I don't know and I don't spend any time thinking about that. I think NASCAR is on that pretty good and I am not sure that it makes a lot of difference if you are doing 205 or whatever we normally do here or 215. I am not sure where that magic number is."
EDWARDS ON EDGE — Right now, Carl Edwards is 11th in the NASCAR Sprint Cup points standings, and with no race victories this season, he is not one of the 12 drivers currently in position to make the Chase for the Sprint Cup. With 12 races left in the Sprint Cup regular season, Edwards has plenty of time to make it back in, mind you. Edwards said Friday that he and his No. 99 Roush Fenway Racing team are performing well — better than his points position indicates, in fact.
"They are two different things — performance and results," Edwards said Friday at Michigan International Speedway. "You can run very well and have a bad result because of something that goes on. This is a test of man and machine and you have other competitors out there. A lot of circumstances can happen that can cause you to have a bad day."
Edwards said a lot of his struggles this year have come down to poor racing luck.
'I would say we deserve to be about fifth in the points and we are 11th," said Edwards. "I don't think we deserve to be leading it, even if we had the luck that we had last year, I think we would be top-five in points but I wouldn't say we would be dominating. I think the performance is not as good as it needs to be but it isn't far off. If we get a little luck, find a little speed, we will be just fine. We just have to make the Chase obviously to have a shot at anything for us this season. To get a shot at that championship we gotta make the Chase."
BACK IN THE HUNT — Joey Logano's victory at Pocono Raceway last week may have saved his job at Joe Gibbs Racing, although he still does not have a contract for next year. But what it did do is put Logano back in the mix for his first slot in the Chase for the Sprint Cup.
Heading into Sunday's Quicken Loans 400, Logano is tied with Ryan Newman for the final Chase slot, with Newman ahead via a tiebreaker. Asked what was more important right now — winning races or gaining points — Logano allowed that both counted.
"You always have to go out and get the best finish you possibly can, but if it takes a chance to win a race and you have to risk something — if you're in that position to win a race, you better take that chance to win that race because that's going to be very important," said Logano.
"At the same time, you don't want to cost yourself too many points by taking that risk," said Logano. "Whether that's doing an aggressive move on the track or that's risking pit strategy, fuel mileage or something like that. I think you have to weigh the consequences out before you do a lot of things. ... When you have a shot to win you have to take that shot because they mean so much. These races are hard to win. Anytime you get a chance to win a race, you want to take it because I found out its pretty fun to win these things."
SMOKE SIGNALS — While some of the drivers at Michigan International Speedway were wowed by hitting the 200 mile-per-hour barrier in practice, Tony Stewart wasn't one of them. Although he's now in his 14th year of racing full time in NASCAR, Stewart came up through the IndyCar ranks, where 200 miles per hour was warm-up speed.
Asked if there was something magical about hitting 200 mph at MIS, Stewart said there wasn't. "No, not when you ran 247 mph in an Indy car at Indy in rookie orientation," Stewart said. "We've been around that number at Daytona and Talladega it's just kind of cool to do it with an open motor at 200 mph."
Tom Jensen is the Editor in Chief of SPEED.com, Senior NASCAR Editor at RACER and a contributing Editor for TruckSeries.com. You can follow him online at twitter.com/tomjensen100.