CUP: EGR Team Seeks Victory Lane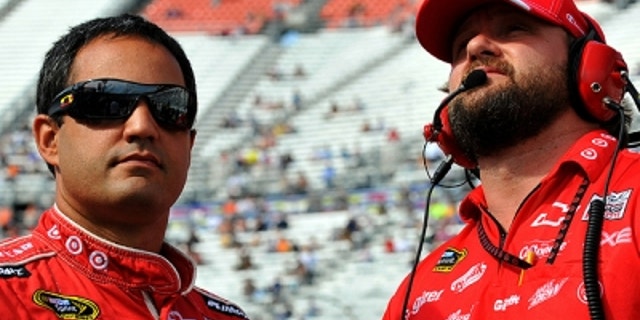 Earnhardt Ganassi Racing crew chief Chris Heroy calmly started to describe his team's methodical and measured approach to returning driver Juan Pablo Montoya to NASCAR playoff form in 2012.
"We weren't expecting to set the world on fire right out of the box,'' Heroy deadpanned. He was reminded that they actually did set Daytona International Speedway on fire in the Daytona 500.
"Well, yeah, I guess we did,'' Heroy conceded Tuesday, laughing at the irony of it, remembering that Montoya's most famous moment of 2012 thus far was hitting a jet dryer during a caution lap late in the 500, igniting a fiery explosion that stopped the race for two hours.
Heroy and Montoya are hoping the next headline-making pyro moment will include fireworks in Victory Lane.
Sitting 16th in points — the highest he's been all season — Montoya arrives at Richmond International Raceway for Saturday's NASCAR Sprint Cup Series race as the defending pole-winner, poised and determined to finally snap out of his team's early season, mid-pack funk.
With a new crew chief in Heroy — he's nicknamed "Shine," as in Sunshine — a radically different road crew and a can't-forget-fast-enough 2011, Montoya's team is highly motivated to get the Indy 500 winner regularly challenging for wins again.
The restoration project just hasn't been as fast-paced as Montoya would like. But no one's panicking yet.
"If we don't start picking up the pace we may fall short on getting into the Chase,'' Montoya told FOXSports via email as he traveled back from a Chevrolet commercial shoot in California.
"For us, it's (about) getting into a groove. We've suffered at the mile-and-a-half tracks and that's a big downfall 'cause we race over half of our season at them. We just need to keep working at it and be consistent every weekend. One good run isn't going to make up for having bad runs."
"But we make big gains every weekend," Montoya said. "The setups are getting better and Shine listens to what I need. We don't always get it right the first time around, but it does happen. Shine's a smart guy, and I can see what this team is capable of."
The key to the turnaround might well rest as much in the chemistry between Montoya and Heroy — Montoya's third different crew chief — as what's under the hood of the No. 42 Target Chevy Montoya drives.
The laid-back, friendly Heroy is the "kumba" to the fiery and emotional Montoya's "ya.''
An engineer by trade, Heroy, 34, came to Ganassi during the offseason from the championship Hendrick Motorsports organization after spending the early portion of his career working in open-wheel. That's where he first developed an appreciation for Montoya's considerable driving talent — ability that Heroy doesn't feel has been optimized in NASCAR. Yet.
"I think they've seen glimpses of the real Montoya, like in 2009 when he made the Chase (for the Championship)," Heroy said. "I was working with Mark Martin then when he finished second in the championship and it felt like we were racing Juan every week. When you get it right for him in one of these cars, he's incredible.
"When we got the setup right to start the race in Kansas last week, he drove from 39th to eighth at one point," Heroy said. "I mean, that's incredible. I think a lot of drivers in the garage know what he's capable of; we just have to get the cars and structure around him to bring it out consistently.''
"He's 100 percent committed, as am I. I understand his personality. He's passionate about what he does. I understand him and he understands me. We meet in the middle.''
While that bizarro 36th-place finish in the season opener at Daytona put the team in a hole immediately, Montoya has three top-12 runs since — including an overachieving 12th-place finish at Kansas, coming off his worst qualifying effort (39th) of the season.
The summer schedule includes a pair of road courses where Montoya is automatically a favorite and, of course, the Indianapolis Motor Speedway, where Montoya won the 2000 Indy 500 and has twice come heartbreakingly close to winning in a stock car.
For all the struggles, Montoya is still only 42 points out of 10th place in the standings.
"Chip and everyone has been really patient. They understand they gave me a blank piece of paper in November to try to help this place and get it back to where it belongs and deserves,'' Heroy said. "But they also provide reminders like that qualifying 39th at Kansas is not anywhere near acceptable.
"It's a bit of a restoration project, and there is a bit of a grace period, but the reason they made changes is to perform.''
"You've got to have patience and perseverance. You don't want to be convinced you're too great or that you're too terrible, but instead you want to maintain forward thinking and forward momentum. We're 20 points out of 12th after some monumental struggles."
Still, Heroy is keeping things in perspective.
"Racing is an incredibly temperamental thing and it doesn't take much to tip the apple cart over,'' he said. "But hard work and communication can right it pretty quick.
"It's been a bit of a learning curve figuring out what he wants. But we're trending in the right direction.''