CUP: Edwards – Bristol Victories Special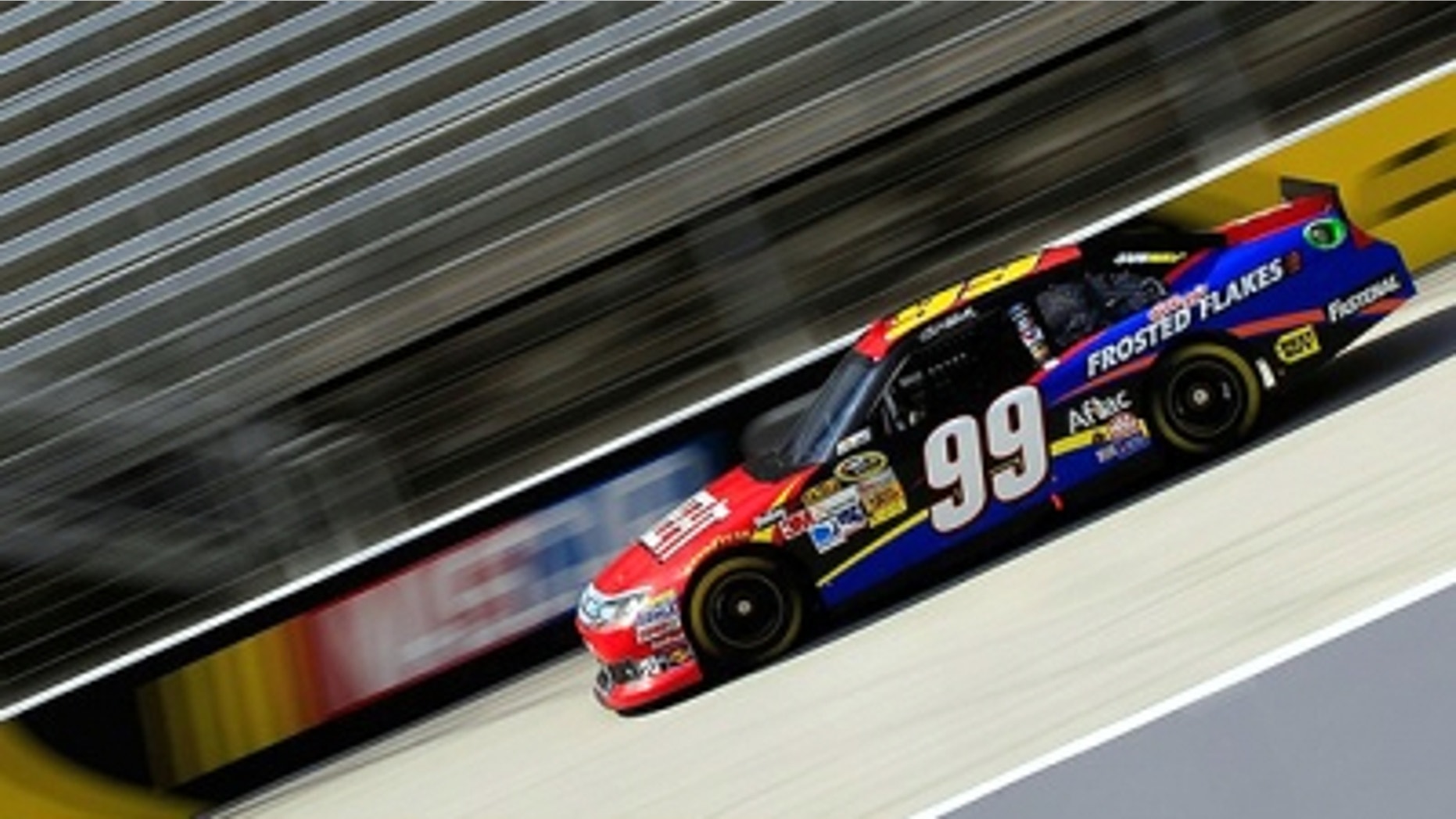 Bristol Motor Speedway, imposing because of its high banking and high speeds, might seem to be one of the toughest tracks on the Sprint Cup circuit.
But Carl Edwards, who has two wins at one of the sport's fastest half-miles, said he picked up on the rhythm of BMS pretty quickly.
"This place is a little easier to figure out – the technique at least, at least it was for me," Edwards said Friday. "It drives like a much bigger race track because of the banking. The car doesn't know it is going around that tight of a radius."
For most drivers, in fact, Martinsville, the circuit's much flatter half-mile, is a tougher puzzle.
"I still don't feel like I have that place mastered," Edwards said. "Bristol drives a lot like a three-eighths or half-mile dirt track with the way the banking picks up and the way it feels. There is a lot more momentum involved. This place really was a little more natural for me."
Edwards illustrated that thought by leading Friday practice for Sunday's Food City 500 with a speed of 123.921 miles per hour.
Edwards said his Bristol wins – scored in 2007 and 2008 – are among his most memorable.
"The wins here are really special," he said. "Growing up as a race fan, we always watched this race. These Bristol races were exciting and neat.
"There is a reason there are so many seats around this place. It is a really great race track. To win here is huge. For me, those wins were really big. They are up there."
Garage conversation continues about the finish of last week's race at Las Vegas and the fact that the three Roush Fenway drivers – Edwards, Greg Biffle and Matt Kenseth – were running in the top five before contact resulted in Kenseth finishing 22nd.
"I was just thinking it was time to go and win the race," said Edwards of the three-wide pass that sparked the contact. "I got a good restart, so if I step on the brakes, then the guy behind me is going to go right by me. If you guys watch the replay, I think we will all agree that even though we went three-wide into the corner, I passed Matt and cleared him and I was in front of him.
"The only thing that caused a problem after that was that I got a little loose because Greg went around Matt on the top. I didn't expect Greg to be right there. It is just racing. It did not feel like an aggressive move.
"It was just a restart on a big, wide race track, and we drove by Matt on the bottom. I would have done that if we had the same restart right now. I would do the exact same thing. I think any racer would. I think that is just how you have to go race.
"I want to be very clear, though. I really do appreciate Matt not just slamming my rear bumper and spinning me out after I got loose. He hit me as hard as he could hit me without wrecking me. After that he got wrecked. I still don't understand exactly how he got wrecked. Matt and I get along really well, and I don't think this is going to be something that is a big issue. I don't feel that way."
Kenseth said Friday that he and Edwards haven't discussed the incident.
"I am responsible for my car and where it ends up, and it ended up in the fence and I put it there," Kenseth said. "I will try to do a better job next time of making sure I take care of myself and not worry about the cars around me so much. I feel bad I wrecked that car and that Kasey (Kahne) got caught up in it.
"We were three-wide, but he didn't leave enough room for three cars, so I had to lift and do the smart thing to not wreck either of them. When Carl stopped in front of me because he got loose, I got into him and had to let off the gas again, which makes your car unstable. Kasey went by about 200 mph and sucked my car around. It was just a bad spot. I couldn't have been lined up much worse."
Mike Hembree is NASCAR Editor for SPEED.com and has been covering motorsports for 30 years. He is a six-time winner of the National Motorsports Press Association Writer of the Year Award.