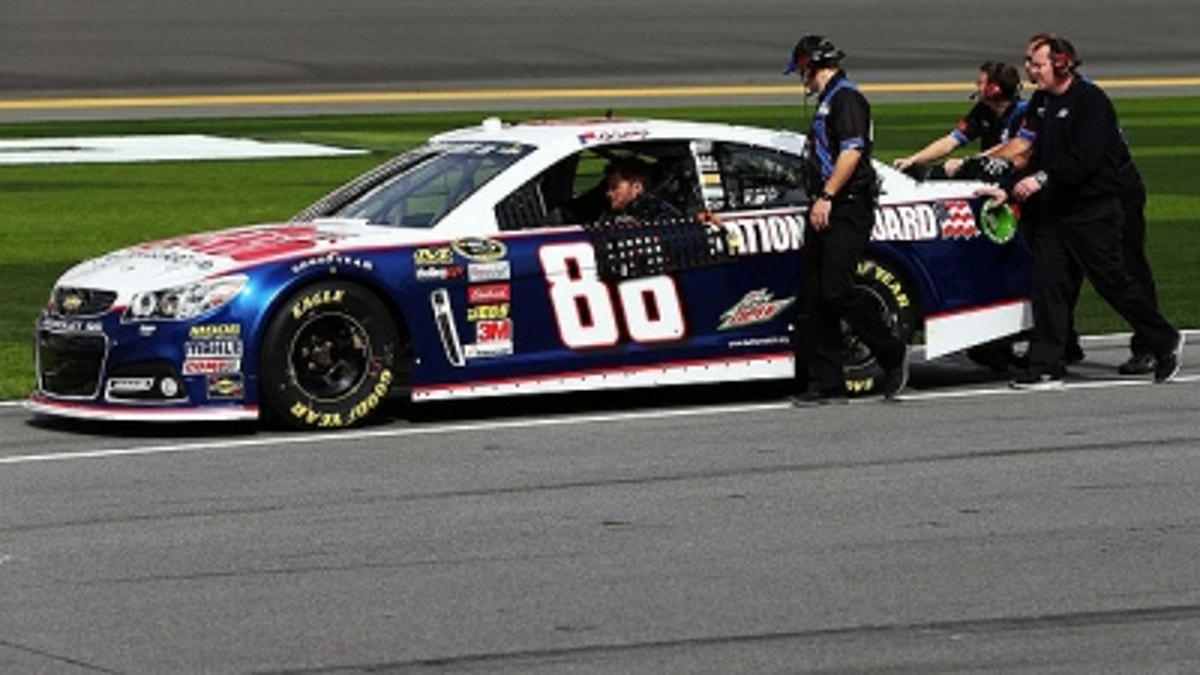 For sale! Made-for-TV premium ad space on the hood of the car of NASCAR's most popular driver.
Believe it.
Even Dale Earnhardt Jr. has coveted sponsorship up for grabs. In fact, his No. 88 Chevrolet lacks a primary sponsor for about one-third of the 36 Sprint Cup races this season.
The perfect corporate sponsorship has yet to materialize for Earnhardt and team owner Rick Hendrick. Both are preaching patience, believing the right deal will eventually fall into place, and not a dire sign that big business has soured on NASCAR.
"We're just looking for the right corporations that are a good fit for us, that are long-term, that want to be in the sport for a while," Earnhardt said. "You don't just take the first guy that comes along."
Earnhardt is one of the lucky drivers that can afford to be picky in the race for cash.
But Hendrick is not alone when it comes to teams still trying to make all the sponsor pieces fit for a season that opens with Sunday's Daytona 500. Stewart-Haas Racing -- owned and operated by three-time Cup champion Tony Stewart -- has about 20 races spread out over three cars that need a top sponsor.
Not even NASCAR's biggest stars are immune from the economic pinch that plagues a sport dependent on Fortune 500 dollars.
Earnhardt's sponsorship dried up when Pepsi, through Diet Mountain Dew and Amp, sliced its sponsorship from 20 races to five in 2013. The National Guard did bolster its support of the No. 88, going from 16 to 20 races. Earnhardt, who's made the Chase for the Sprint Cup championship each of the last two seasons, is somewhat hindered in finding the right fit because of conflicts with committed corporate sponsors. For example, his Pepsi deal is the reason he ditched Budweiser when he signed with Hendrick Motorsports for the 2008 season.
At Daytona, Earnhardt has the National Guard on the No. 88 for "The Great American Race." His sponsorship deals run low around mid-summer, so there's time to sign new business partners.
Earnhardt is one of the superstar faces of NASCAR. Even as the wins have dried up, he was still voted NASCAR's most popular driver for each of the last 10 years. He can't be associated with any fleeting or cheesy sponsors.
"You have to think about what's good for his image," Hendrick said. "Some of that has stopped us. There's been a lot of interest."
Hendrick announced at Daytona he locked up Lowe's for five-time champ Jimmie Johnson's No. 48 Chevy for 2014. Lowe's has sponsored Johnson for the first 399 races of his Cup career. With a new paint scheme, Lowe's again will be on the side of the car for start No. 400 in the Daytona 500.
Lowe's, in fact, is likely one of the biggest sponsor spenders in NASCAR. While most numbers are never publicly announced, NASCAR insiders say it costs about $18 million to $20 million a year to fund an elite driver's car for a full season. Some of the low-budget teams try and get by on around $5 million.
"You can have the best financed team in the series, but if they don't know how to apply it, it doesn't matter," Stewart said. "There's teams that have taken less money and gotten better results out of it because they know how to use the money, where to put it."
Stewart-Haas lost the U.S. Army from Ryan Newman's No. 39 Chevy and Office Depot is gone from Stewart's No. 14. Danica Patrick came aboard this season with the potential of rare, full-season sponsorship from Go Daddy. Winning the Daytona pole only spiked the buzz among all the brands.
Drivers are hampered by NASCAR policy in some cases. Sprint's exclusive naming rights deal for the Cup series eliminates other communications companies like AT&T from consideration, and big tobacco sponsorship money is no longer welcome in NASCAR.
Unlike other sports, where a fast food chain could become the official burger of multiple teams in the same league, there's no crossover in Cup. Johnson and teammate Jeff Gordon won't both be driving with Lowe's plastered on the car in the same race.
But walking down pit road is still like entering a Costco: chips and soda, oil and beer, car parts and fertilizer as far as you can see. Still, challenges remain.
"It just continues to be a tough sponsorship market," said Jill Gregory, the NASCAR vice president of industry services who helps connects sponsors with teams. "There's more inventory available and I think teams are starting to have to get more creative. Some of that sponsorship that cascaded down to the Nationwide and Truck Series are sticking with Cup. There's more competition than ever."
If a business is willing to open its wallet, NASCAR is still among the best bang-for-buck value in sports. Mobil 1 is entering its 11 year as an official NASCAR partner and a new contract extension runs through 2017.
According to Mobil 1, NASCAR fans are nearly twice as likely to prefer, try and recommend the brand because it is the "Official Motor Oil of NASCAR."
"What's appealing to us is the ability to be able to tell our technology story, and we know how engaged fans are involved from a digital standpoint," Mobil 1 global brand manager Rebecca Aldred said. "We wanted a way to reach and engage the fans with the technology story and explain why half the NASCAR teams choose Mobil 1."
Mobil 1 signed up again even with fewer eyeballs on the televised product.
ESPN's ratings from the championship finale at Homestead-Miami Speedway were down 25 percent from 2011, the most-viewed race in network history. Ratings were down or flat for all 10 Chase for the Sprint Cup championship races last season.
Earnhardt Racing president Steve Lauletta said ratings are just one slice of a successful sponsorship puzzle.
"When people see TV ratings are lower than they were, and attendance lower than they were, it doesn't mean it's still not a viable place, because it is," he said. "You just have to think differently. We just have to be more creative and figure out ways to deliver value."
With team budgets slashed, that means thinking outside the car. Teams and sponsors team up for contests on social media and other outlets to spread the word of various products. Kevin Harvick hitched a ride with Budweiser Clydesdales on Wednesday morning down a random Florida street to deliver his sponsor's beer, among other prizes, to Marine veterans. This Bud's always for you -- even at 10:30 a.m.
Gone are the days of the early 2000s -- before the crippling economic swoon -- when corporate America was the one offering the first pitch.
"I tell Chip (Ganassi), part of me is wishing I was here when CMO's were knocking on the door saying, `How much do I make this out for?'" Lauletta said.
James Finch spun the money he made in his own construction company into a racing team that has operated in NASCAR on a shoestring budget for most of the last 25 years. Finch has piecemealed sponsorship deals for his Phoenix Racing team with Guy Roofing and Tag Heuer to run this season and has Regan Smith entered in the No. 51 Chevrolet for the Daytona 500.
Finch suggested a cap, akin to a salary cap in other sports, on how much sponsors can spend on a team in NASCAR. Finch took on Kurt Busch for most of last season until the combustible former Cup champion left for a better ride at Furniture Row Racing for the last six races. No hard feelings, Finch said. After all, money drives the sport harder and faster than any racer behind the wheel.
"If someone came to me and said, `I've got sponsorship but Kurt needs to go,'" Finch said. "I'd say, `Where we putting the sponsorship at?'"