CUP: Earnhardt And Daytona's Darkest Day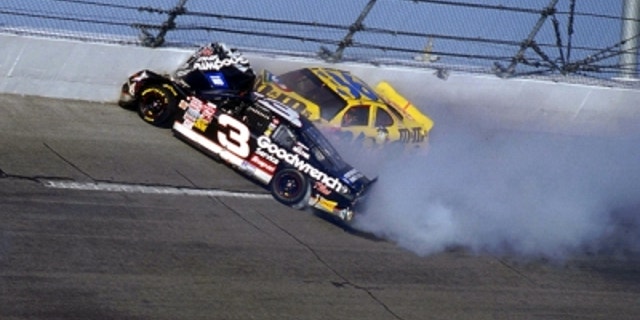 Editor's Note: Dale Earnhardt died Feb. 18, 2001, on the last lap of the Daytona 500. This column originally appeared last year as a tribute to man and his enduring legacy – Tom Jensen
February 18, 2001. Every NASCAR fan remembers where they were when they first got the news: Dale Earnhardt had died in the final turn of the final lap at Daytona.
Even today, a full decade after he died, those words are painful to process. Whether you loved Earnhardt or loathed him — and there were plenty of fans in both camps — he was a larger than life character: Bold, cocky, talented, fiercely loyal to those close to him and indestructible. Or so we believed.
I was there in Talladega when he rolled over and broke his collarbone. And when he inexplicably passed out on the first lap at Darlington. That time, I thought he really had died. He was unconscious on a stretcher and absolutely pale white as they carried him out. But a week later he was back in the car, laughing at the folly of it. Clearly, nothing was ever going to happen to him. Not ever.
Daytona in February 2001 was an incredibly vibrant place. The NASCAR boom was in full swing. FOX was covering the sport for the first time, part of a six-year $2.8 billion deal to put NASCAR on national television.
When the deal was announced at Homestead-Miami Speedway, I stood against the back wall of the media center next to Bill France Jr., who was eating sunflower seeds as the press conference went on. When I congratulated him on the TV contract, which truly brought the sport out of the south and onto a national stage, he shrugged and spit a shell on the floor. "Fifty years from now, this will seem like peanuts."
But it was a huge deal.
So was the return of Dodge to NASCAR. Between FOX and Dodge, there were signs and banners all over Daytona. At the Daytona Beach Hilton, the credit card-sized room keys had been printed with the pictures of all the Dodge cars entered in the 500. Across the street from the track at Volusia Mall, Dodge had set up an autocross course in the parking lot where fans could drive Dodge Vipers, the 500-horsepower V-10 sports cars. Every time you drove by there it was like a war zone, thunderously loud and filled with clouds of smoke.
I've never seen Daytona as alive and vibrant as it was in 2001. It was like the Mardi Gras at 200 miles per hour.
Speedweeks got off to a great start, with Bill Elliott shocking everyone by winning a pole in one of Ray Evernham's factory backed red Dodge Intrepids.
During the IROC race, Eddie Cheever ran Earnhardt down to the apron, looking for all the world like it was going to cause a huge crash. But somehow Earnhardt made a miraculous save and avoided calamity. Ninety-nine out of 100 drivers would have crashed — hard — in that situation, but Earnhardt didn't.
After the race, Cheever was actually worried that Earnhardt would track him down and beat his ass, which we all thought was hilarious.
At the time, I was executive editor of Winston Cup Scene, the best publication in NASCAR.
There are two places reporters watch races: Up in the press box, which is atop the grandstands and provides a panoramic view of the track, and in the infield media center, where there are a bank of televisions.
For the 500, I was up in the press box, with a radio that connected me to a dozen or so reporters and photographers we had on site.
On the final lap of the race, I witnessed something I'd never seen before: All the reporters stood up and applauded as Michael Waltrip came through Turn 4 and was about to take his first checkered flag after a career that began 0-462.
A split-second later, we saw the Earnhardt crash. At first, no one thought much about it. We'd all seen Earnhardt hit much harder than that before. For that matter, most of us were at Daytona in 2000, when Geoff Bodine survived a horrifying frontstretch fireball crash with comparatively minor injuries.
And in the 1997 Daytona 500, Earnhardt rolled his black No. 3 at 200 mph. When he was sitting in the ambulance to go to the infield care center, he looked out and said, "Wait a minute! The wheels are still on that thing!" He ran out of the ambulance, climbed back in the car and finished the race.
Surely this time he was OK, right?
But Mark Ashenfelter, then one of our reporters, came on the radio and said that car owner Richard Childress had radioed Earnhardt and gotten no response. I headed down to the infield and we spent the next hour milling around the outside of the media center.
I was standing outside the media center with another reporter, when Tony Eury Sr., Dale Earnhardt Jr.'s uncle and crew chief, walked by. Eury, as tough a man as you'll ever meet, was crying. I knew instantly what that meant: Dale Earnhardt was dead.
I walked over to the photo room where I saw Phil Cavali, Scene's photo editor and a close friend of Earnhardt's. "Don't say it, man," Phil implored me. "Don't say it. Don't say it." Both of us were crying.
After that was the surreality of NASCAR President Mike Helton's press conference, stories to write, coverage to plan out for that week's issue. I left the track around 11 p.m., amazed by how many memorial banners were up already. It was impossibly sad to see.
Leaving the track, I headed out to meet some friends at Dirty Harry's, a bar on Main Street in what once was downtown Daytona Beach. I walked in and saw my friend Jodi, who had driven down from New Jersey with a group of friends. As always, she had her black Goodwrench jacket and matching cap.
"I brought my best friend to her first race this weekend and Dale Earnhardt died," Jodi said, fighting back tears. "How can I ever face her after this happened?"
I had no idea how to respond.
That was the hardest part. There were no answers to what happened in Turn 4.
And there never would be.
All I knew was that Dale Earnhardt, the toughest driver to ever walk through the Winston Cup garage, was dead.
And nothing would ever be the same again.
Tom Jensen is the Editor in Chief of SPEED.com, Senior NASCAR Editor at RACER and a contributing Editor for TruckSeries.com. You can follow him online at twitter.com/tomjensen100.