CUP: Charlotte Power Rankings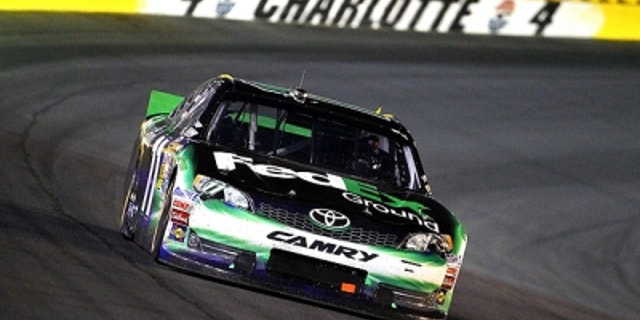 NEWYou can now listen to Fox News articles!
Kasey Kahne captured the Coca-Cola 600 at Charlotte Motor Speedway to claim his first victory of the season. But it's runner-up Denny Hamlin who moves to the top of the FOXSports.com/SPEED.com Power Rankings.
This week's list:
1. DENNY HAMLIN — Don't look now, but Hamlin is on a roll, with four finishes of fourth or better in the last five races, including consecutive runner-up finishes at Darlington and Charlotte. Last week: 7th.
2. GREG BIFFLE — Fourth place wasn't bad, except for the fact that Biffle led 204 of 400 laps in the race. Once again, though, the lap leader can't seal the deal. Last week: 5th.
3. JIMMIE JOHNSON — Thanks to a horrific night on pit road, the man who crushed the field a week ago at the Sprint All-Star race failed to lead a single lap and finished 11th. Duoh! Last week: 1st.
4. MATT KENSETH — A loose wheel held Kenseth back, ultimately finishing 10th. But he admitted afterwards that he didn't have a winning car. Last week: 2nd.
5. DALE EARNHARDT JR. — Sixth place? After last year, all of Junior Nation was expecting Our Long National Nightmare to finally end. It didn't. Last week: 3rd.
6. KYLE BUSCH — A nice night for Rowdy, as he came home third behind Joe Gibbs Racing teammate Hamlin. Last week: 6th.
7. BRAD KESELOWSKI — After dodging a bullet on pit road, where he collided with Tony Stewart, Keselowski raced to a fifth-place finish. Last week: 4th.
8. MARTIN TRUEX JR. — It was a quiet night for the Jersey Boy, who wheeled his Michael Waltrip Racing Toyota to a 12th-place finish. Last week: 12th.
9. KEVIN HARVICK — As much as Harvick hates Charlotte, he's run well here lately, as his eighth-place finish showed. Last week: 9th.
10. CARL EDWARDS — Like his Roush Fenway teammate Matt Kenseth, Edwards fought back from a loose wheel to post a top 10. Last week: 13th.
11. KASEY KAHNE — A huge victory at Hendrick Motorsports' home track continued Rick Hendrick's hot streak and vaulted Kahne into Chase contention. Last week: 11th.
12. TONY STEWART — Dude, WTH? A 25th-place finish? Seriously? Last week: 8th.
13. CLINT BOWYER — A 13th-place finish right behind teammate Martin Truex Jr. showed the MWR Toyotas were off just a bit. Last week: 14th.
14. RYAN NEWMAN — At least Newman ran better than his boss did, which admittedly isn't saying a whole lot. Last week: 10th.
15. PAUL MENARD — Not a bad night for Menard, who finished 15th. Not a great one, either. Last week: 17th.
16. ARIC ALMIROLA — A first career Sprint Cup pole, a 16th-place finish and a move into the top 20 in points. All in all, a good weekend for Almirola. Last week: Unranked.
17. JEFF BURTON — Still not running where he should, Burton cranked out a 19th-place finish. Last week: 20th.
18. JEFF GORDON — After posting an average finish of 28th in last four starts, Big Daddy came home seventh at Charlotte. Huzzah! Last week: Unranked.
19. JOEY LOGANO — When your teammates finish second and third and you finish 23rd, that's trouble. Last week: 18th.
20. MARK MARTIN — The ageless one lost an engine, but he's still fast on the track. Last week: 19th.
Tom Jensen is the Editor in Chief of SPEED.com, Senior NASCAR Editor at RACER and a contributing Editor for TruckSeries.com. You can follow him online at twitter.com/tomjensen100.