CUP: Can Junior Continue The Ride?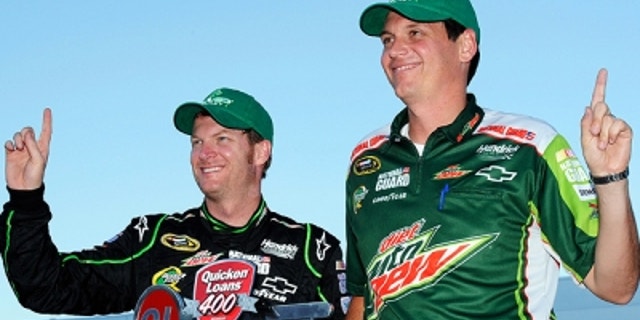 What next, Junior?
The winless run is a thing of the past for Dale Earnhardt Jr. He sits only four points out of the Sprint Cup point lead, and, finally released from the chains of a 143-race winless streak, can look back over a sharp five-month stretch of racing that holds 12 top 10s in 15 races.
The logical question that will follow – can Junior continue the solid consistency, keep the flag flying and win his first Sprint Cup championship?
That wasn't a topic Sunday after the win at Michigan International Speedway, and appropriately so. After being blocked from victory lane for four very long years, Earnhardt Jr. deserved his day in the sun and the spangled celebration that followed.
But now the focus will move to grander things, particularly with Junior holding such a strong position in points and his team having proved its mettle.
He and crew chief Steve Letarte seem to have found the perfect balance and are working as one, a key toward mounting a challenge for the championship.
"One thing I can say," offered Letarte. "We have had bad runs, good runs, disagreements, agreements, but from the day we started working together, I hope he's never questioned my desire to improve the team and to run well, and I never have questioned his desire and where he stands as far as the team and what our goals are when we came in here.
"You know, that's hard. It's a long season. There are weeks you are cranky to come to the race track. There are weeks they change the tire on you after you've worked two days, and you know, what else possibly could happen, and I could say, you know, it's not always been peaches and cream.
"We have had disagreements. That's great. That's healthy disagreements. But I can say really the devotion and desire was never questioned by me at all."
Earnhardt Jr., whose history with crew chiefs isn't golden, said he puts ultimate trust in Letarte.
"Steve is just really sharp," he said. "He called a great race. I trust in him to do that every week, and I know he will. You know, I just trust that he's looking out for – not for the best interests of just me. He looks out for the entire team and puts great people around himself to be able to do the job right. We have a good group."
If there is to be a championship – this year or the next or the next, it will come from efforts similar to Sunday's, one that saw Junior lead 95 of 200 laps and whip – or "whoop," as he put it – everyone else.
"Today really solidifies and justifies our efforts, and we can move forward to try to do more, do more good things," Earnhardt Jr. said. "I think this is really great for everybody. But Steve – you can see how this team is as good as it is just by being in the shop and watching him sort of dictate and move pieces around like on a chessboard. He's really sharp."
Mike Hembree is NASCAR Editor for SPEED.com and has been covering motorsports for 30 years. He is a six-time winner of the National Motorsports Press Association Writer of the Year Award.