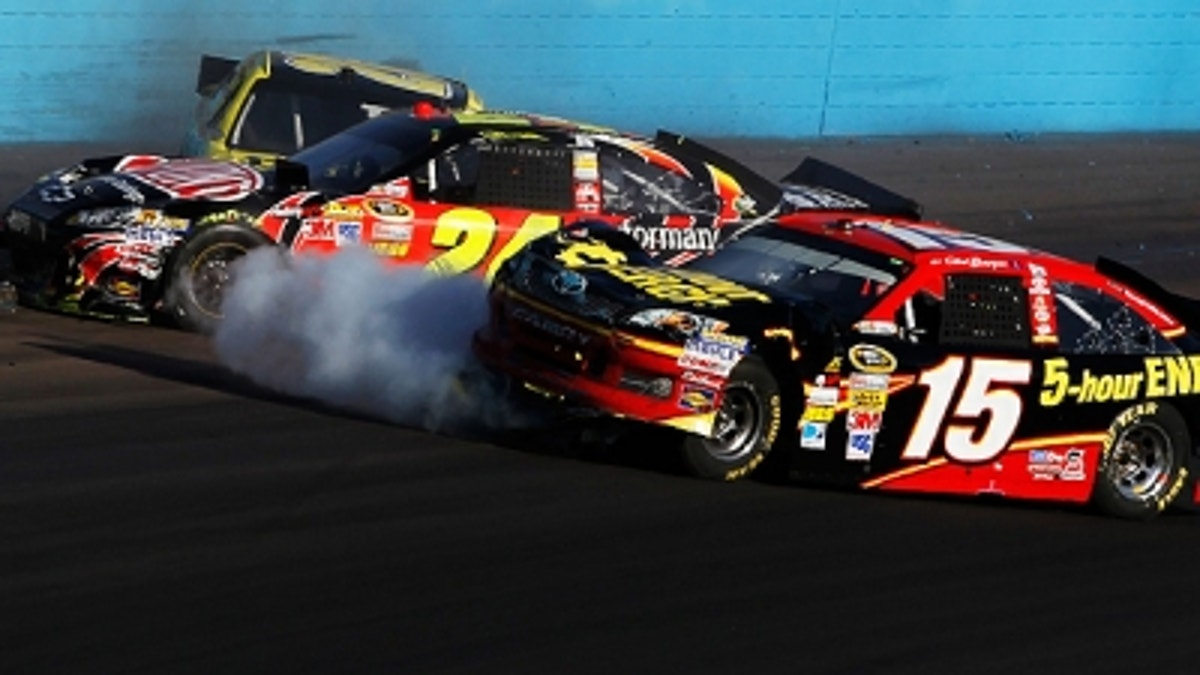 Not even the party atmosphere in Las Vegas can cut the tension between Jeff Gordon and Clint Bowyer.
The two drivers haven't spoken since Gordon intentionally wrecked Bowyer at Phoenix on Nov. 11, an incident that triggered a garage-area melee between the drivers' crews and earned Gordon a $100,000 fine from NASCAR.
Gordon said Thursday that the season-ending activities this week in Las Vegas have been "awkward" because he and Bowyer haven't socialized. Bowyer is popular among the other drivers and considered the life of the party.
"It's been awkward because I've always had a good relationship with him, we've always talked and had fun," Gordon said. "That's obviously not the case. I thought he might have gotten over it at least enough to look at me, but he won't even look at me, and when you are in this type of environment, that's going to be odd."
Bowyer, meanwhile, still doesn't want to discuss the incident. He and Gordon spoke in the NASCAR hauler at Phoenix, but haven't talked since.
Bowyer would not talk about it with reporters during the season finale at Homestead and on Thursday indicated he's not ready to resolve the issue with Gordon. He three times tried to change the subject, even once attempting to instead talk about nightclubs before finally growing exasperated.
"Good God," he said. "Is that my story I have to talk about?"
When told it was the story until it's resolved, Bowyer indicated he's not ready to resolve the issue with Gordon.
"I ain't resolving it," he said. "It probably ain't going to happen. It probably ain't going to get resolved this year. No more races."
Bowyer abruptly ended his media availability a few moments later, saying he was ready to go get changed out of his suit.
Bowyer still wasn't biting during a fan event at Planet Hollywood when he and Gordon's faces were superimposed on a pair of broken hearts as Taylor Swift's "We Are Never Ever Getting Back Together" played.
"Oh it ain't mended," he said. "Let's make fun of someone else."
But Bowyer was able to make fun of his now infamous run from pit road to the Phoenix garage, where his crew was fighting after the accident. The run was replayed Thursday at the "After the Lap" fan event in slow motion to the "Chariots of Fire" theme song.
Gordon said earlier Thursday he was unsure if he and Bowyer would get past this issue.
"Listen, I'm not here to make friends," he said. "I like his friendship. It can stay this way. But we have to race each other, I know what this all came about from and he might not agree and I'm sure we're going to disagree about a lot of things and we'll go race on next year and see what happens."
Gordon, a four-time champion, said he retaliated at Phoenix in a heat of the moment reaction to a grudge he'd been carrying for at least seven months. He'd been angry with Bowyer since Martinsville in April, when Bowyer played a role in costing Hendrick Motorsports its 200th victory.
The race had been dominated that day by Gordon and teammate Jimmie Johnson, and a late caution had set up a restart with the teammates lined up side-by-side at the front. Bowyer restarted in the second row, on new tires, and got a shove from behind from Ryan Newman. He dove to the inside of Gordon and Johnson, made contact, and all three wrecked.
Although Bowyer and Gordon spoke at the track that day, the two drivers had other on-track incidents between them over the season, including another run-in at Martinsville last month, but they had a conversation after that, too.
But something made Gordon snap at Phoenix after late contact between the two. When Gordon retaliated, he mathematically eliminated Bowyer from championship contention.