CUP: Bowyer Fast And Funny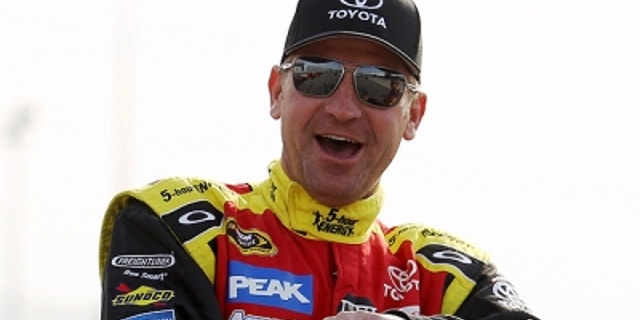 Two things you need to know about Clint Bowyer: 1. He's one of the best short-track racers in the business. 2. He probably has the best sense of humor in the NASCAR Sprint Cup garage.
Bowyer cut his teeth on Saturday night short-track races in the Midwest, and he showed off his formidable skills again Saturday night at Richmond International Raceway, where he drove the No. 15 Michael Waltrip Racing Toyota to a second-place finish behind Kevin Harvick in the Toyota Owners 400.
RESULTS
Toyota Owners 400 at RIR
Points After: Toyota Owners 400 at RIR
NASCAR has six races annually at tracks shorter than one mile: Two each at RIR, Bristol Motor Speedway and Martinsville Speedway. Since the start of 2012, the Sprint Cup Series has raced a total of nine times at those three tracks.
In those nine races, Bowyer has one victory, two runner-up finishes, six top-five and nine top-10 finishes. The second-place run at RIR was Bowyer's fifth consecutive short-track top five.
Bowyer benefited from being on the inside lane on the final restart for the green-white-checkered finish. That allowed him to pick up seven spots at the end to finish second behind Harvick.
And then Bowyer went to work in the RIR Infield Media Center, where he conducted one of the funniest interviews in recent memory.
As was the custom after each race, the second- and third-place finishers — Bowyer and Joey Logano, respectively — were interviewed together. Hilarity ensued.
MODERATOR: "Joey … talk a little bit about your night and your solid third place finish."
LOGANO: "I'm just super proud of my guys. … I felt like our car was decent in race trim and practice, but in qualifying trim was terrible. Threw the kitchen sink at it, got a good qualifying spot out of it."
BOWYER: "What exactly does that mean? Literally they threw a sink at it?
LOGANO: "Yeah."
BOWYER: "Did it dent it? Hit you in any way, shape or form?"
LOGANO: "No, it stayed in the car the whole time, in the passenger seat."
BOWYER: "Always wondered when you use that term how exactly — what kind of adjustment that is. Never thrown anything at my car and it gets better."
LOGANO: "Thrown anything at your car before?"
BOWYER: "Yes."
LOGANO: "Me, too. I don't know where I was."
BOWYER: "Sinks."
Bowyer went on to call the youthful Logano "Junior" a couple of times and rib him for dive bombing underneath him.
Here's how the two described the final green-white-checkered restart.
LOGANO: "Passed a lot of cars in a couple laps. We were booking."
BOWYER: "It was just one corner. A lot happened down there in that corner. I went from ninth to second. They all washed up, Tony (Stewart) got pissed, they all crashed, but saved it, and we went to the front. That's exactly how we saw it.
Q: Why did Tony get pissed?
BOWYER: "I think he got run over. His car looked destroyed."
LOGANO: "I did not piss anybody off tonight. Holy crap."
BOWYER: "You're telling me. A new record."
With the finish, Bowyer moved up three spots to fifth in points. A year ago at this time, he was 12th in points, yet went on to finish second in the championship behind Brad Keselowski.
Whether Bowyer can run that well again this year remains to be seen, but there's no question he's enjoying himself.
"Look at these highlights," Bowyer said, watching a replay of the finish. "Isn't this awesome! I love this sport. I'm telling you. Whoever designed this new car, we should kiss 'em every weekend. It's creating drama."
Tom Jensen is the Editor in Chief of SPEED.com, Senior NASCAR Editor at RACER and a contributing Editor for TruckSeries.com. You can follow him online at twitter.com/tomjensen100.