Cris Cyborg vs. Megan Anderson for women's featherweight title in the works for UFC 214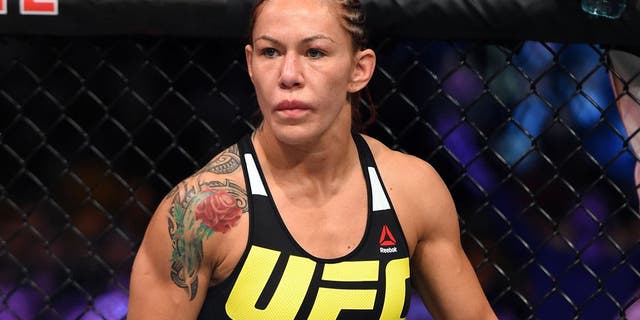 NEWYou can now listen to Fox News articles!
It appears the UFC is ready to move forward with the women's featherweight division.
Long considered the best 145-pound fighter on the planet, Cris "Cyborg" Justino is expected to meet current Invicta FC featherweight champion Megan Anderson at UFC 214 in Anaheim on July 29.
Sources close to the matchup confirmed the fight is in the works when speaking to FOX Sports late Friday following an initial report from MMAFighting.com.
UFC officials have not announced the matchup as of yet.
If the fight becomes official, it would be the second ever women's featherweight fight in the UFC after Germaine de Randamie was crowned champion back in February with a very close decision win over Holly Holm. Unfortunately after the win, de Randamie was nursing a hand injury while also refusing to face Cyborg after accusing the former Strikeforce champion of performance-enhancing drug use.
Germaine and her team have talked, and the position is that she will not fight Cyborg because Cyborg is a known and proven cheater, de Randamie's manager Brian Butler said to FOX Sports in May. Even after so much scrutiny has been put on Cyborg, she still managed to pop for something and will always be a person of suspicion who is trying to beat the system rather than just conforming to the rules."
Cyborg had previously tested positive for steroids in 2011 and faced a year suspension for the infraction. More recently, Cyborg was exonerated for a positive drug test after she was granted a retroactive therapeutic use exemption by USADA (United States Anti-Doping Agency) for legitimate medical use of a banned substance.
Still, de Randamie refused to accept the fight so it appears the UFC is ready to move forward with the division by crowning a new champion.
Cyborg (17-1, 1 NC) has been a terror during her reign as the best women's featherweight in the world. She's only fought twice in the UFC both contests taking place at 140 pounds and she's earned two straight TKO victories in those bouts.
As for Anderson (8-2) she's looking to make her UFC debut after amassing an impressive record in Invicta FC, including four straight wins, including a title fight victory over Charmaine Tweet in January to become champion.
Now it looks like the UFC is nearly ready to pull the trigger on the matchup that will see Cyborg face Anderson in a featherweight title match in July.
UFC 214 will be headlined by light heavyweight champion Daniel Cormier taking on Jon Jones in a grudge match for the ages and assuming Cyborg vs. Anderson is signed, sealed and delivered, it would serve as the co-main event on the card.