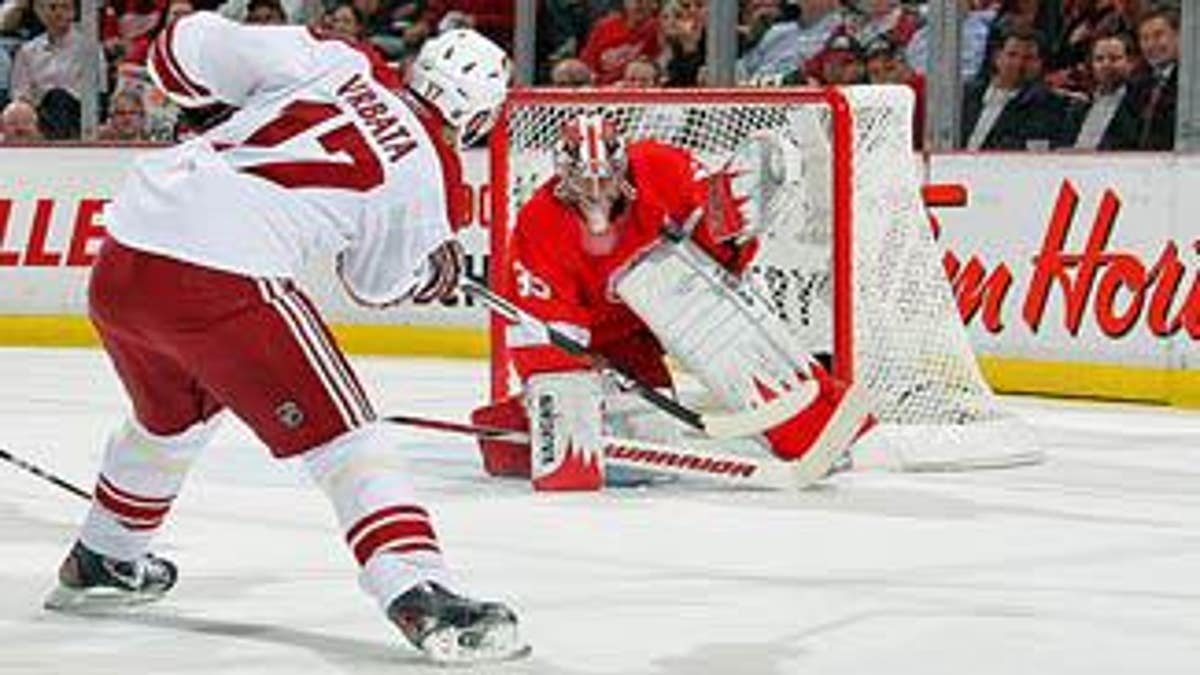 DETROIT – After his team's morning skate, Phoenix Coyotes coach Dave Tippett said his team's power play was, in his opinion, better than its ranking of 23rd in the League.
His point was that sometimes statistics can be deceiving. Unfortunately for the Coyotes on Wednesday night, they weren't during a 4-2 loss to the Detroit Red Wings at Joe Louis Arena – putting Phoenix down 1-0 in this Western Conference quarterfinal series.
After taking an early 1-0 lead on an even-strength goal by Kyle Turris just 2:16 into the game, the Coyotes couldn't extend their lead despite getting five power-play opportunities in the game's first 25 minutes – including a 5-on-3 situation in the first that lasted almost a full minute and a half.
"That was the difference in the game," a frustrated Tippett said afterward. "Our execution wasn't good enough. We had a 1-0 game. We could've pushed the game along and we didn't do that."
Instead, the Red Wings stormed back into it with three second-period goals after having to kill off a whopping 7:09 of man-advantage time for Phoenix in the first 25 minutes of the game. Pavel Datsyuk scored at 7:38 of the second to knot it 1-1 before Johan Franzen and Brian Rafalski added markers for a 3-1 lead heading into the second intermission.
Mixed into those goals was a momentum-shifting fight between Todd Bertuzzi and Rotislav Klesla midway through the second that also contributed to the huge swing in Detroit's favor. Looking back on it, the Coyotes were left grimacing less because of Bertuzzi's fists and more because they couldn't solve the Red Wings' penalty kill units – who killed off all six power plays they faced by blocking shots, taking away shooting lanes and getting a great effort from goalie Jimmy Howard.
The 5-on-3 in the first was particularly vexing.
"If we'd gotten a 2-0 lead there, it would've been big," said Coyotes defenseman Keith Yandle, who got only one shot on goal and had four blocked. "We've got good players on both units. We've got guys who can make plays. We've just got to simplify things. Instead of making backdoor tap-ins and stuff like that, just get pucks to the net."
That was much easier said than done.
With every Coyotes power play minute that ticked away without a goal, the Red Wings seemed to get even more brazen in their shot blocking and checking. Detroit finished the regular season with the League's 17th-best penalty killing (82.3 percent), but the Wings played like the top unit in this series opener.
Was that more because of Detroit's skill, or more a result of Phoenix's power play struggling?
Probably a little of both, but either way, it's starting to toy with the Coyotes' minds. Goalie Ilya Bryzgalov admitted as much afterward, saying that not scoring with the two-man advantage even had him second-guessing things.
"When you've got an opportunity like a 5-on-3, you must get a goal," he said. "If we score a second goal, who knows how the game would turn? When you've got so many opportunities on the power play and you can't create any scoring chances, it probably gets in your head. Everybody's trying to do some different things, but they probably don't have to."
Now, what they must do is regroup and address the issue in practices between now and Game 2 on Saturday afternoon. The good news is there is time to get it fixed – but there won't be much more left if the struggles continue much longer.
"Hopefully it's a kick in the pants for us and hopefully we can come back in Game 2 and get a win," Yandle said. "We try not to get too frustrated (in the power play). We moved it around pretty well. We just didn't get to score. We've just got to simplify things and get pucks to the net and get guys in front of the net."