Coyotes announce plans for arena near ASU's Tempe campus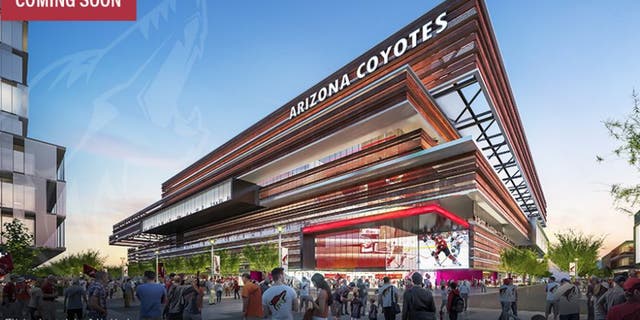 GLENDALE, Ariz. -- The Arizona Coyotes announced Monday that they have entered into exclusive negotiations for a 16,000-plus seat arena in Tempe as part of the ASU Athletic Facilities District.
A press conference to discuss the new arena with majority owner Andrew Barroway and president and CEO Anthony LeBlanc is scheduled for 2:30 p.m.
The proposed arena would be on the northwest corner of Rio Salado Parkway and McClintock Drive. The team's agreement with Catellus Development Corporation, master developer for the Athletic Facilities District, sets a June 30 deadline for the Coyotes to pull together a financing plan and develop the architectural and operational plans for the arena.
Initial plans include the construction of a 16,000-plus seat NHL arena for the Coyotes with an attached additional 4,000 seat multi-sport arena. The second arena will be used by ASU's Division I hockey program, other ASU sports team and for Coyotes practices, youth hockey practices and games and community events. A new hotel and other related amenities will be finalized as part of the second phase of the project.
"We are thrilled to partner with Catellus on this tremendous project that will include our future new home in the East Valley," Barroway said is a prepared statement. "The Coyotes are committed to Arizona, and we are extremely excited about our bright future."
The agreement stipulates a June 30 deadline to create the overall budget, design and operational plan for the development. The Coyotes will now focus on finalizing a partnership with other public sector constituents, including the state of Arizona and city of Tempe.
"Over the past year we have been exhaustive in our research regarding the most optimal location for our new home in the Valley," LeBlanc said. "While we have tremendous fans all across the greater Phoenix metro area, not to mention the entire state, it became clear that the East Valley is home to a majority of our fans and corporate partners. Our fans in the West Valley have shown us tremendous support over the past 13 years, and we look forward to working with them as we transition to our new home in the future."
Although financial plans have not been revealed, LeBlanc told ArizonaSports.com's Craig Morgan that the Coyotes will be the lead investor, and ASU will have a financial stake as well.
"We're not looking for general funds from any governmental organization, but we need to form a very strong partnership with the State of Arizona and the City of Tempe," LeBlanc said.
The Coyotes' lease agreement at Gila River Arena in Glendale expires after this season, but team is hoping to extend it until a new arena is built.
The Glendale arena was built for the team in 2003 -- but the relationship has been a tumultuous one.