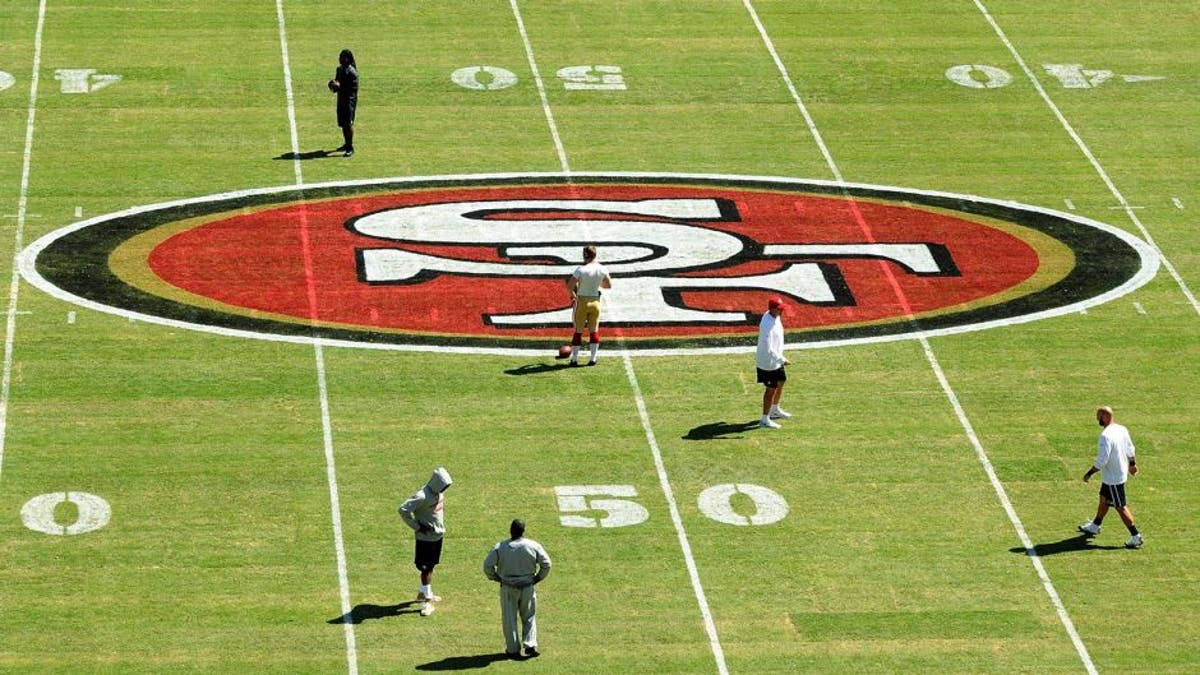 Dallas owner Jerry Jones suggested Friday that the Cowboys could sit quarterback Tony Romo and other starters for a preseason game in San Francisco over concerns with the troublesome turf at Levi's Stadium.
Jones made his comments in a radio interview a day after coach Jason Garrett said, "I'm confident that the league will make sure that field is safe for everybody to play or we won't play the game."
The outspoken Jones later softened his remarks when he met with reporters, saying he has "such respect for what that organization is and what they are going to get done."
The Cowboys and 49ers play Sunday night.
San Francisco coach Jim Tomsula moved some practices out of the stadium early in training camp after large chunks of sod came loose. There were similar issues when the stadium debuted last season.
The turf was replaced after two Taylor Swift concerts on Aug. 14-15. Stadium operations chief Jim Mercurio has said it will be replaced as needed during the season, perhaps as many as six or seven times.
The year-old, $1.3 billion stadium is set to host the Super Bowl in less than six months. The NFL is expected to install its own field and is already in regular communication with the 49ers.
"I'm not worried about it," 49ers safety Eric Reid said. "I trust our guys. They take great care of the field. Our practice field is amazing, so I trust they'll get our playing field in that type of shape, too."
Garrett said he was planning a walkthrough at the stadium Saturday, a rarity for a preseason game. He also recalled NFC championship games between the Cowboys and 49ers at rain-soaked Candlestick Park in the 1990s, when he was a quarterback for Dallas.
"I remember they used kitty litter on the field one year and all of that," Garrett said. "What's our role in this whole thing? Make sure your cleats are right. Players get out there early, make sure you've got the right gear on so you can go be your best."
Jones called the situation "interesting" in his radio interview and brought up a preseason game in Mexico City in 1994, when he said there "clumps as big as softballs" in the Houston Oilers' 6-0 victory over the two-time defending Super Bowl champions.
"I can't believe when I look back on it that we kept playing in Mexico City," Jones said in the radio interview.
But Jones backed off considerably with reporters.
"I don't want to overblow that because I have such respect for what that organization is and what they are going to get done," he said. "What I want to do, though, is basically give any consideration to somebody that is on the fence. Everybody needs field conditions as good as they can get them."
The Cowboys were already considering sitting Romo because he could be missing as many as four of his starting offensive linemen, along with receivers Dez Bryant and Cole Beasley.
"A lot of that has to do with who we got up there that are playing in front of him," Jones said. "And who is in his supporting cast. If it's like I can think it can be, I would like to see him get some plays."
Jones said Darren McFadden would make his Dallas debut after the oft-injured running back missed the first two weeks of training camp with a hamstring issue. He had seven mostly injury-plagued seasons with Oakland, which took him fourth overall in the 2008 draft.
NOTES: The Cowboys signed DT Carlif Taylor and placed T Cody Clay on injury waivers.