Countdown to Daytona: Richard Petty's staggering numbers in the No. 43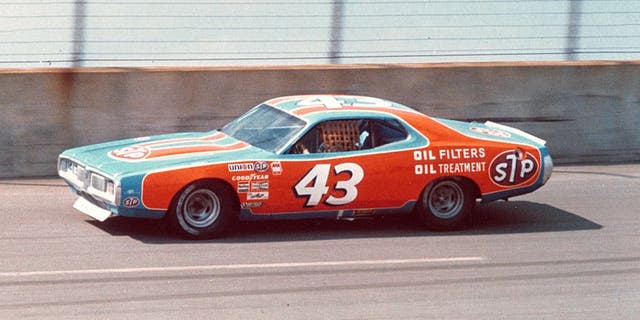 NEWYou can now listen to Fox News articles!
With only 43 days left until the 2017 Daytona 500 on FOX, it's a special day.
Why? Because there arguably is no number more iconic in NASCAR than the No. 43 that Richard Petty used to motor to 192 of his record 200 victories in NASCAR's top series.
The numbers Petty compiled en route to his seven championships, which remains tied for most all time with the late Dale Earnhardt and current champ Jimmie Johnson, are staggering.
Petty made 1,125 starts in the No. 43 across parts of five different decades. In addition to all the wins, he also posted 526 top-five and 676 top-10 finishes while winning 115 poles.
The member of the inaugural NASCAR Hall of Fame class completed 295,936 laps in the car and led an amazing 48,125 of them.
Aric Almirola drives the No. 43 today for Richard Petty Motorsports and will be behind the wheel of the car for the Daytona 500. Almirola is one of a select group of just five other drivers who have ever won a race in the No. 43, having done so in the rain-shortened Coke Zero 400 at Daytona in July of 2014.
The others who have won in the car number are Bobby Hamilton and Jim Paschal (two wins apiece), John Andretti (one win), and Petty's father and fellow Hall of Famer Lee Petty, who won one of only two starts he ever made in it.
Sadly, the 43rd running of the Daytona 500 in 2001 also is remembered as the race when NASCAR lost Earnhardt, the father of current popular NASCAR driver Dale Earnhardt Jr. The elder Earnhardt died in a last-lap accident as his friend and current FOX NASCAR analyst Michael Waltrip was recording his first Cup win to break a streak of 462 series starts without one.