Column: Larson races clean at the expense of his 1st Cup win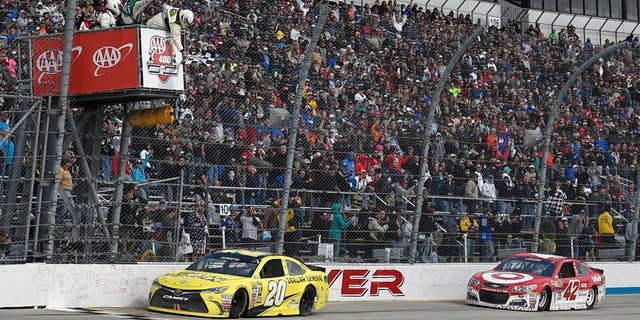 CHARLOTTE, N.C. – It might be hard to believe that the ending of a low-level race three years ago had such a profound effect on Kyle Larson that it might have cost him his first Sprint Cup victory.
Larson was the next big thing when he arrived at Daytona International Speedway in 2013 for his first full season at NASCAR's national level. He entered a silly companion race dubbed the "Battle of the Beach" with every expectation to have some fun in the event. When he found himself trailing C.E. Falk III on the final lap, he first tried to move him out of his way before ultimately spinning him to steal the win.
He was booed and rebuked on Twitter by many of NASCAR's biggest names. By the end of the week, Larson said, he realized the trophy was not worth the perception of being a dirty driver.
"I got a lot of criticism for that and people lost a lot of respect for me for that," Larson told The Associated Press in an interview a week after that late model race. "I care because people who are huge backers of me and said I'm the greatest driver ever, now one incident and all of a sudden I am the worst race car driver ever. That's not how I race. I did what I thought I had to do to win the race. Looking back, I made a mistake in how I went about it. I wouldn't go back and not try to win the race, but I would probably do something a little different."
Fast forward to Sunday when Larson found himself in a furious battle with Matt Kenseth at Dover International Speedway.
Kenseth has 37 career Sprint Cup victories, a championship and drives for the best team in NASCAR. Larson has no wins, has never qualified for NASCAR's championship and drives for a team that only occasionally finds its drivers out front.
So there he was, on more than one occasion in the closing laps, with Kenseth in his reach. No matter how hard he tried to make a pass for the lead stick, Larson came up empty again and again. He had one option left: a bump-and-run, a solid shot to Kenseth's bumper to move him out of his way.
Larson didn't make the move.
A day later, he had no regrets.
"I thought I did everything I could to get by him as cleanly as possible," Larson told AP on Monday. "I would have had to get into him (to get by) and I didn't want to do that. I hope he respects me for the way I raced him and if that situation comes up again, he'll race me the same way I raced him."
Larson absolutely thinks he had an opportunity to move Kenseth, but that lesson learned three years ago at Daytona has clearly made an impact.
"I've done it in the past (moved a driver), and one time was really bad," Larson said. "It's definitely not something I'm proud of and I learned from that. That's why I race the way that I do now."
Now we all get to see if being a nice guy costs Larson this year. Remember, he is winless in 87 Cup starts, and if making the Chase is the barometer for a successful season, Larson is still on an uphill climb.
Kenseth teammate Denny Hamlin said Larson will "absolutely" regret not being more aggressive for the win, and he likened it to when Hamlin was seeking his first career victory at Richmond and chasing Dale Earnhardt Jr.
"I remember being right on his bumper with two laps to go thinking, 'I can get my first win right here at my home track,'" Hamlin said. "And I chose not to move him out of the way. Lucky for him, unfortunate for me. That one haunted me for quite a while. I'm sure it will for Kyle as well."
He didn't seem too bothered on Monday, and maybe that is because he's got the confidence in himself and his Chip Ganassi Racing team that he'll get another shot at a win. He was able to look himself in the mirror after racing Kenseth and knowing he did not make an enemy Sunday.
Larson's problem going forward is that he can't let his rivals think he will roll over every time.
___
AP Sports Writer Mike Marot in Indianapolis contributed to this report.