Colts searching for starting QB for Sunday's game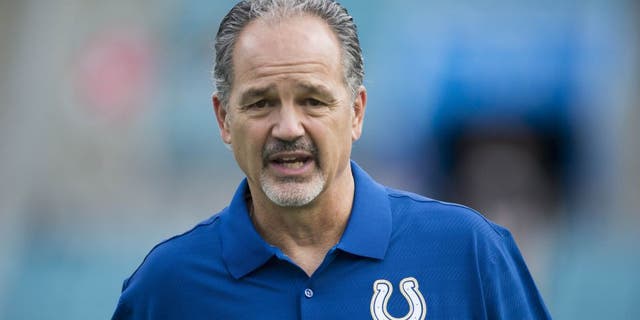 Chuck Pagano is more worried about trying to find a starting quarterback than he is about whether or not he'll still be Colts head coach next week.
Even a day after team owner Jim Irsay said he has not made a decision on the team's leadership for next season, Pagano is focused on Sunday's regular-season finale against Tennessee.
"I've had no time to think about any of that stuff," Pagano said, "other than preparing for this ball game."
A report by ESPN on Thursday claimed the team planned to fire Pagano on Monday -- a report Irsay quickly dismissed. But if true, and if Pagano wants to end his tenure in Indianapolis with a win, the Colts (7-8) have to figure out who will start at quarterback against the Titans (3-12).
Andrew Luck was ruled out earlier this week, and on Friday, Matt Hasselbeck, who stepped into the starting role when Luck was injured against Denver on Nov. 8, was ruled out with shoulder, ribs and back injuries.
Charlie Whitehurst, the backup to Hasselbeck, was placed on injured reserve Monday with a hamstring injury. That leaves Josh Freeman, Ryan Lindley and Stephen Morris as Indy's options under center. Morris has been with the team the longest, but the Colts signed him only last week.
"It's been just crazy, a lot of studying, a lot of late nights," Morris said. "I think the biggest thing is just knowing where the ball has to go. The faster you can feel comfortable in it, the better chances you have on the field. When the lights are on and things are flying, you're going to revert back to what you've been doing in practice."
The Colts are still in scramble mode, the latest of a season full of issues to address, including the firing of Pep Hamilton at offensive coordinator in November.
On Friday, tight end Dwayne Allen joined T.Y. Hilton in expressing their frustrations over the Colts' offense.
"To grade or evaluate my season would be unfair a little bit," Allen said. "Because I don't feel as though I was used the way I should have been used."
Hilton criticized the offense last week, too.
Allen, who can enter free agency in the offseason, was placed on IR this week with a calf injury after a distressing season in which he wasn't targeted much and was used to block more than he wanted.
It only adds to the speculation that Pagano won't be back next year.
"Not promised anything," Pagano said. "So we're going to attack every single day with everything that we've got."
NOTES: In addition to Luck and Hasselbeck, linebacker Trent Cole was ruled out for Sunday's game with a concussion. ... Safeties Colt Anderson (ankle) and Winston Guy (hamstring/shoulder), and linebacker Sio Moore are questionable.