Colombia Romps Over Uruguay In World Cup, 2-0, Will Play Brazil In Quarterfinals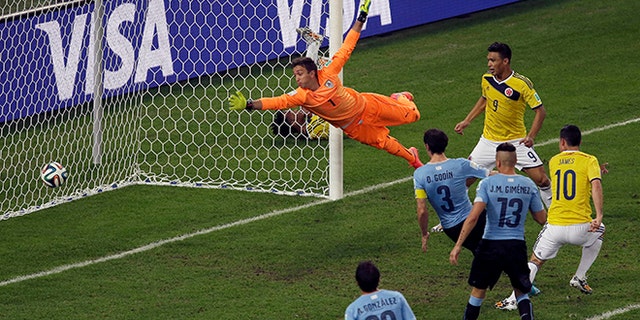 NEWYou can now listen to Fox News articles!
In Rio de Janeiro, Colombia defeated Uruguay, 2-0, a team that seemed grim and defiant in the wake of having its star striker, Luis Suárez, banned by FIFA for the remainder of the tournament for biting Italian defender Giorgio Chiellini in the Charrúa's last group stage game.
Starting in his place was another all-world striker, Diego Forlán, who was the star of the 2010 Uruguayan squad that finished in fourth place in South Africa.
Despite the fact that Forlán is now 35 and maybe even more than a step slower than he once was, many teams dream of having that kind of depth on their roster.
Colombia dominated the early going, but had a hard time generating a good opportunity until the 28th minute, when their fresh-faced attacking midfielder, James Rodríguez, brought down the ball off his chest with his back to the goal, spun and fired a rocket from about 20 yards out that struck the underside of the crossbar and bounced into the Uruguayan goal for a 1-0 lead.
Rodríguez, who plays along with Colombia's injured star striker Radamel Falcao at AS Monaco in France, has stepped into the spotlight since Falcao went down, for both club and country.
He struck again less than five minutes into the second half. A beautiful pass off a flying header by midfielder Juan Cuadrado found Rodríguez just in front of the goal, and he slammed it home.
Los Cafeteros are a loose, fun bunch whocelebrate scores by performing group dances. That's quite the opposite of the dour, physical Uruguayans, who appeared to take Suárez's ban as evidence of a conspiracy against them.
The Colombians dominated ball possession about 60 percent of the time, and led in most other statistical categories, with one notable exception—fouls.
Down 2-0, the Uruguayans started attacking with more vim in the second half, but everything came with difficulty for them. Both the veteran defender, Mario Yepes, and goalie David Ospina had outstanding games to preserve the shutout.
In Rodríguez—whose jersey reads "James"—the Cafeteros have found their face and breakout star. He now leads the Cup in goals scored with 5, and he turns 23 on July 12, the day before the Cup final—a fact that may seem suggestive if you're rooting for Colombia.
Even luminaries not known for their love of soccer took notice of Rodríguez. NBA great LeBron James tweeted, "Man watching this Colombian game I think I have my fav player in the world cup! Obviously his name help[s] that out."
This is the first time that Colombia has reached the World Cup quarterfinals. Its next opponent is the host nation and five-time Cup winner, Brazil, in Fortaleza on July 4.