Coach believes Holly Holm 'broke' Ronda Rousey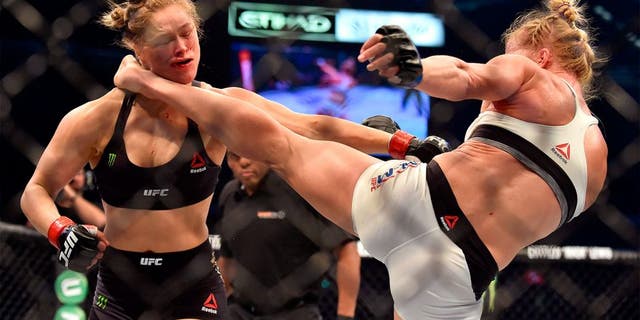 NEWYou can now listen to Fox News articles!
It was the shot heard round the world last November when Holly Holm rocketed a kick that absolutely demolished Ronda Rousey to hand the former women's champion her first loss in mixed martial arts.
At the time, Holm's win over Rousey was considered one of the biggest upsets in MMA history and was certainly the most shocking knockout in all of 2015.
Rousey didn't return to action after that knockout until more than a year later but the results were even worse than when she fought Holm. This time around, current champion Amanda Nunes dished out a vicious thrashing as she finished Rousey in just 48 seconds into the first round.
Holm's head coach Mike Winkeljohn believes that first knockout suffered by Rousey absolutely shattered her and she was never the same again. At this point off two straight losses, Winkeljohn can't see a scenario where Rousey returns to fight again.
"I can't see it happening now. Yeah, it just absolutely can't happen," Winkeljohn told Submission Radio about Rousey returning to fight again. "I think Holly broke (Rousey). I think Ronda was on top of the world and Holly broke her, because when she came out for Amanda she just wasn't the same fighter by any means.
"Not taking anything away from Amanda, but Ronda, she didn't have anything, she just wasn't there. She was just basically waiting for the end in essence once she couldn't find a way to grab her. And she did the same thing she's done before in the past, reaching out with her left arm and trying to corral. It was just a one-sided fight just like I said. I think she's done."
UFC president Dana White seems to agree with Winkeljohn that Rousey is finished with fighting after talking to her just recently and then stating that she's 'probably done'.
Rousey hasn't made any official statement regarding her future, but it certainly seems like heading towards retirement following the devastating loss to Nunes at UFC 207.