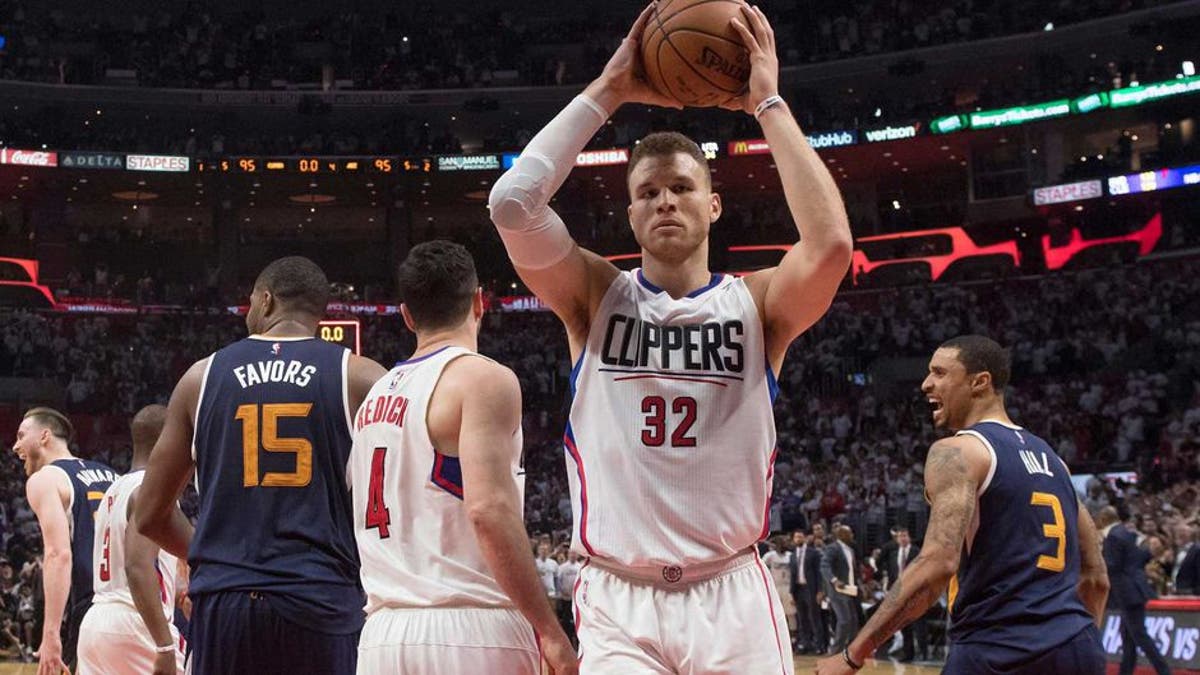 LOS ANGELES -- As the Los Angeles Clippers pick up the pieces after their stunning Game 1 loss to the Utah Jazz, they will look to pick up the pace in Game 2 of their Western Conference first-round playoff series on Tuesday night at Staples Center.
Despite the Jazz losing center and leading rebounder Rudy Gobert in the opening 20 seconds of the Saturday game, they were able to dictate the tempo and prevail 97-95 on Joe Johnson's game-winning shot as time expired, ending the Clippers' seven-game winning streak.
Gobert, who sustained a hyperextended left knee after colliding with Clippers forward Luc Mbah a Moute, is ruled out of Game 2.
Utah guard Raul Neto, who missed Game 1 with a sprained ankle, is listed as questionable. Neto told the Salt Lake Tribune that he will play.
However, it is Gobert's absence the Clippers hope to exploit.
Point guard Chris Paul, who had 25 points, 11 assists and seven rebounds in Game 1, said the Clippers also need a boost from J.J. Redick. The shooting guard managed just seven points and took only six shots, converting three, in the opener.
"Our defense has to be better, our pace, our tempo, everything has to be better," Paul said, according to the club's website. "Had we won that game, we still would have needed to do things better. We're definitely going to have to do more. J.J. is our best shooter on our team. That's our job as a team and my job as the point guard to find him more open looks."
In addition to Redick, the Clippers could use more production from their bench. Their reserves were outscored by the Jazz's 47-20. Johnson accounted for 21 bench points and Derrick Favors had 15. No Los Angeles reserve scored in double figures.
Blake Griffin also wasn't productive in the second half, scoring just six of his 26 points. Griffin had two points in the fourth quarter.
The Jazz will attempt to slow the tempo to duplicate their Game 1 success. However, they realize the Clippers will perform with more of an urgency to avoiding going down 0-2.
"You know they're going to be aggressive all game, and we're going to have to be smarter and be ready for that," point guard George Hill told the Tribune. Hill had 16 points in the Game 1 win. "We're expecting them to come out and play very hard. We just have to be smart about it and be aggressive right back."
Adjusting to whatever the Clippers throw at them will be crucial for the Jazz.
"We expect their whole team to come out aggressive," Favors said, according to the Tribune. "We're sure they're feeling some type of way after Saturday. So we know Chris Paul is going to be aggressive. Same thing for Blake Griffin and DeAndre Jordan. So we're going to have to come out and be ready for that."
The Clippers will play again without reserve guard Austin Rivers (strained left hamstring). Rivers, who has been limited to shooting drills, probably won't be available for Game 3 either, coach Doc Rivers said.