Clay's freaky fumble returned for touchdown in No. 20 Utah's 51-27 loss to No. 5 Oregon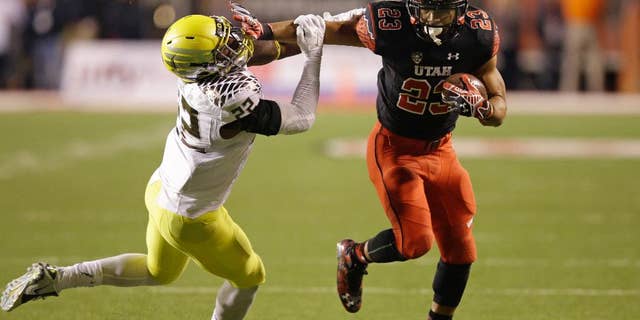 SALT LAKE CITY – Kaelin Clay couldn't wait to get to get to the back of the end zone to celebrate.
Clay's long reception could have put Utah ahead of the No. 5 Ducks by two touchdowns, but he inexplicably dropped the ball on the 1-yard line.
"I know how important points are, so I take full responsibility," Clay said with tears in his eyes as his voice broke. "That shifted the whole game."
Joe Walker returned Clay's careless goal line fumble 100 yards for a touchdown, Marcus Mariota threw three touchdown passes and ran for another score and Oregon turned back No. 20 Utah 51-27 on Saturday night.
Utah's Travis Wilson didn't get the start, but threw for 297 yards and two touchdowns after Kendal Thompson went out with a knee injury. Clay had 152 yards on five catches, but it was the 1 yard he let slip away that will be remembered most.
"It's just one of those things where I got excited," Clay said. "There's nothing I can do about it now."
Mariota was not at his best, but he did nothing to hurt his Heisman Trophy hopes while keeping the Ducks (9-1, 6-1 CFP No. 4) in the thick of the College Football Playoff race. The junior ran for 114 yards and was 17 for 29 for 239 yards passing.
Oregon also clinched the Pac-12 North and a spot in the conference championship game on Dec. 5, but lost a key player. Tight end Pharaoh Brown was carted off after an ugly right leg injury in the fourth quarter.
"A gutty, gutty win by our team," Oregon head coach Mark Helfrich said. "Definitely not a garden-variety 51-27 win, but a big, big win for a lot of reasons."
The Utes (6-3, 3-3) were on their way to taking a 14-0 lead early in the second quarter as Wilson connected Clay on a deep ball down the middle. Clay was cruising to an easy touchdown when he casually dropped the ball about a yard before he crossed the goal line. The ball sat on the turf for about 4 seconds, right at the feet of Oregon defensive back Erick Dargan.
While Clay celebrated with two teammates in the back of the end zone, Dargan finally picked it up and tried to take it out of the end zone. He got into a scrum with a Utah player and lost the ball. Walker then grabbed it and took off the other way. By then there was a flock of Ducks leading Walker against only one Utah player and Walker chugged in to tie the game at 7.
The Utes and their fans were stunned silent. Clay slumped down on the bench and briefly pulled his black head band down over his eyes.
"My teammates had my back and everybody tried to pick me up and then I forgot about it for a while, but at the end of the game it came back to me, full circle," Clay said.
The play covered 178 yards — 78 one way and 100 the other.
If ever a play killed momentum, this was it.
Oregon scored the next 17 points, including two short touchdown passes by Mariota, to go up 24-7.
Utah gave Thompson his second start of the season, hoping his quickness and ability to run the option would come in handy against the Ducks.
He led the Utes to a touchdown on their first drive, but on the next Thompson's knee appeared to buckle as he threw a deep pass. The junior went down and needed to be helped off. He left the sideline and returned later in street clothes.
Thompson finished 4 for 5 for 23 yards with 28 yards rushing. The team said after the game his season was finished.
Devonate Booker, the Pac-12 second-leading rusher, didn't find a lot of room on the ground but had a big day as a receiver with eight catches for 110 yards, including a 27-yard touchdown with 3:28 left in the third quarter that cut the lead to 27-20.
"They were a very tough defense," Booker said. "They often blitzed right to where I was running."
The Ducks' responded with a field goal and Wilson came right back with a 58-yard pass to Clay and a 13-yard touchdown pass to Westlee Tonga to make it 30-27 with 11:48 left in the fourth quarter.
"When we pulled to 30-27, I liked our chances," Utah coach Kyle Whittingham said."
But the Ducks then finished with one of their trademark spurts.
Mariota fired a dart down the middle to Dwayne Stanford, who broke tackles for a 34-yard touchdown to bump the lead back to 10. After a missed field goal by Utah, Mariota raced around the corner for a 1-yard touchdown with 4:51 left to make it 44-27.
The Ducks have won five straight since losing to Arizona, pushing themselves back into prime playoff position.
"We're close, I can tell you that," Whittingham said. "We've closed the gap of competing in the conference. But we're not there yet."