Clay Helton introduces new tune at USC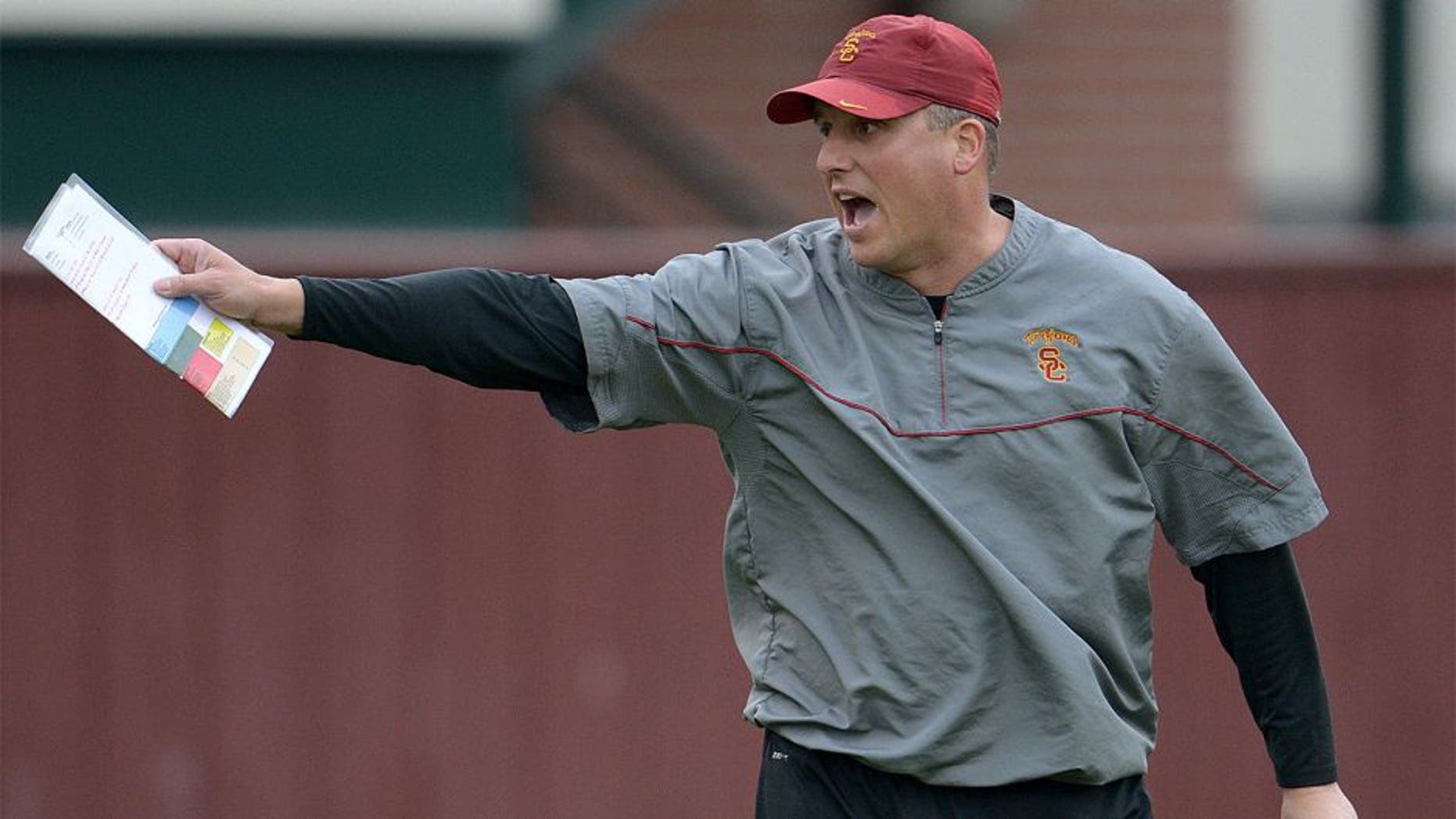 LOS ANGELES -- There's been a ridiculous amount of turnover at USC in recent years -- five different O-line coaches in five years, four different acting head coaches in three seasons --€" but as I walked onto the Trojans practice field Thursday, there was something unusual that I realized after observing the team for about 20 minutes.
There was no music blaring from the sound system.
Every college practice I've been to, since, well, I can't remember when had a constant flow of loud music -- hip-hop, country, rock and it's often some kind of mix to cater to the varied tastes of the players, while ramping up the energy of the place.
Not at USC this spring. You could hear pads clattering, players yelling to one another and coaches instructing. And, the latter is --€" pardon the cliche -- music to Clay Helton's ears.
Helton, who was promoted to head coach late last year, has brought in a bunch of new assistants, including hiring back one-time Trojans defensive coordinator Clancy Pendergast, meaning there's another scheme for players to learn. USC is exceptionally young on defense. The entire D-line has to be rebuilt, and they got even more inexperienced now that former 5-star recruit Kenny Bigelow, the most seasoned defensive lineman, is sidelined for the next seven to nine months with a knee injury.
"It was neat to stand over that ball and hear some leaders start to emerge," Helton said after the Trojans' eighth spring practice. He specifically praised Ochenna Nwosu, Porter Gustin and Mike Hutchings for becoming more vocal and confident, as well as the two starting safeties Leon McQuay and Marvell Tell, who he said are starting to communicate.
"At one point, I thought they (McQuay and Tell) were both mutes, but now they're talking to each other and really communicate with the whole defense," Helton joked. "It was tremendous strides today. Very proud of our defense."
It's a big difference from the Trojans' first spring practice where Helton said he noticed there was "barely a whisper to now everybody's talking to one another."
Helton told me it's been about six years since he's been around a team that didn't have music playing during practice.
"One of the reasons we eliminated the music, especially at this time of year is you look at how many guys are on this football team," he explained. "It's not only about you getting the physical rep. To me, it's about a young kid, getting the mental rep on the sideline and hearing the coach make the coaching point from the sideline. A lot of times you can't do that when the music is thumping in your ear. There's a time for that -- pre-game, after that game when you get that big victory, great. In this setting, right now, it's all about ball. It's about us playing the game that we love and getting better technique and fundamentally. That's what spring football is."
Helton knows how important this spring is, especially with the Trojans facing such a brutal schedule that includes 11 teams that went to bowl games last year and begins against defending national champion Alabama in Arlington, Texas.
A few other USC notes:
*The Trojans QB battle to replace Cody Kessler is going to be interesting. Max Browne, a former five-star recruit, entered the spring as the clear favorite. The 6-5, 220-pound redshirt junior has thrown 19 career passes in college after serving as a back-up the past two years. Sam Darnold, a redshirt freshman going through his first spring practice, has closed the gap. Darnold is a bit more athletic and seems to have the stronger arm.
Helton said Darnold's past two practices were his best. "I think the light is kind of coming on for him now," Helton said, adding that and he was "flashing some brilliance out there."
* Remember the name Uchenna Nwosu. He's a junior linebacker listed at 6-3, 210 but is probably closer to 240 according to one staffer. Nwosu didn't come in as a hyped recruit by USC standards, but has really blossomed. He's long and explosive and primed for a big year in Pendergast's system.
*USC has had some studs at receiver in the past dozen years: Mike Williams, Steve Smith, Dwayne Jarrett, Robert Woods, Marqise Lee, Nelson Agholor and now Juju Smith Schuster. What's different is the Trojans now have much more depth at wideout than they have at any point in the previous 12 years. This is a deep, deep group led by the 6-2, 215-pound Smith Schuster.
Darreus Rogers is a solid possession guy at 6-1, 215. De'Quan Hampton, at 6-4, 220, and 6-3, 205-pound Isaac Whitney are two other huge targets. Junior Steven Mitchell can stretch the field. Ajene Harris is a quick slot guy while 6-0 sophomore Deontay Burnett has gotten much stronger and looks ready to become a playmaker. Michael Pittman and Josh Imatorbhebhe are two promising big freshman waiting in the wings.
*The Trojans should be very good in the secondary and I like their athleticism at linebacker. It's the young D-line that will be the X-factor. Rasheem Green, a 6-5, 285-pound sophomore, is another former five-star guy. When I spoke with Green Thursday he talked a little about knowing he needs to step it up especially since Bigelow is out and there aren't a bunch of upperclassmen on the D-line anymore.