Chris Narveson steps up, helps Marlins blank Braves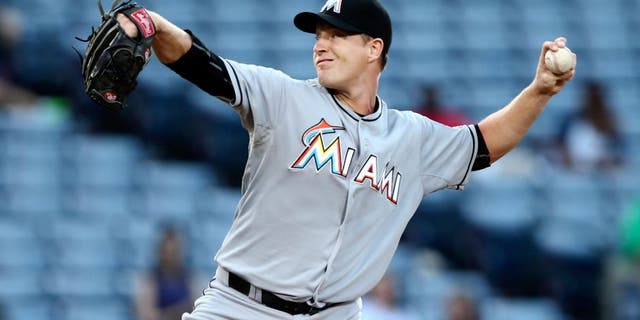 ATLANTA (AP) -- Martin Prado and Justin Bour each had an RBI double in the eighth inning and the Miami Marlins extended Shelby Miller's winless streak to 19 starts with a 4-0 victory over the Atlanta Braves on Monday night.
Miller, an All-Star with a sparkling 2.56 ERA, began the night with the worst support in the majors, and the Braves, losers in six straight and 13 of 14, stayed true to form.
Beginning the night with the worst average (.227) in the NL with runners in scoring position since the All-Star break, Atlanta has scored two runs or less in 20 of Miller's 27 starts.
Miller (5-12) gave up six hits and struck out seven in seven innings.
After getting blown out by an aggregate 38-11 score in a three-game series sweep by the New York Yankees, the Braves' offense was no match for journeyman Chris Narveson, a journeyman making his second start since 2012.
Narveson (2-1) allowed two hits, two walks and struck out three in 5 1-3 innings. He left the game with a blister on his left middle index finger.
Miller's 19-star streak is the longest in the majors this year and an in-season Atlanta record. Carl Morton has the longest franchise streak at 22 starts from Sept. 10, 1975-July 18, 1976.
Miller, pitching on his usual five days' rest, was moved up one day in the rotation when Mike Foltynewicz was scratched three hours before the game with viral symptoms.
The Marlins went up 1-0 in the second on Cole Gillespie's second homer. Prado and Bour drove in runs against Matt Marksbury. Peter Moylan gave up Christian Yelich's RBI single in the ninth.
Miller pitched out of a jam in fifth. J.T. Realmuto singled, stole second and advanced to third on catcher Christian Bethancourt's throwing error, but Miller struck out the next three batters he faced.
Miller is 0-11 with a 3.13 ERA since beating the Marlins 6-0 on May 17.
Atlanta's disastrous weekend against the Yankees was its worst three-game series since Cincinnati's Big Red Machine lineup scored 35 runs against the Braves in 1977.
NICE KNOWING YOU
The Braves traded LF Jonny Gomes to the Kansas City Royals for minor league shortstop Luis Valenzuela during the game. Gomes went 0 for 2 and left after the fifth. He hugged his teammates in the dugout and began packing up his belongings in the clubhouse. The 34-year-old Gomes has been in the postseason four times since 2010.
TRAINER'S ROOM
Marlins: Manager Dan Jennings said RF Giancarlo Stanton, who broke his left hand June 26, will make his first rehab appearance in Tuesday's doubleheader for Single-A Jupiter. Monday's game was rained out. ... Yelich, still bothered by a sore right knee, was out of the starting lineup for the fifth straight game but entered as a pinch-hitter in the eighth.
Braves: SS Andrelton Simmons was scratched with right ankle inflammation about 15 minutes before the first pitch. Pedro Ciriaco took his place in the lineup and went 1 for 3. ... Manager Fredi Gonzalez said the team's medical staff diagnosed Foltynewicz with fever and soreness.
UP NEXT
Marlins: LHP Justin Nicolino (2-2) will face Atlanta for the first time. He has a 3.65 ERA in six career starts.
Braves: Gonzalez said he would wait until after Monday's game to announce the starter for Tuesday.