Chip Kelly refuses to take the bait from N.Y. media when asked about his QB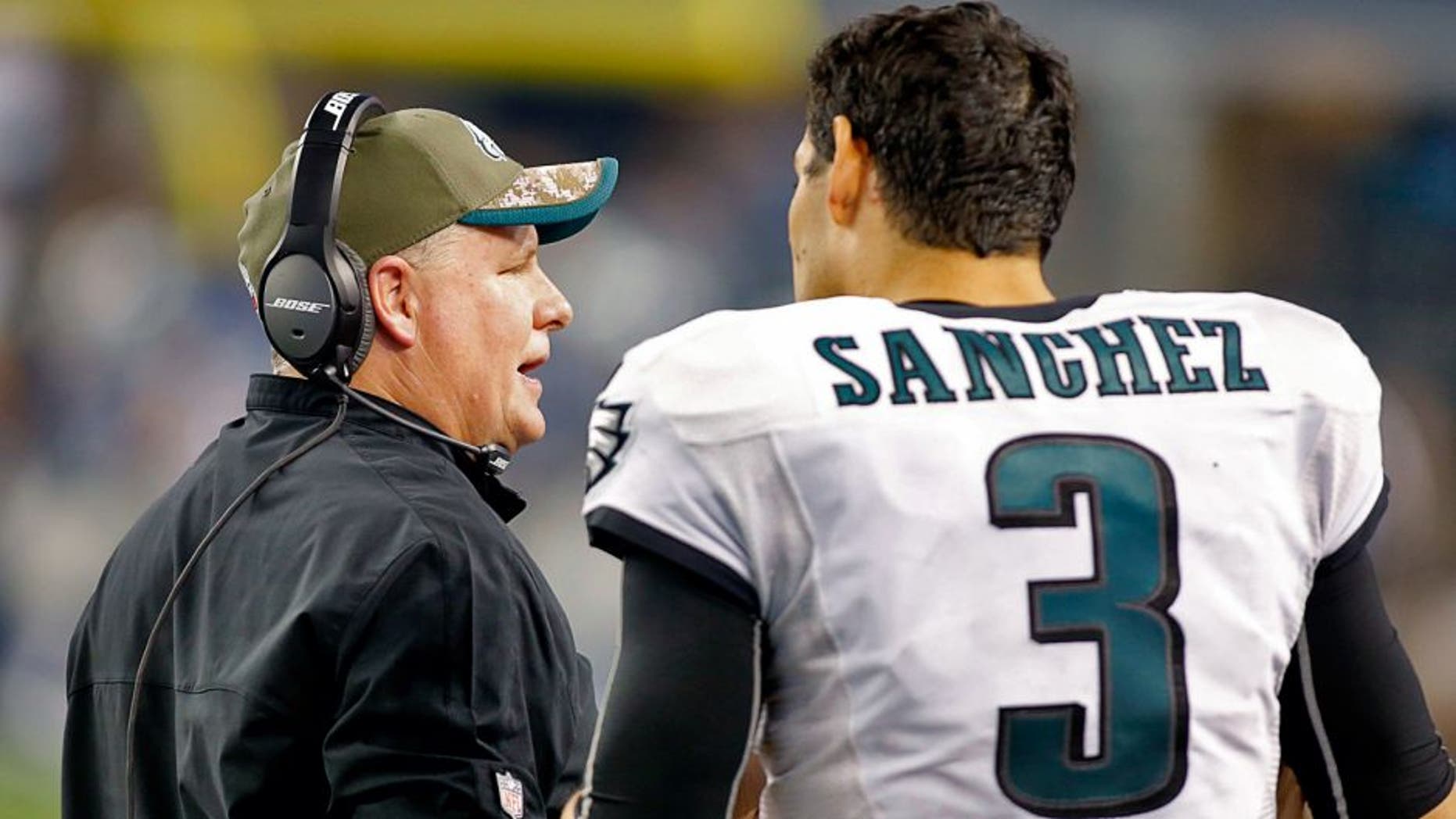 When you mix the New York media with a head coach dealing with the early makings of a quarterback controversy, there will be tension in the press room. Philadelphia Eagles head coach Chip Kelly is probably not even close to considering a change at the quarterback position, but that didn't stop the N.Y. media from asking him about a player they covered closely -- Eagles backup quarterback Mark Sanchez. Kelly wasn't too pleased to hear it.
During the Kelly's conference call with the N.Y. media, a reporter asked Kelly if he had given any thought to starting Sanchez this week. After Kelly followed up with a one word answer, he was pressed on why he hadn't given the decision any thought.
"Excuse me, because Sam Bradford is our starting quarterback," Kelly responded.
When a third Sanchez question was asked, Kelly had clearly had enough. He cracked a quip asking the reporter if he was Sanchez's agent and that was the end of it.
When Nick Foles was lost to an injury, Sanchez stepped in as Philadelphia's starting quarterback for the final eight regular season games in 2014. He finished with 2,418 passing yards and a 14:11 touchdown to interception ratio, but he also lost three fumbles. The Eagles were 4-4 in the eight games he started.
This offseason, even after the Eagles traded for Bradford, Sanchez believed that he would have an opportunity to win the starting quarterback job. He even organized private workouts with key skill position players before training camp to improve the chemistry with his teammates. When Bradford was deemed healthy for the start of training camp, the quarterback battle was officially over. Sanchez never had a real chance.
While Kelly is quick to dismiss a quarterback change at the moment, this may not be the case in the future. Bradford is averaging just 6.3 yards per pass attempt through two weeks, and he has already committed five turnovers -- four interceptions and a lost fumble. Protecting the football has always been paramount for Kelly, and it is one factor for why he didn't consider promoting Sanchez to the starting spot before trading for Bradford.
Kelly has done an excellent job avoiding the quarterback question for now, with heavy pressure coming from the N.Y. media, but he will have a much more difficult time avoiding it if the Eagles can't get a win against the New York Jets this Sunday.