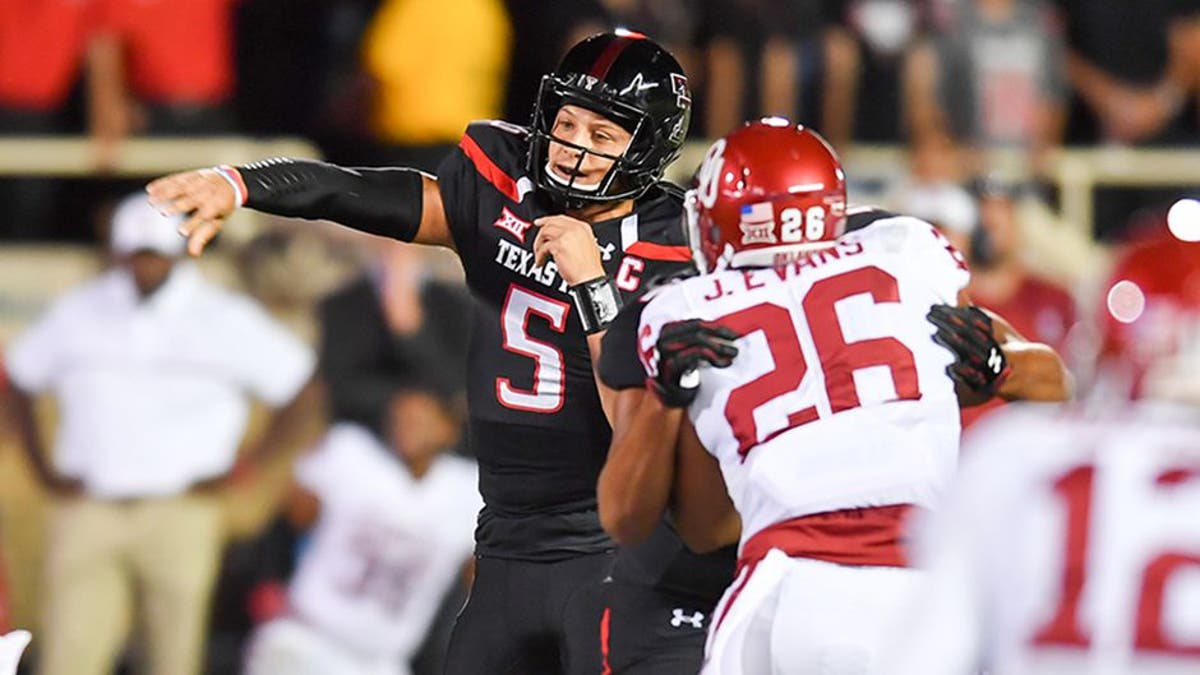 KANSAS CITY, Mo. (AP) -- The Kansas City Chiefs brought just about every top quarterback in this year's draft to their practice facility over the past few weeks, putting each through an aggressive six-hour interview process designed to test their mental acuity.
As coach Andy Reid put it, "We tried to bury them."
Patrick Mahomes kept his head above ground better than anyone else.
So when faced with the prospect of trading up to nab the Texas Tech gunslinger Thursday night, Reid and general manager John Dorsey wasted no time. They sent first- and third-round picks this year and their first-round pick next year to Buffalo, climbing from the 27th overall pick to the 10th to acquire the heir apparent to veteran quarterback Alex Smith.
It was only the third time in the common-draft era Kansas City selected a quarterback in the first round, and the first since Todd Blackledge failed to live up to expectations from the 1983 draft.
"He came in here and we drilled him," Reid said of his new prot?g?. "We threw the kitchen sink at him and expected him to spit it out. We did that with all those guys in here. It was fun."
Fun? Try stressful.
North Carolina's Mitch Trubisky went to Chicago second overall, but the Chiefs had their pick of the remaining prospects. The job Mahomes did in his interview, and the prolific numbers he put up for the Red Raiders, made him the choice for Kansas City.
Heisman Trophy winner Deshaun Watson of Clemson went two picks later to Houston.
"Once the trade went through on the TV, I got a call and they said they were going to pick me, and just pure excitement," Mahomes said. "It's something I've always dreamed of and going to an organization like this is something I've always dreamed of as well."
Mahomes is the second QB to be taken in the first round by a Reid-coach team following Donovan McNabb with Philadelphia in 1999. He also drew comparisons from his new coach to another player who flourished working under him in Green Bay: Brett Favre.
"They're different players. Brett is a Hall-of-Fame player. This kid has a long way to go before that," Reid said, "but when you have an opportunity to talk to them and be around him and feel a certain energy, and then you see him practice, you'll see a certain intensity you like."
The big-armed son of former big league pitcher Pat Mahomes, the younger Mahomes will try to buck a trend of spread-style quarterbacks from Texas Tech that have failed to thrive in the NFL. Among them is Kliff Kingsbury, who spent the past four seasons tutoring Mahomes with the Red Raiders.
The Chiefs were in the market for a quarterback with Smith nearing the end of his career.
The former No. 1 overall pick of the 49ers, Smith arrived in Kansas City with Reid and general manager John Dorsey four years ago. And he's played well enough to lead the Chiefs to three playoff appearances, an AFC West title this past season and earn a $68 million, four-year contract extension that could keep him with the Chiefs through the 2018 season.
That timetable is important: It gives Mahomes at least one season and possibly two to learn Reid's offense from a trusted veteran. And if Mahomes proves to be a quick study, Smith can be released after next season with a relatively minimal impact on the salary cap.
"Right now, Patrick isn't absolutely ready to play. He's got some work to do," Reid said. "But he's coming into a great room, he has an opportunity to learn from Alex, which will be a great for him. We have to have some patience with him, but he has tremendous upside."
Much like other Texas Tech quarterbacks, Mahomes posted up eye-popping numbers in a pass-heavy offense geared to putting up points. He started 29 games over three seasons and became the third player in Football Bowl Subdivision history with multiple seasons of 5,000 yards total offense.
He threw for 5,052 yards with 41 touchdowns and 10 interceptions last season.
Mahomes is confident he'll succeed here other Texas Tech quarterbacks -- Kingsbury, Graham Harrell and B.J. Symons -- have failed in that he was given the reins of the entire offense in college.
That kind of responsibility is rare, and Mahomes took full advantage of it.
"He's intelligent, he has great skill, and I just think he's going to be a great player when it's all said and done," Reid said. "We just thought with what we do, Mahomes would fit in well."
The Chiefs still have their second-round pick and another third-round choice on Friday, and will now turn their attention to defense. They could use a middle linebacker to eventually replace veteran Derrick Johnson and a cornerback to play opposite Marcus Peters.
-- --
More AP NFL: pro32.ap.org and twitter.com/AP -- NFL