Chicago Bears defense has been vulnerable to the run so far this season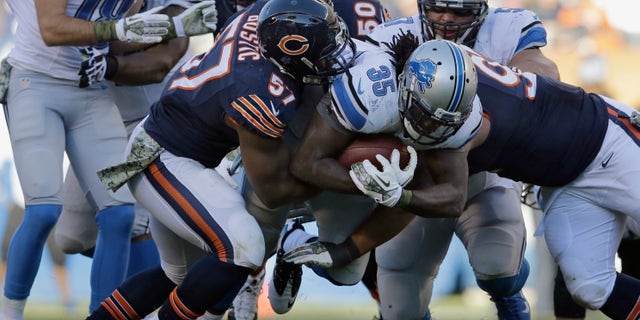 LAKE FOREST, Ill. – Chicago Bears defensive coordinator Mel Tucker calls it more a lack of trust than physical ability.
Traditionally strong against the run, the Chicago Bears' defense has leaked of late and players are trying to avoid blaming it on numerous injuries.
"It's honestly not like we're getting driven off the ball," Bears defensive tackle Corey Wootton said. "It's just that we're not fitting in our gaps. When you're not disciplined, the thing that should be a 1-yard gain or possibly a tackle for loss turns into a 20-yard gain. That's where we need to clean that up because it's starting to become a problem."
The Bears rank 31 out of 32 teams, giving up 129.4 yards rushing per game. If that holds till season's end, it will be the worst mark since linebacker Dick Butkus was limping around trying to play on a bad knee. The Bears were 25th out of 26 teams in 1973.
The Detroit Lions ran for 145 yards last week against the Bears, who allowed 123, 209 and 199 yards rushing the three previous games.
Tucker said players have to trust each other and stay in their gaps in the run defense.
"Typically, if you are in position where you are supposed to be, the plays will come to you," Tucker said. "And so we ask guys not to try to do too much, just do what we're asking you to do, and be where you're supposed to be and then when you have an opportunity to make a play, make it."
It's not easy for players to establish trust when they're unfamiliar with each other or the defensive scheme. With linebacker Lance Briggs ruled out already for Sunday's game due to a broken shoulder, cornerback Charles Tillman done for the rest of the regular season (torn chest muscle), defensive tackle Henry Melton out with a torn anterior cruciate ligament and middle linebacker D.J. Williams done with a torn pectoral muscle, the Bears keep lining up new players.
Coach Marc Trestman doubts the problem is as severe as numbers indicate, and believes it can be solved by taking care of details more than being physical.
"This happens week to week in the National Football League," he said. "When you lose a game, it's just a little bit more magnified that there's a lot of ifs involved, if we would have run inside instead of outside, if we would have been a little bit tighter — the little details that go with any aspect of the game, and the running game is inclusive of that. If you're not detailed and one guy is doing it just a little bit differently and we're not in coordination with the other guys, that's what happens. I really can't be any more specific than that."
Trestman gave Tucker a vote of confidence Wednesday.
"As I talked to the team on Monday, I thought our defense played well enough for us to win under unusual circumstances because of the situation of having so many players out that gave our team a chance to win," Tucker said. "I think that starts with Mel, and our staff getting the guys ready, continuing to work with them to try and improve.
"Are we where we want to be? No. We're always trying to get better. But I think he's done an outstanding job in the classroom. On the field he's excellent, and I think he's done a great job of being on the field and managing the team for the last couple of games on the field. It's very impressive to watch."
It's possible the Bears could get some relief this week against the run when they face the Baltimore Ravens. Even with Ray Rice in the backfield the Ravens rank 30th running the ball at 73.1 yards a game.
"This is a zone blocking team that wants to run the ball," Wootton said. "They've got a great running back in Rice. Their line is big and physical. They do a good job of mixing it up."
NOTES: Defensive end Shea McClellin, who missed last week's game with a hamstring injury, missed practice Wednesday but was able to work on the side with trainers. Long snapper Patrick Mannelly also missed practice due to a calf injury. ... Wide receiver Brandon Marshall decided to end his verbal sparring with members of the Detroit Lions. He had been involved in a spat with a couple players. "As far as my comments, it is what it is. I love the rivalry. It reminds me of . I won't go there ... but it's a cool game, and I look forward to seeing them in the playoffs," Marshall said. ... The Bears signed seven-year veteran S Derrick Martin to a one-year contract. He last played for New England in 2012, but was with the Bears for two preseason games this season.