Chelf's maturation, especially in running game, key to No. 11 Oklahoma State winning streak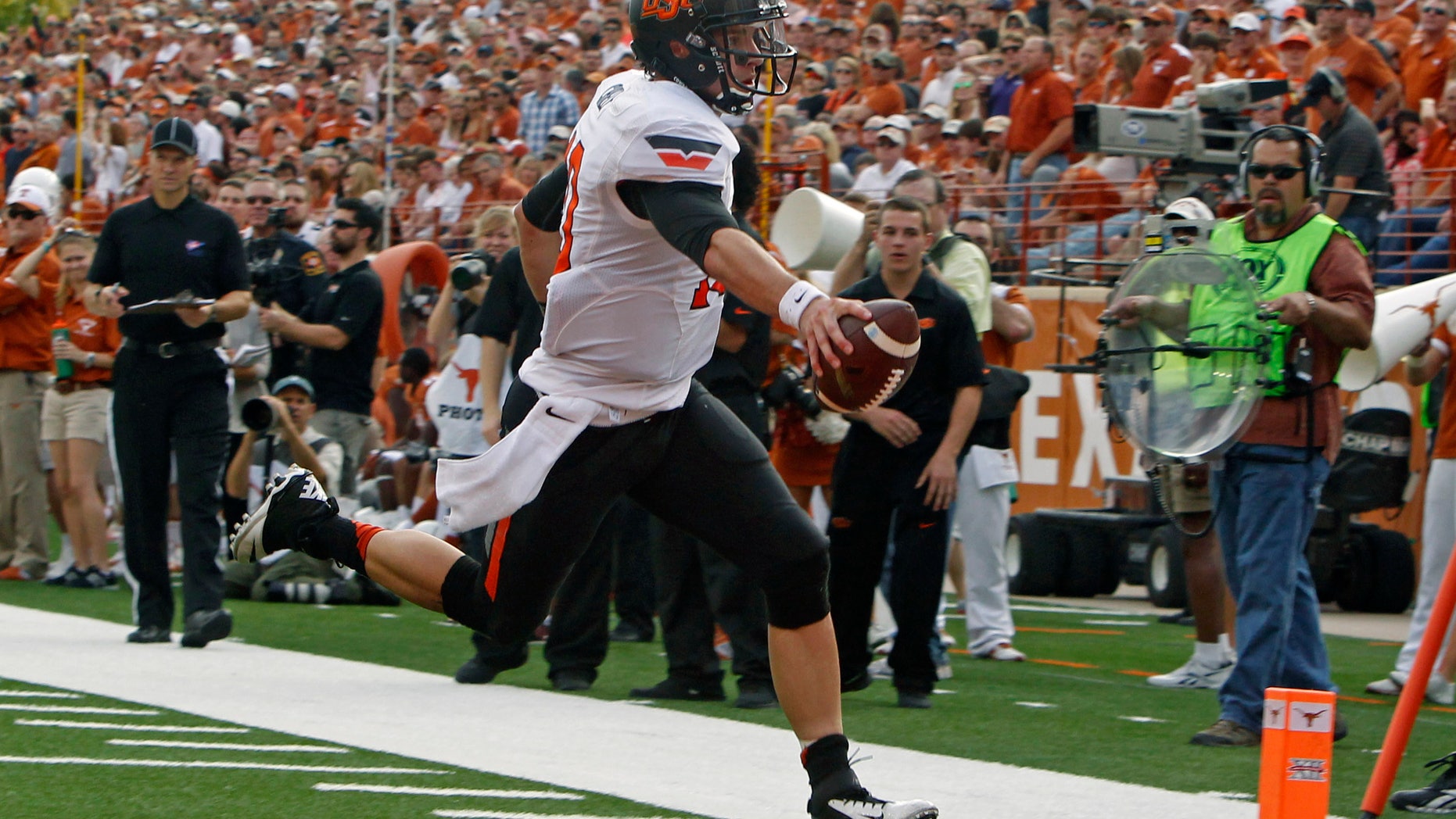 STILLWATER, Okla. – Now that he is back in control of No. 11 Oklahoma State's offense, senior quarterback Clint Chelf has the Cowboys on the verge of their second Big 12 Conference championship in three years.
A win against No. 3 Baylor (9-0, 6-0 Big 12), who visit Boone Pickens Stadium on Saturday night, will put Oklahoma State (9-1, 6-1) in prime position to claim the Big 12 title with another game remaining against No. 22 Oklahoma.
One of the biggest reasons for six consecutive wins has been Chelf's gradual improvement since regaining the signal-calling job midway through a 24-10 win over TCU on Oct. 19.
"Every game he plays, he gets a little bit better feel," coach Mike Gundy said. "His reads, his percentages of plusses and minus, based on the mental aspect of his game, improves each and every week. He's a nifty ball-carrier, he's been effective running the football. And for the most part, he's minimized his throws that are poor decisions. He's been very effective in understanding our game plan and to ultimately win the game."
Chelf has displayed character and resilience this season, first after losing the QB spot to sophomore J.W. Walsh during the Cowboys' season opening 21-3 win over Mississippi State on Aug. 31. Following several weeks on the sidelines, Chelf replaced Walsh against TCU and on his very first play from scrimmage tossed an interception.
He rebounded from that to lead Oklahoma State to a win, and has become more efficient in each outing since, both throwing the ball and running it, culminating with an outstanding performance last weekend in the Cowboys' 38-13 triumph at then-No. 23 Texas.
In handing Texas its first Big 12 loss, Chelf completed 16 of 22 passes for 197 yards and two touchdowns, and also rushed for 95 yards and two scores on just 10 carries.
"He's been more effective running the football than what we all thought," Gundy said of Chelf, who had just 205 yards and zero touchdowns rushing in eight games last year. "I think he's surprised us with his ability to open up with speed when he gets out into space."
At 6-1, 210 pounds, Chelf may not be the most graceful runner, but his ability to read the defense and then deceive them with the fake hand-off before heading in the other direction has contributed greatly to his recent success, surpassing 80 yards rushing in three of the last four games.
"The thing about that (QB draw) play, Clint makes the decision himself whether he's going to run it or throw it," said senior receiver Charlie Moore, who caught a season-high six passes for 83 yards and a touchdown against Texas. "I run that play like I'm about to get the ball. Sometimes I don't even know and I turn around and I see Clint running up the middle. He's smart and it's been working. Clint's a fast kid, he's big, he got known as the passer, but I don't think (his running ability is) a secret anymore."
It certainly isn't to Baylor.
"He's done a great job, he just seems to be very composed and has the ability to run, which they've really added the last two or three weeks," said Baylor coach Art Briles. "He's really hurt some teams running the football. They throw it very effectively, so I think Oklahoma State as a program does a great job playing to their personnel."
And while the atmosphere in Stillwater could potentially intimidate some players, don't expect Chelf to be one of them.
"He played with a lot of poise," offensive coordinator Mike Yurcich said of Chelf's performance at Texas. "He's a great leader, made a lot of great decisions and did a great job not only in the passing game, but also the running game as well."