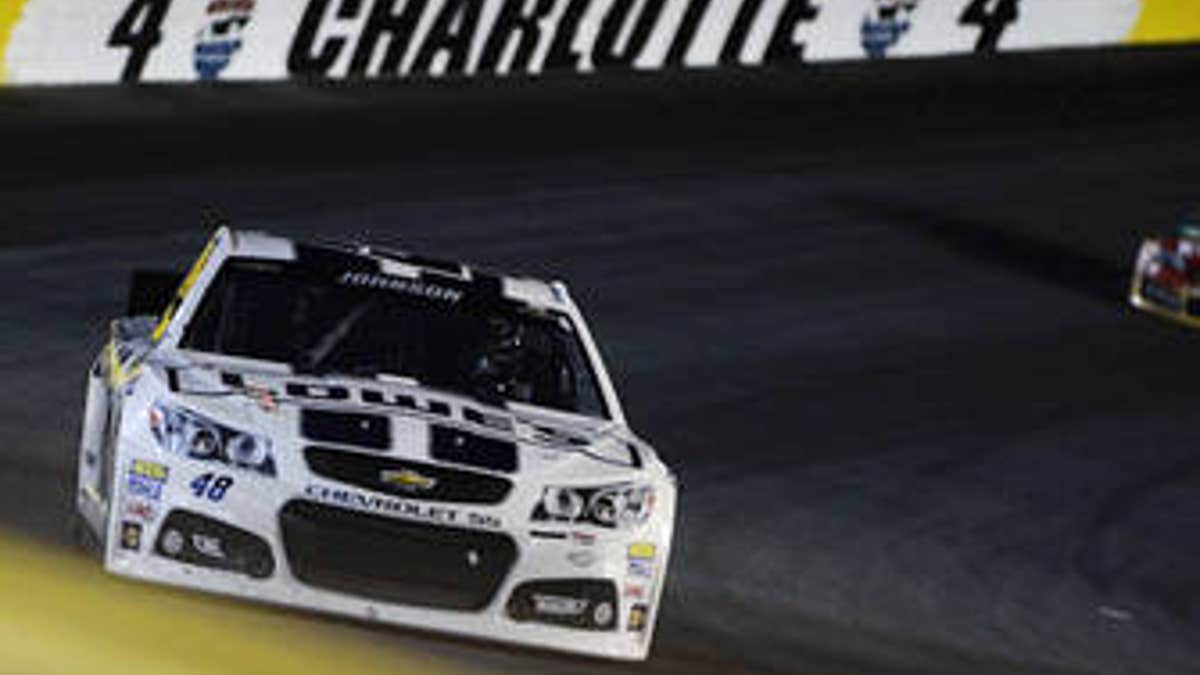 I think Jimmie Johnson missed a golden opportunity last Saturday night at Charlotte Motor Speedway. It was a chance to head to Talladega this weekend with the points lead in his pocket.
The fourth and final caution at Lap 306 was a huge game-changer in many, many ways. We don't know if it was going to take the win away, because there was a big question at that point of who could make it on fuel and who couldn't.
I tend to believe that if there was any driver that could possibly have made it that it was Jimmie. I say that because he was the last guy to hit pit road before the Lap 306 caution. So, you have to believe they were in a mode where they were going to roll the dice and try to run this thing out. Obviously, we don't know that and never will know that.
Obviously, when Jimmie did come to pit road for that last stop and got those four fresh tires, you had to believe he was sitting in real good shape. His two teammates -- Jeff Gordon and Kasey Kahne -- who were in front of Jimmie, only had two fresh tires. Unfortunately, there was that huge bobble and hiccup on the restart, and Jimmie just never could recover from it.
When it was all over, Jimmie didn't get the win or the points lead and, in fact, he lost a point to leader Matt Kenseth because Matt led a lap during the middle of the race. I know it's hard to say that Jimmie led 130 laps and finished fourth in the race but yet missed a golden opportunity, but ironically that's exactly how it played out.
Over at the No. 18 car, even with the miscue on the caution on Lap 25, I just don't think you can say enough about that whole program over there. Kyle finished fifth Saturday night and it kept him in fifth spot in the Chase. He's 37 points back of his teammate, Kenseth.
With five Chase races in the books and five races to go, Kyle is almost a full race behind, however. After that first miscue, his pit crew was flawless. They were making up spots on every single stop. On the green-flag stops, Kyle himself was doing an unbelievable job of getting on and off pit road.
I also think it's ironic when you look at the Penske cars Saturday night. It's like they seemingly can't get both cars on the same page at the same race. Saturday night, Brad Keselowski got his first win of the season, while his teammate, Joey Logano, was an absolute non-factor.
Actually, if you look at the Ford camp overall and not just Joey, other than Brad winning the race, it was a pretty dismal showing at Charlotte. Believe it or not, that was only the second Ford win at Charlotte Motor Speedway in the last 24 races there. We're talking two wins in 12 years.
I know I had talked earlier about Saturday night being a missed opportunity for Jimmie Johnson, but in reality, it was a missed opportunity for Hendrick Motorsports as a whole. Collectively, they led all but 21 of the race's 334 laps. They did all that and still between the four drivers, didn't win the race. They have to be wondering this week how that one got away.
The original article can be found at FOXSports.com: Charlotte proved costly for Johnson.