Charlotte Motor Speedway making changes ahead of October race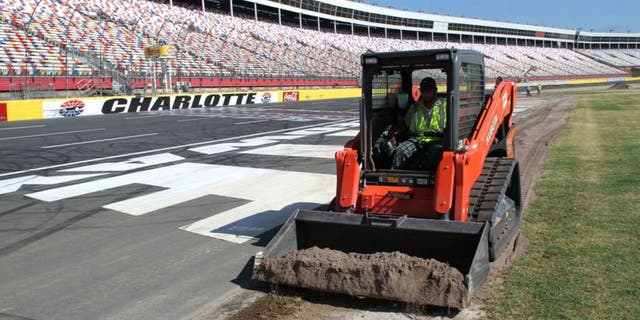 NEWYou can now listen to Fox News articles!
Charlotte Motor Speedway is working with turf specialists and track engineers to create a transition border between the pavement and the grass along the frontstretch as track officials prepare for October's Bank of America 500.

Crews have graded down the grass and soil edging to create a 6-foot border that is the same level as the asphalt near the start/finish line.
The six-foot transition border will include a new sand/soil mix with newly planted rye grass. Crews are installing 140 tons of the new sand/soil mixture. By the time the October 8-10 race weekend rolls around, the grass will be smoother and lower than the regular infield grass where the traditional grass-painting is located.
The project is designed to create a smoother, safer surface for drivers, and cause less potential damage on the splitter and front end of the cars.
"The smoother grade off the track surface should save some damage to the cars if a driver is forced below the white line," said Scott Cooper, Charlotte Motor Speedway's vice president of communications. "Wouldn't it be cool if it helps create another 'Pass in the Grass' moment?
"By October's Bank of America 500, we'll have a transition resembling the area between the fairway and the rough on a golf course."