Chargers cut speedy college receiver, trim roster by 11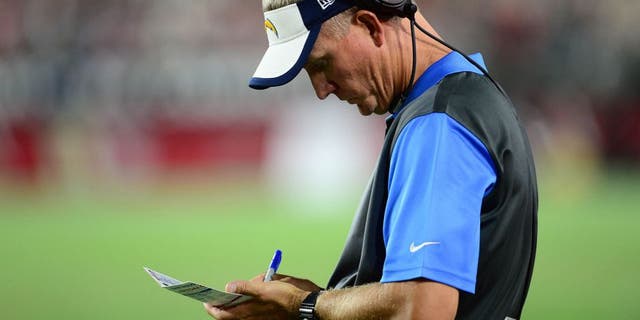 NEWYou can now listen to Fox News articles!
San Diego's roster became a little slimmer on Monday afternoon.
The Chargers released 11 players in advance of Tuesday's 75-player deadline. Chief among them: Central Michigan's Titus Davis, who fit the big-bodied mold of a Mike McCoy receiver.
The team still needs to chop four additional players to hit the NFL's threshold. Then, early next week, they'll need to make even more tough decisions to shape the final, 53-man group.
Here are the players that San Diego parted ways with:
CB Manny Asprilla
DL Cameron Botticelli
WR Titus Davis
RB Jahwan Edwards
LB Curtis Grant
OLB Brock Hekking (injured)
OT Forrestal Hickman
TE David Paulson
QB Chase Rettig
DL Luther Robinson
TE Logan Stokes
(h/t ESPN)