Champions League: Messi, Neymar star for Barcelona in 7-0 drubbing of Celtic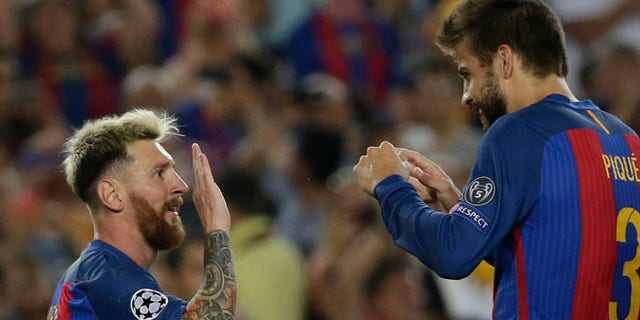 BARCELONA, Spain (AP) – Lionel Messi scored a hat trick and Neymar excelled as a playmaker to lead Barcelona to a record-setting 7-0 win over Celtic in their Champions League opener on Tuesday.
Celtic failed to convert a first-half penalty and level the score at 1-1 in a miserable night for the Scottish visitors.
Neymar set up Messi to score twice in the first half hour at Camp Nou before the Brazil striker struck from a free kick just after halftime.
Neymar kept pouring it on, crossing for substitute Andrés Iniesta to fire in a vicious volley.
Messi took his career tally to 86 goals in Europe's top-tier competition before Luis Suárez rounded off the rout with a pair of goals.
"It didn't matter who we had in front us, I remember a beauty and precision that was of another class. Against that, rivals can do very little," Barcelona coach Luis Enrique said. "It was a great way to make our entrance to the competition (this season)."
The 7-0 victory surpassed Barcelona's biggest win in the Champions League to date, a 7-1 defeat of Bayer Leverkusen in 2012.
Luis Enrique credited Messi's deft movement across the front of the attack, and his dips into Barcelona's midfield where he acts as a facilitator, as key to unlocking Celtic.
"Leo Messi plays at every position, he has freedom to do so because he is the best in the world at any position he plays," Luis Enrique said. "That's total football. We wouldn't be very smart to put limits on him. That's why he is the best of all time. Not just because of his numbers, but for his vision of the game."
Long gone was the firepower Brendan Rodgers' team displayed in Celtic's 5-1 rout of fierce rival Rangers on Saturday in the Scottish Premiership.
Instead, Barcelona improved on the 6-1 win over Celtic from their last meeting in 2013.
"There can be no embarrassment because they do that to better teams than ourselves, (but) it's obviously a disappointment," Rodgers said. "To lose by so many goals is tough to take."
It was the first joint-start this season for Messi and Neymar, after Neymar missed Barcelona's first four matches helping his country win the Olympic gold medal.
The two stars, who played in the last half hour of Saturday's stunning 2-1 Spanish league loss to Alaves, needed just three minutes to link up and put Barcelona in charge.
Neymar used a clever, no-look pass to play Messi clear on the left side of the area. Messi did the rest by sizing up Dorus de Vries before blasting a left-footed shot past the Celtic keeper.
It got even better from there.
The second goal was a brilliant piece of shared playmaking that undid Celtic completely, as the ball flowed from Messi to Neymar and back again for him to nudge over the line in the 27th.
"The ball moves like it's on an ice rink, and they move as fast as that," Rodgers said. "(Barcelona) is the world's best at keeping the ball."
Three minutes earlier, Barcelona goalkeeper Marc-Andre ter Stegen made up for his foul in the area on Moussa Dembele by blocking Dembele's penalty kick and denying Celtic its only scoring chance.
Goal No. 3 came in the 50th when Neymar curled a free kick over the wall. De Vries got a hand on the ball but not enough to keep it out.
Iniesta blasted his volley home in the 59th, seconds before Messi slid to tap in Luis Suárez's pass.
Suárez added his own flourish to the demolition when he took Neymar's lob on the chest, before swiveling and beating de Vries with a left-footed strike in the 75th.
Suárez got his second from a low cross from Messi.
Five-time champion Barcelona extended its winning streak at home in European competition to 12 straight matches.
Like us on Facebook
Follow us on Twitter & Instagram